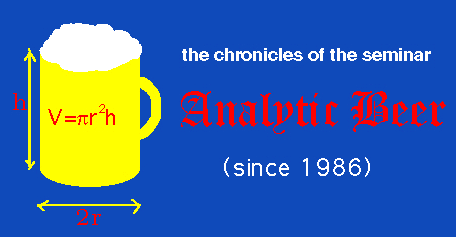 This homepage is a virtual chronicle of the Analytic Beer seminar, which came into existence in the Fall 1986 as a direct continuation of activities of the amateur theater group "Lipany" (1983-1985), whose members, Jirka Hrdina, Ales Nekvinda, Lubos Pick, Mirko Rokyta and Honza Rehacek, form the primary audience of the seminar. The purpose for establishing this seminar was two-fold: to provide a vent for mathematical interests of its members and to serve as a pretext for informal gatherings. The main source for this page is the legendary "Analytic Beer Notebook" that was lost in early 90s and found again in 1995.
A standard format of the seminar, which is almost always held in a given pub, is the following: at the beginning, the designated chairman gives a lecture that is sometimes followed by co-lectures and a discussion. As the beer count increases, the discussion becomes less and less profound and consequently more and more understandable to a general public, ending usually in a mere chat or, on occasion, in unintelligible babble. In this English rendering of the "AB Chronicles", we present a list of all the seminars (in the format: seminar - date - motto ), plus a list of supplements with links to their images. More detailed information about the seminar can be found on the

Analytic Beer MAIN PAGE (this page is in Czech!)
Warning: Before you enter the main page, count to ten. If you can't, don't enter, since the proceedings contain numerous mathematical expressions that may be hazardous to your mental well-being.

| | |
| --- | --- |
| | Analytic Beer seminars (AWAY) |
---
| | |
| --- | --- |
| | Analytic Beer seminars (HOME) |
---
| | |
| --- | --- |
| | Supplements |
AB - Away
AB - Home
Abstracts of talks
---
| | |
| --- | --- |
| | Guests of Analytic Beer |
ASTICKA, dog (68)
GOGATISHVILI Amiran (105)
JANECKOVA Halina (18,34)
KERMAN Ron (70)
KLIMCIK Ctirad (9,10,11)
KOTAL Jiri (2)
LANG Jan (68,69,76,79)
OPOVA Ladislava (83)
PATAPOOF, dog (68)
PICKOVA Adela (114)
PICKOVA Pavla (76,78,79,100,114)
RAKOSNIK Jiri (76)
REX, dog (67)
ROKYTA Martin (86,96,97)
ROKYTOVA Marketa (66,67,86,96,97)
ROKYTOVA Katerina (86,96,97,114)
RUZICKA Michael (74)
SARA, dog (82)
SCHUTZ Tomas (75)
THOMAS Robin (9,81)
TOMICZEK Petr (107,112,114,116)
TOMICZKOVA Svetlana (107,112,114,116)
VANECEK Stanislav (72,79,83,88)
VAVRA Jaroslav (111,116)
WALDMANOVA Olga (5,116)
ZAHRADNIK Vasek (67)
ZIVNA Blanka (65,83,86,105)
ZIVNY Marek (83,86)
ZIVNY Michal (86)
..about 30 participants of a mathematical conference (77)
..animals in the Brno ZOO (71)
---