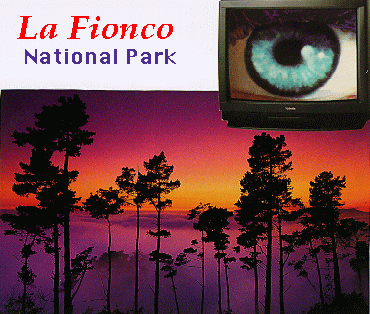 Welcome to La Fionco National Park and Recreational Area

La Fionco National Park has been built by digging up an artificial channel on the La Fionco river, thus creating a huge island, that has been cultivated and reshaped in order to serve the recreational needs of the citizens of the United Counties of Absurdistan. In addition to numerous trees from all parts of the world, more than 25,000 TV sets have been installed on the island in perfect harmony with Nature and every Sunday evening the Park is filled with the audience of the Absurdistan's most watched TV show "Kocourkov 90210".
All activities are permitted on the island, except for doing business, using a cellular phone and watching citizens of Venezuela, Austria, Morocco, Greece, Turkey, Belgium, Czech Republic, Norway and the United States. The park is free and it is open 24 hrs a day. Jogging guides are available at the West Entrance and cost 300AF/hr. Despite its relatively small size (approximately that of Yosemite NP in the USA) many people get lost in the Park every year, so think twice before you put on your running shoes. In case you do get lost, watch one of the ubiquitous TV sets. Every hour there is a 5 min directions update.

---