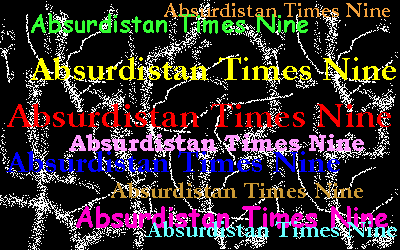 No news - good news!
Absurdistan Times Nine is published on an irregular basis by the Weird County Journalists Association. Each issue is limited to just one piece of information which must be older than 48 hrs (photo ID required). The rest of the newspaper is filled with portraits of interesting earthworms, their horoscopes and memoirs. Should you witness any news unfolding in your neighborhood, call the day after tomorrow. The phone number may be obtained from the web-page of the Worse Business Bureau .
---
Is your pet lonely? Are you looking for that special someone for your gold fish?
Check out the ATN's famous Animal Personals!!

Sport Section: The Book of Cardinals 2004
My Blog: Banbury Cross
---
News in Retrospect
19 July 02: The first convertible submarine has left the docks in New Yarka Metelka. The model tentatively named "Poseidon-Cabriolet" is priced at 30000 AF and comes with an optional breathing apparatus and a first aid kit.

02 July 02: An unknown burgler stole the pool from the mansion of Absurdistan's Minister of Eternal Bliss, Joe Cucumoto. Mr. Cucumoto made a televised plea in which he beseeched the burglar to keep the pool, but return the water. All the local pawn-shops were given the description of the Olympic sized pool, but to no avail so far.

22 May 02: Yesterday's little leak game in West Hradec's central kindergarten was won by Peter Wolff, who wetted his pants in 5 seconds after being presented with a picture of a modestly irritated goat on a low-carrot diet.

11 February 02: The 112th annual census revealed that there are no ants in Absurdistan. The emergency meeting of the Committee for Equal Opportunity of Species took place in New Yarka Metelka and the Department of Treasury was authorized to release 15M Absurd Franks from its coffers in order to finance the purchase of 25 superhorny ants from New Mexico.

08 December 01: A long-awaited revolutionary invention marketed by the code name THAT didn't live up to its expectations. The device, which turned out to be a sophisticated wooden oven, burned down during the presentation and is deemed to have little practical value.

21 August 01 : An editor-in-chief of a major free-thinking journal was found yesterday at the city dump pondering how many badgers could be simultaneously placed in a medium sized washtub. He was immediately arrested and cited for improper thinking.

02 July 01: It is well known that human brain uses only 10% of its mental capacity. Have you ever wondered what the remaining part of your brain is thinking? Well, we have the answer for you. An alternative psychologist Pao C'Kai from the uranium lab of the Institute of Retarded Studies seems to have found the answer. According to his latest paper, the remaining 90% of the brain occupies itself with the question "What the hell is the remaining 90% of the brain good for?".

09 June 01: Joseph Trigg of New Yarka Metelka tried to make a withdrawal at the First National Sperm Bank of Absurdistan. The bank refused the transaction and is sued for damages and emotional stress. Mr. Trigg stated that he had made a certified deposit of more than 3 billion sperms over the past 3 years. As a result of this action, some banks are now issuing sperm checks that may be exchanged during the intercourse in lieu of the actual sperm.

29 May 01 : The spokeswoman of the chemical plant in northern Kocourkov announced that their research division is making a significant progress towards development of "warm snow" that should be commercially available next spring. The estimated cost is of the order of 250 AF/galon, so get your skis, shorts and plenty of sun lotion ready. On the darker side, one of the inventors of the "warm snow", professor Ikisawa got scalded during the skiing tests and was hospitalized with 87th degree burns. Apparently, the snow needs to chill off a little bit before it can be safely distributed to mountain slopes.

12 May 01 : The opening night for the first silent musical "Pickles of Wrath" was set to Dec 11 this year. The musical will be staged at the Hubert Theatre on Narrowway and tickets can be obtained at your local pharmacist, together with a complimentary set of ear-plugs.

11 March 01 : A team of researchers from the biology department of the University of Absurdistan came to a conclusion that human race is a failure and that it is going to be necessary to repeat the evolutionary process from the scratch. The biologists have bought a herd of about 45 apes and are keeping them in the departmental lounge under strictly controlled physical conditions. In about 25-30 million years the monkeys should mature into a new generation of human beings that won't be envious, greedy, cynical and just plain stupid. It is also hoped that the new human species won't develop the professional wrestling, fast food and "Beverly Hills 90210".

11 November 00 : Several thousands of registered voters in the Weird Country submitted a petition asking for a revote in municipal elections held this week. Angry voters apparently ate their ballots instead of throwing them into clearly marked boxes.

10 September 00 : Emergency Broadcast Council Board in New Yarka Metelka has just released the following travel advisory for all citizens and tourists visiting the Weird County: "Long skirts and cardigan vests are out this Fall. Please, wear them only in case of emergencies and at your own risk".

25 August 00 : After inadvertently seeing the American presidential candidates on an international newsweek channel, a 70 years old dowager from lower Weird County went on a shooting spree with a squirt gun, spraying 17 people including 2 children. She were expeditiously hospitalized in an unstable condition and for a small fee of 290000 absurd franks can be watched in a showroom of Joe Shmoe's Laxative Memorial Hospital.

11 August 00 : Jorg Bjornby, 29, a man born with two senses of humor asked for a surgical removal of the bigger one on the grounds that this psychological abnormality interferes with his funeral home business.

06 August 00 : After three months of intensive deliberations, the Immigration and Naturalization Commission of the Absurd Parliament decided to introduce a new category of legal aliens - "the Legal Elian". Any candidate for this status must be at most 7 years old and have at least 25% news coverage on major absurd networks.

20 June 00 : The National Institute for Second Guessing has released the results of a poll on what our schoolkids want to be when they grow up. Of more than 2300 surveyed children, 63% answered that they want to be Italians.

18 June 00 : Marauding gangs are politely asked to wipe their feet before entering houses in Absurdistan.

31 March 00 : Absurdistan Federal Reserve Chairman, Alan Redspan, seems to have disappeared somewhere in the Inflation Mountains region of northern Weird County. He was last seen on March 12 at a railway station near New Yarka Metelka wearing ostensibly green outfit and a trendy backpack. His wife confirmed that he indeed had gotten out on one of his famous Interest Rate Hikes but hadn't returned yet.

11 March 00 : Soloist of the Absurdistan State Opera and one of the most famous tenorist of our time, Josse Charapiglianni, was arrested last week for attempted theft of a special edition of the Dairy Products International Catalog. Charapiglianni was spotted by an attentive police officer from a window of an airplane landing in a nearby airfield. After he was booked for grand theft catalog, Charapiglianni confessed to the crime, blaming it on numerous traumatic experiences from his childhood, such as watching his aunt Kleopatra taking shower with assorted auto-parts, getting repeatedly lost on his grand father's cow farm and being once bitten by an oversized crocodile.

09 February 00 : Absurdistan's most popular radio host and coinventor of armpit deodorant, Howard Bow, will present his critically acclaimed programme "The World's Funniest Skidding Noises" tonight at 9pm. Tune in to WHYP.

21 January 00 : The millenium bug mystery finally solved. If you wonder what caused the smooth transition of the world's computer networks into the new millenium, wonder no more. After a tip from an anonymous caller, Absurdistan State Police found the bug squished in the tire track of New Jarka Metelka's citizen Roger D., who subsequently admitted that he ran the bug over on his way from a sports bar on December 28th. Hey, who said that watching sports isn't beneficial?

04 December 99 : The Onion Union became 476th registered political party in Absurdistan. The OU is determined to represent and stand for the interests of onions throughout Absurdistan, to ensure that onions have equal ingredient opportunity in the kitchen and to oversee the peeling procedures in public restaurants to prevent attrocities, molestation and sexual harrasment during this process. According to the party's spokesonion, "the most urgent point on its agenda is winning majority in the veggie section of the Absurd Parliament's larder."

27 November 99 : The Supreme Court of Absurdistan has ruled that plastic containers cannot be kept as pets.

12 November 99 : Jeans with remotely controlled zipper became the hit of this year's holiday season. The remote control is a small plastic box that comfortably fits in an average handbag and would surely make a nice present for your wife.

29 October 99 : Bob Nudgy, the Meddling Secretary of the Department of Poking Noses Into Someone Elses's Affairs sent a diplomatic note to the US Ambassador in Absurdistan, protesting the discrimination against white basketball players in the American NBA. Mr Nudgy asserts that there is no reason to assume that one race should be more apt to play basketball than the other and demanded that, in the future, NBA set up quotas mandating certain percentages of white_men_who_can_jump on each NBA team. According to the spokesman of the Department, a similar action is soon expected on behalf of Asian-American players, who are misrepresented even more blatantly. The note ends with his exclamation:"All races were created equal and thus are equally endowed to play basketball!"

22 October 99 : Politically Correct Electronics Corporation began the production and marketing of their new product - tentatively called a "walkwoman". According to the PCEC's spokesperson, in the future every walkman womanufactured in Absurdistan will have to be accompanied by a walkwoman. Womandatorily!

19 September 99 : Yesterday's Miss Absurdistan pageant was yet another megalomaniac sterile supershow, lacking spontaneity and personal touch. In the predictable finale the crown descended upon the football head of Miss Grumpy Plumpy, the mutant victim of drinking too much toxic waste in her spare time. The worst of all - all the runners-up were cheering her as if they won themselves. Hey, isn't it time to stop this fake happiness and just be yourselves? Come on, there is nothing wrong with being a little sad. That shouldn't prevent you from graciously congratulating the winner. But on the bright side - next month will bring us the Miss Canned Fish pageant, so maybe, just maybe we'll see some fun after all. And if we get lucky, the fish will know how to walk.

11 September 99 : "Bring your own teeth" - the Absurdistan largest toothpick rental chain filed for bankruptcy three years ago.

09 July 99 : A group of Absurdistan's speculators made a remarkable deal on New York Live Stock Exchange last month, when they bought about 15 tons of dogs for $.03 per pound. More than 1/3 of the world's supply of dogs is now being controlled by the Absurd Animal Fund Holding Inc. and that includes pets of President Clinton, Jay Leno, Gwyneth Paltrow, and the spokesperson of Taco Bell. All the dogs are supposed to be sold to members of an Eskymo tribe Wuahua for $1.35 per pound, thus injecting millions of Absurd Franks into the coughing national economy.

02 June 99 : The first brick was successfully cloned at the Institute of Retarded Studies, Dept. of Biobricklaying. The brick named Brigadier Joseph Lorry junior is doing just fine. If everything goes as planned, once in the future there will be houses made out of completely identical rectangular bricks that will supersede the currently used breed of highly personalized bricks that usually come in the form of three-headed ducks. According to the head of the research team, next in line for cloning are pizzas.

29 May 99 : After a wave of residential complaints about noise, all Absurdistan's airports were forced to put speedbumps on their runways to enforce the 35mph speed limits.

15 April 99 : Have you filed your tacks return yet?
We would like to remind our readers that all unused tacks purchased at your local Office Depot during the fiscal year 1998 have to be returned to the federal government by 12:00am tonight, preferably in an amply padded envelope. Persons setting up extended noticeboards tomorrow may ask for a tacks credit and keep up to 50 tacks before the Office Depot stores reopen.

07 April 99 : Miss Denise Trubham is suing the TV station WKBH for broadcasting programs that significantly lowered her IQ. Her councellors estimated the damages resulting from her watching the infamous daytime television at AF 5,000,000, payable in five yearly installments of medium size burgers. Miss Trubham claims that the lowered IQ prevented her from getting a decent job, while her busy TV watching schedule didn't allow her to look for an adequate husband. This trial sets a dangerous precedent for hundreds of compulsive TV viewers, who may blame their failure stories on TV stations. As a precaution, the Absurdistan's Department of Justice has asked the United States for a shipment of about five tons of first rate lawyers to handle a possible barrage of similar cases. The general public has been moved by Miss Trubham's story though, and is sending her hundreds of gifts, ranging from books to recreational sports gear. The British Association of Retired Clowns even donated 85 gallons of used motor oil to dump her TV into.

11 March 99 : On Tuesday, Mrs. Trombone was cited for jogging over the posted speed limit. The police investigation revealed that Mrs. Trombone was jogging under the influence of a six-pack of wolves. The JUI charges were not pressed yet.

23 February 99 : The House Judiciary Committee unanimously agreed that penguins cannot be senators. Not to violate local laws on the "More-or-less Equal Opportunity Employment", the committee acknowledged that penguins are well suited for towing bricks, pushing cardboard boxes off the cliff and testing new explosives.

14 February 99 : In the main event of last week's slug races, 50 yards with hurdles downhill, a new Absurdistan record was set. The popular and relatively still very young slug "Slimey" rocketed past the finish line in mere 94 hours, 12 minutes and 34.32 seconds, improving its own record by .09 seconds. The sport manager of several rival slugs accused Slimey of taking some forbidden anabolics and insisted on its disqualification. Slimey's personal trainer and spokesman Joe Gargoyle pooh-poohed these claims and maintained that Slimey's success was a result of its hard work, the revolutionary new crawling techniques and the usage of Pennzoil as a lubricant. The winner took 250,000,000,000,000 Absurd Franks, more than 60% of Absurdistan's Gross National Product.

05 February 99 : The rabbit population in Southern Absurdistan is exploding. Chief Veterinary Inspector informed us that most rabbits will be invited to the Pierre de Fair elementary school for a workshop on how to grasp the concept of time. This will allow them to keep track of female rabbits' periods and therefore be inducive to a good family planning. Some uneducated rabbits may also be issued a court order mandating the use of condoms during the intercourse.

20 January 99 : The president's personal gardener, Jimmy Bramborka, was impeached for picking his nose on the premises and subsequently lying about it. After squandering 300,000 AF of taxpayer's money, the 8 month intensive investigation of the dependent councellor Ken Nosey discovered 2 medium sized boogers half-buried in the rose garden. Pictures of the boogers are going to be presented to members of the parliament later this month.

22 December 98 : Meteorologists confirmed that there is a 45% chance that there will be a Christmas on Dec 25 this year. Let's keep our fingers crossed.

04 December 98 : The biggest manufacturer of consumer electronics, Phony Tectronix Ltd., will be shipping its first models of video-players/toasters just after the Christmas holidays. This new electronic toy, tentatively called "Double Jeopardy" has a 30 in. TV screen and two slots. One for video tapes and one for slices of bread. Later this year, Phony is planning to introduce a FAX that will be capable of transmitting hamburgers. The FAX is promised to be fully compatible with the video-player/toaster.

01 December 98 : in Absurdistan was discovered last week at the southern tip of the Euclidean Plain. The skeleton consists of 12 bones, 97 fragments of bones and a wig. Its age was estimated between 50 and 250 000 000 years.

20 November 98 : An international terrorist, Samba del Monte Carlo Cicci, has hijacked a video system on an Absurd Airlines flight 322 from Hradec to North Pole. Sources say that approximately 20 minutes after the 727 took off, Samba Cicci burst into the cabin, demanding that the current video presentation of "Autumn in New York" be immediately replaced with "Rambo III." No casualties were reported. After the presentation, however, three elderly passengers were treated in a nearby hospital for stomach sickness and a mild rash.

14 November 98 : Due to unknown circumstances a 6-pack of beer cans in a refrigerator of Mr. Boutch from South Kocourkov acquired awareness and became a new life-form in this part of the Universe. The six-pack call themselves Joey, Booey, Frank, Lickey, Tom and Peter. The last one, Peter, however, requires a sex change operation and wants to become the first beeress in the history of beer related life-forms. If the operation is successful, its name will be Pietra de Boutch. It claims that as a beeress it would be better equipped to overcome its claustrophobia and its irrational fear of manicure. Meanwhile Tom got a Heineken tattoo, Frank applied for a driver's license so it could drive its lawn-mower to work and Booey won a local bubbling contest. Lickey, on the other hand, was stabbed by an undisclosed knife and lost some of its beer. On a similar note, Joey was caught in mens lockers in a compromising position with a can opener. The only mitigating circumstance was that due to its open mind it didn't resist the citizen's arrest made by a local janitor.

09 November 98 : Absurdistan's most famous ballet dancer Jelena Primakova changed her mind and became a free-lance butcher.

04 November 98 : Two pounds of swiss cheese violated the law of universal gravity when they fell from a shelf upwards. The cheese was also cited for accelerating faster than the local a=F/m law allows. The hearing was scheduled for the day before yesterday. We'll bring you the news once it gets old enough.

01 November 98 : A telephone directory was kidnapped from a telephone booth in front of Taco Hell on 43rd. The officials of AP&P did not receive any ransom notes yet.

31 October 98 : Dr. Lyndsay Piffkin claims to have discovered a woman with 57 erogeneous zones. While he keeps the name of the lucky girl secret he admitted that he is capable of stimulating 53 of them, while the remaining four are still somewhat a mystery to him. Currently, he is trying to unlock their mechanism of stimulation by applying localised pressure to their expected positions.

29 October 98 : An autopilot of Absurd Airlines crashed and died two weeks ago, being suffocated by a protective foam. Fortunately, no one else was on board.

28 October 98 : New Yarka Metelka Medical Clinic is going to introduce a new model of a scythe that is eventually going to replace a rather old-fashioned scalpel. New scythes are supposed to be more sanitary than the old models thanks to an elongated handle that should prevent surgeons from breathing directly into patient's wounds.

11 October 98 : On Sunday, Miss Sarah Danielson found a new life. To her great surprise, she found it in a brown paperbag, lying quietly, together with an unfinished hamburger and a left handed hedgehog, in one of the dark corners of the parking lot in front of the Grizzley's. The hedgehog didn't have any idea how he got in there. Upon her lucky discovery, Miss Danielson quit her job, sold her car and was found two days later in the city park, heavily intoxicated with advanced cosmetics.

25 September 98 : The greatest collection of umbilical cords was sold last month at the Annual Weird County Jail Auction for 230,000AF. The identity of the new owner of the 1500 piece collection was not disclosed.

23 September 98 : A week ago, a respectable citizen Mr. Kane reported that a cucumber broke into his house and tried to strangle his dog. Mr. Kane remarked that the dog, named Sissy, is a very special one since it thinks it is Vincent van Gogh. An incident was investigated by the Cucumber Police but no traces of an intruder were found. Two days after the break-in, Sissy jumped off the highway overpass and shattered to death. Sheriff Dailey confirmed the rumors that Sissy was made out of porcelain and that its parachute failed to open on impact. The Absurd Association of Cucumber Vendors protested against attempts to put these two incidents into any sort of causal relation.

17 September 98 : Absurdistan's breeding is at its best. A month ago, private breeder Joel P. was able to cross-breed a cat that looks like a cat but barks. This fine achievement was topped last week when his brother Jeremy P. shocked the judges at the semi-annual weird breeding contest by presenting a cat that not only barks like a dog, but also looks like a dog. A cat was named Piggy.

12 September 98 : Two urinals were found rolling down the hill from Red Woods High School. The urinals caused a minor accident at the intersection of Cherry St. and Red Woods Rd. where they failed to yield the right of way to a passing truck. No injuries were reported. Principal Failey confirmed that the urinals were among the worst in their class and were subsequently put on probation.

09 September 98 : After a couple of weeks of trying, Mr. Alan Garcia finally managed to dump his old piano into the ocean. He was reported dragging the piano along the beach together with his wife Edna and finally pushing in into the ocean on a deserted stretch of the shore. Few days later, Mr. Jobson visited the same place with rather obscure suicidal intentions. Apparently, he heard some faint jazz-like sounds amidst an uproar of surging waves and, almost against his will, his bad mood disappeared almost instantly. As of the time of this writing, Mr. Jobson is still alive.
---
Back to the Main Page