Mt. Evans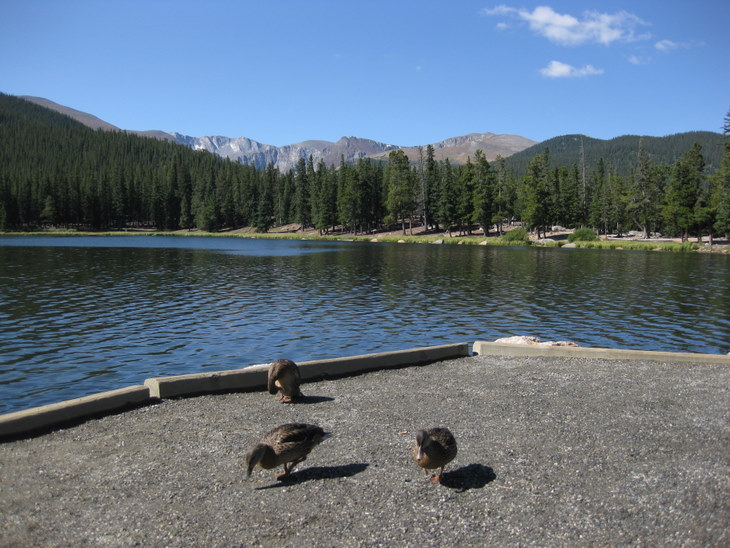 Our trip to Mt Evans started at the Echo Lake.
---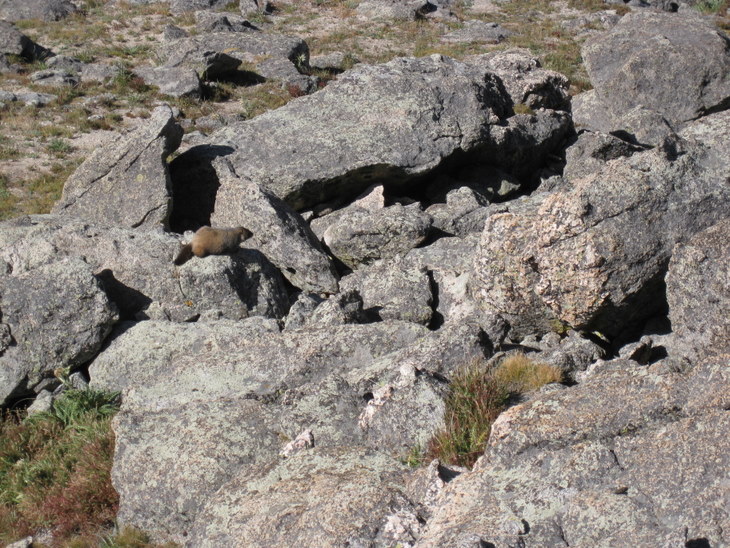 A few miles up the road, we ran into a rodentlike life form. The first English word that comes to my mind is marmot
- although in reality it could have easily been a groundhog, a fat weasel or a furry midget mutation of the Tyrannosaurus Rex.
---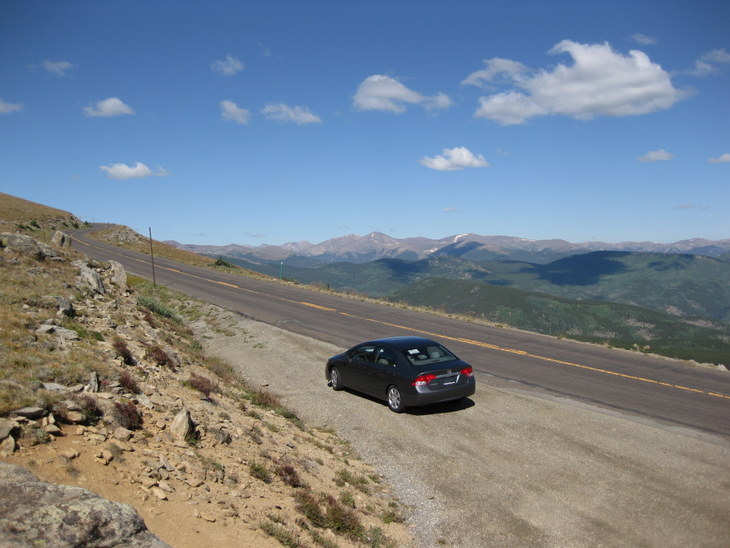 The road was slowly gaining elevation...
---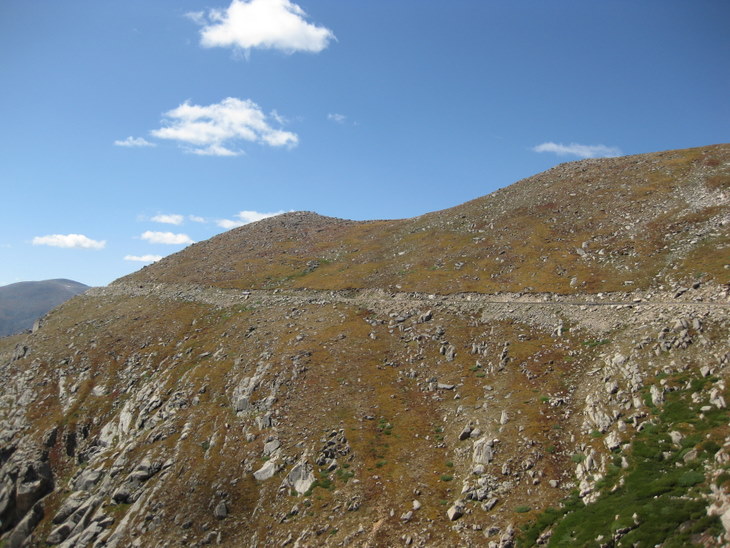 ...carving into the slope...
---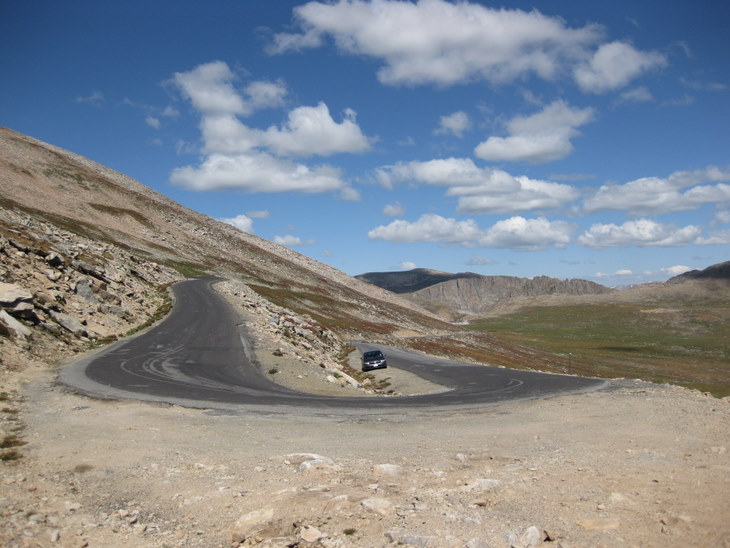 ...and patiently winding its way up.
---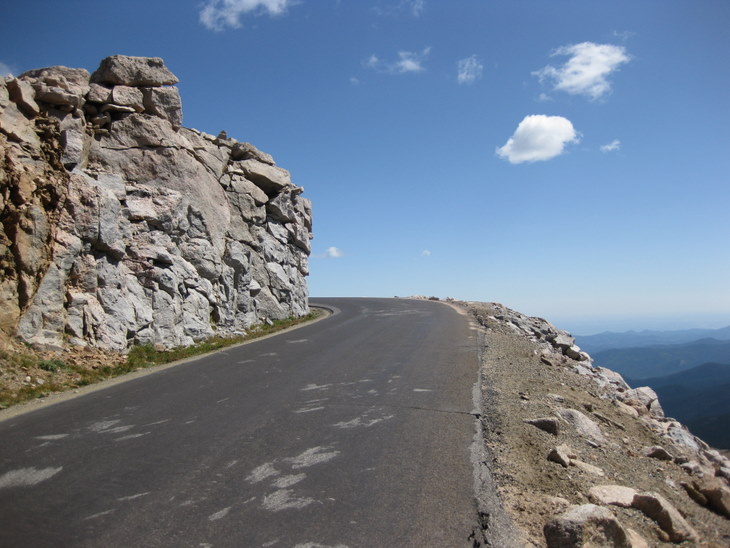 The road to Mt Evans is sometimes called a "road to heaven",
and every time you take a turn, it feels that way.
---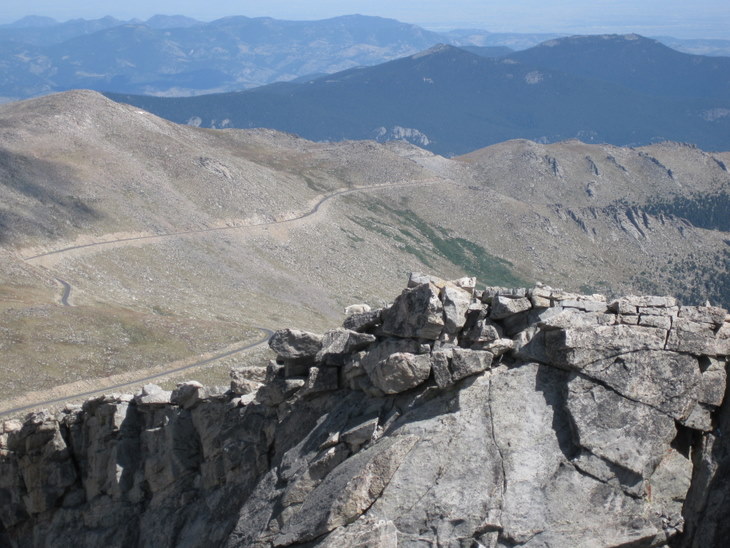 Here it is from the top.
(can you spot a mountain goat in this photo?)
---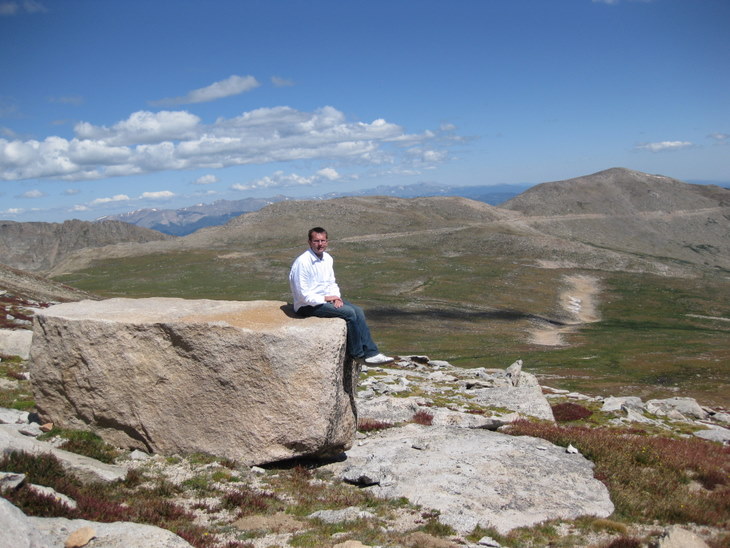 The weather was highly cooperating...
---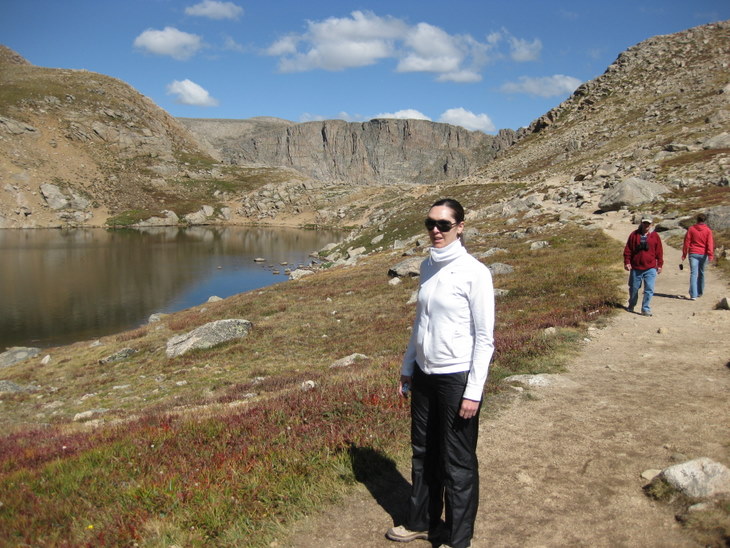 ...so we made a short stop at the Summit Lake from which you could either hike to the top...
---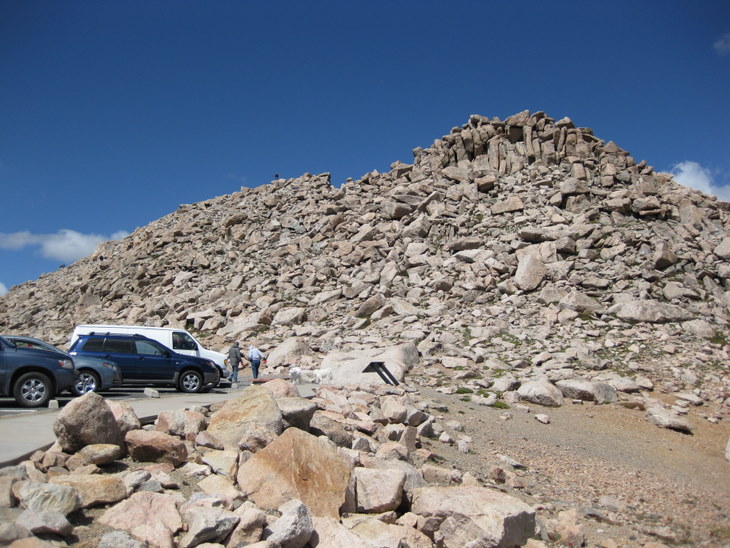 ...or drive a little bit further to a parking lot directly underneath the peak.
---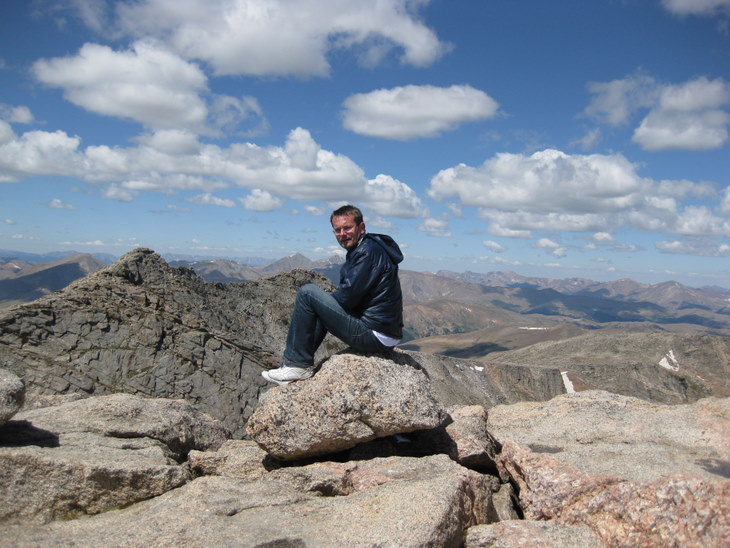 Photo op at 4280m (14,260 ft).
---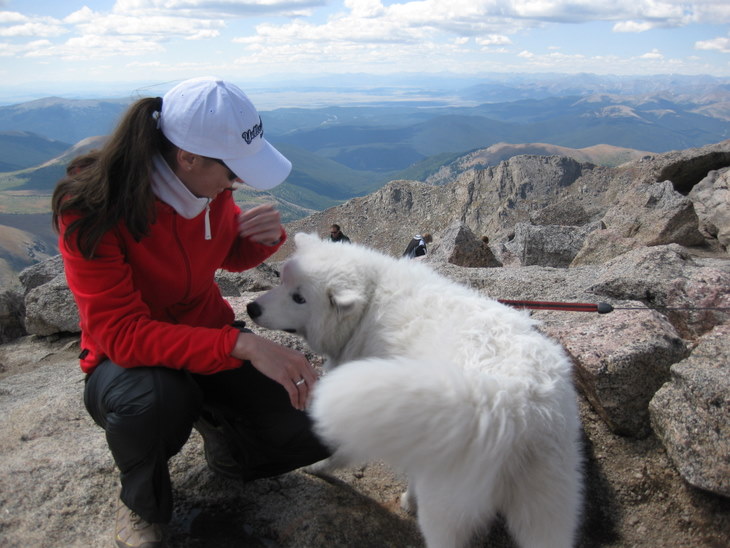 We were lucky enough to meet there an elderly couple with a pair of beautiful dogs of Siberian origin.
---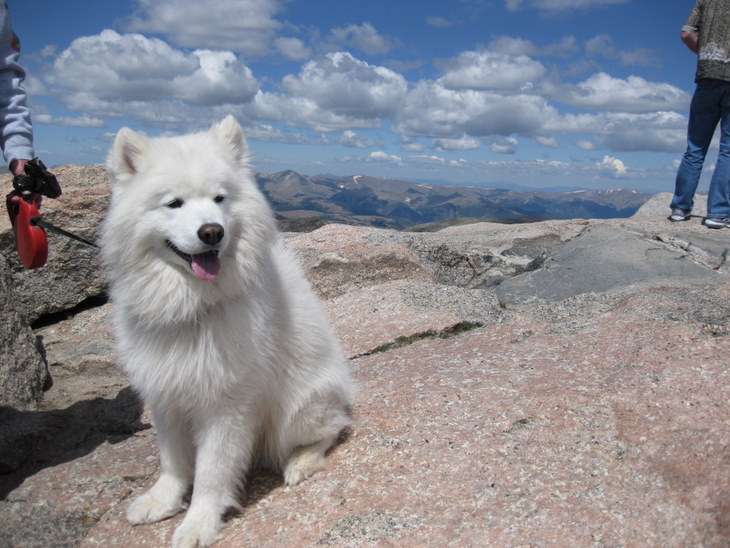 The other dog was sitting away from the camera.
---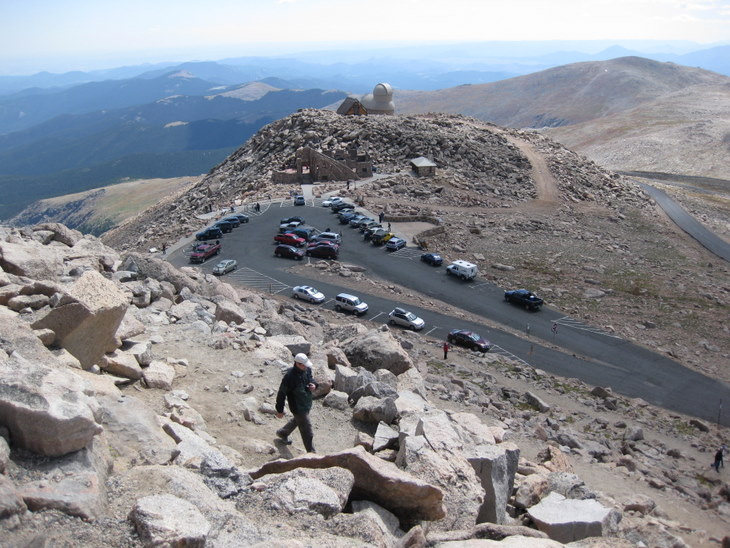 This is the parking lot viewed from the peak.
---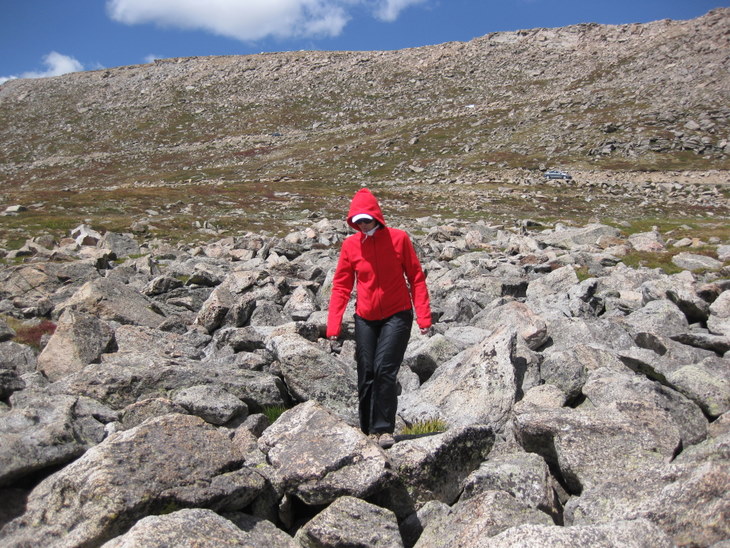 On our way back, we parked our car half way between the peak and the Summit Lake and took a wild hike...
---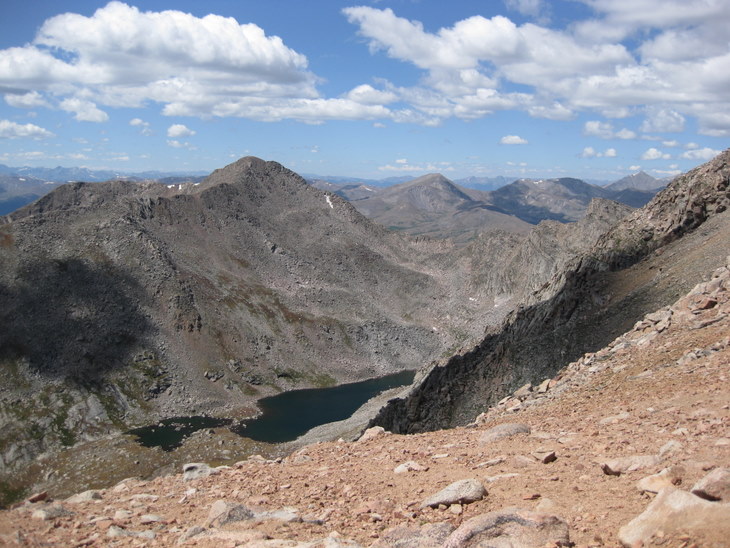 ...so we could get better view of the mountains.
---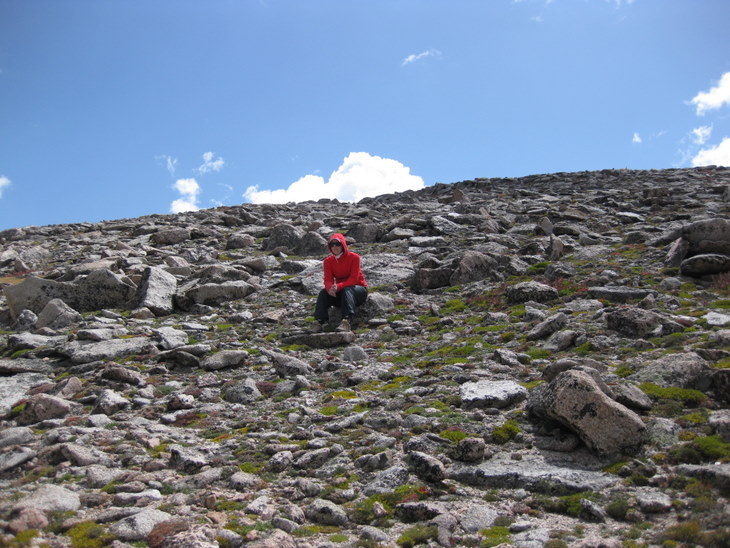 There was no trail, so we rested often, and headed for a neaby minor peak...
---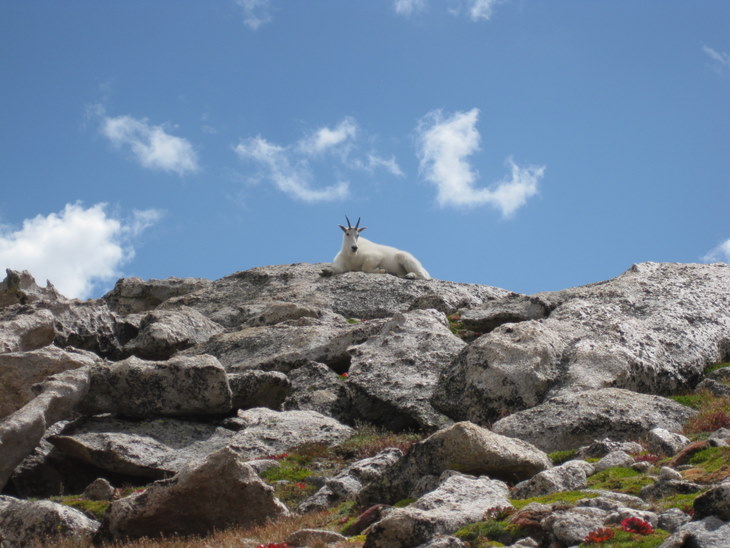 ...where we discovered this mountain goat that was strategically positioned at the top from which it was observing the scenery
(it may also have pondered the peaceful coexistence of goatkind and mankind in this mountainous region)
---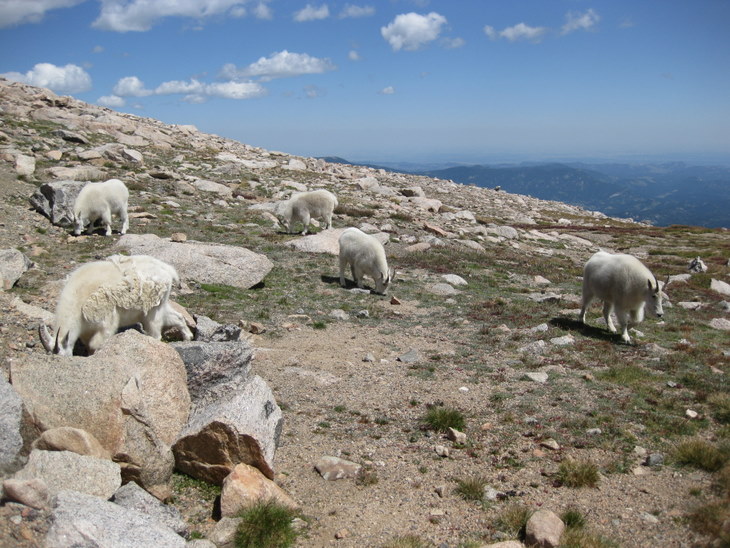 But you don't have to stumble across the rocky terrain to encounter the goats.
Later we found a great herd just grazing just alongside the road...
---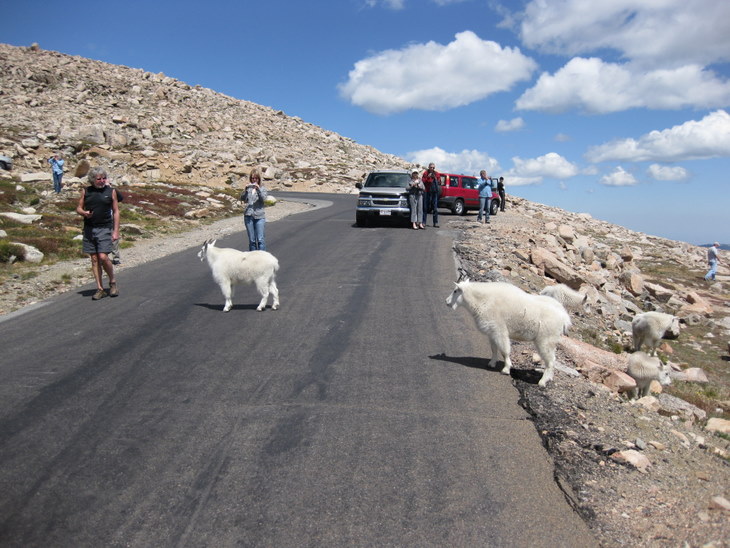 ...where they were mingling with tourists.
---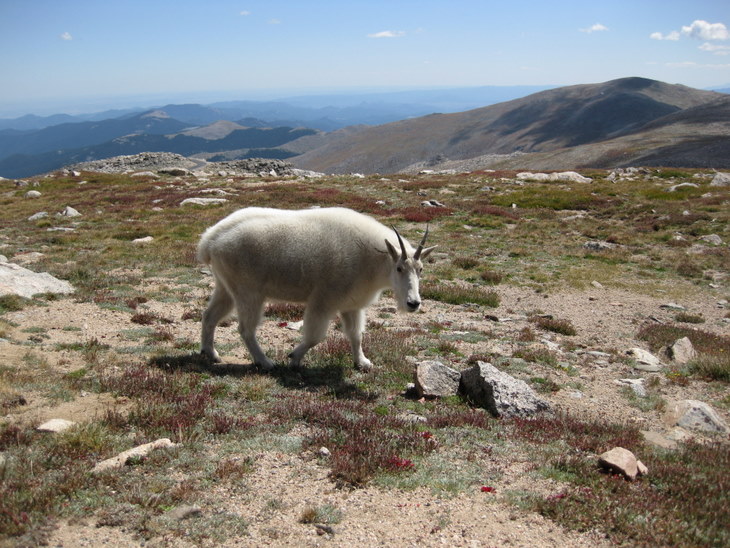 This one was especially photogenic (I named him Batman).
---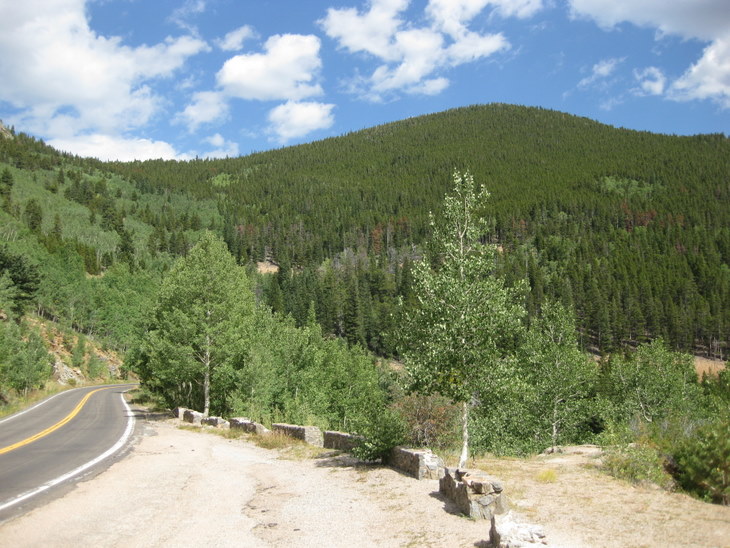 Then we descended into lower elevations...
---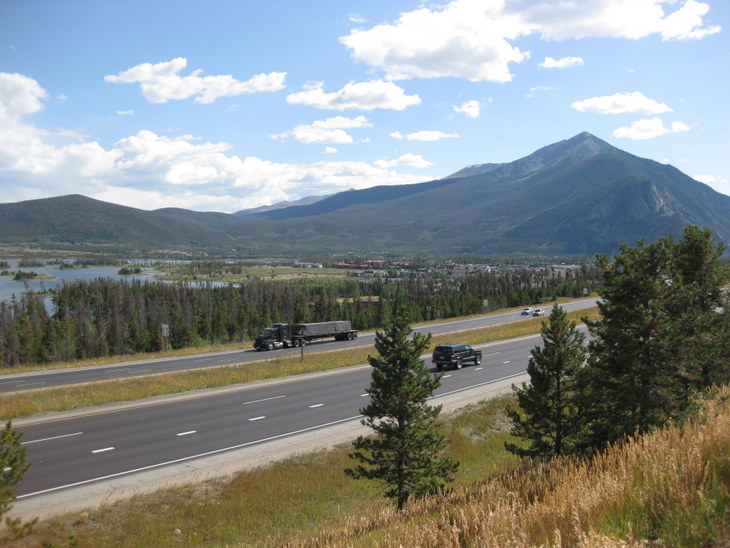 ...hit the Interstate 70 and drove 50 miles west to Frisco.
---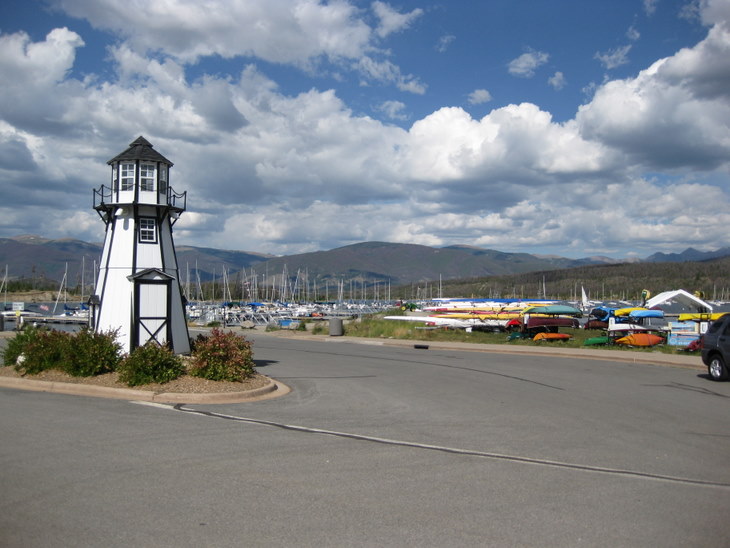 In Frisco, we visited the Marina, where I wanted to rent a canoe...
---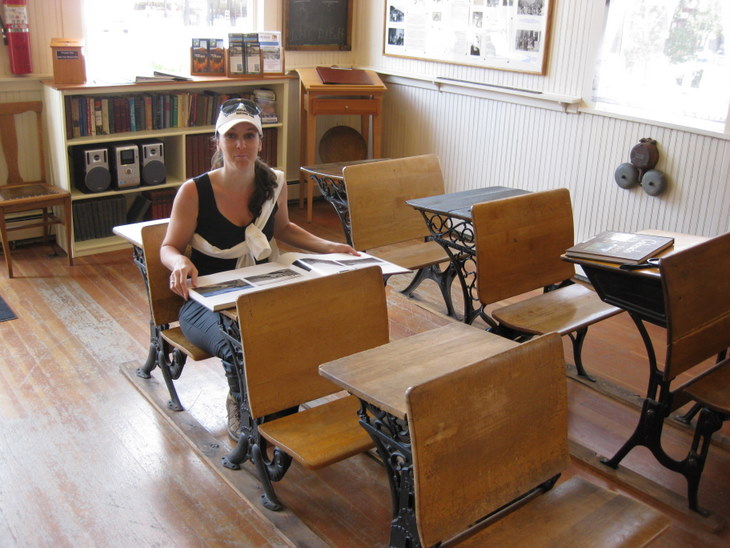 ...but Lea dragged me to the City Museum instead.
---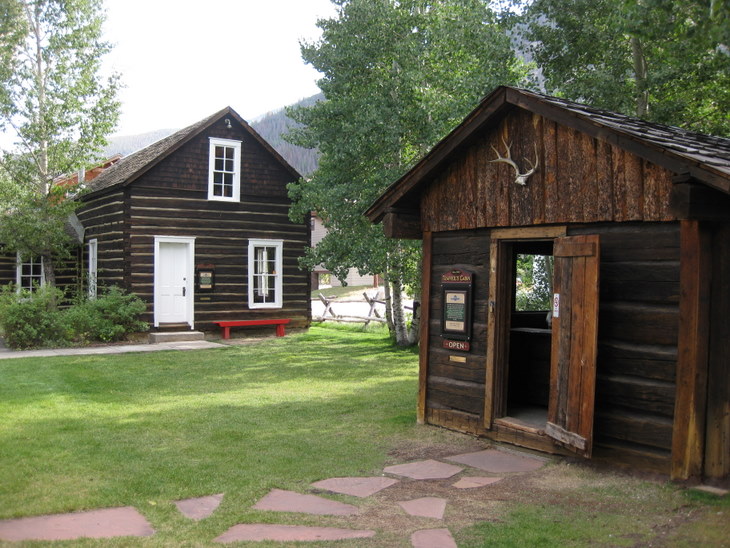 Next to the museum there was a little open air section that featured authentic old houses...
---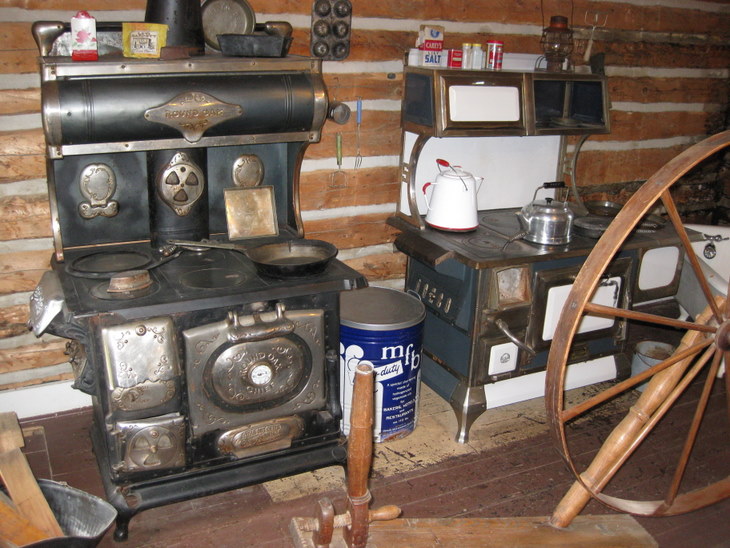 ...with contemporary interiors.
---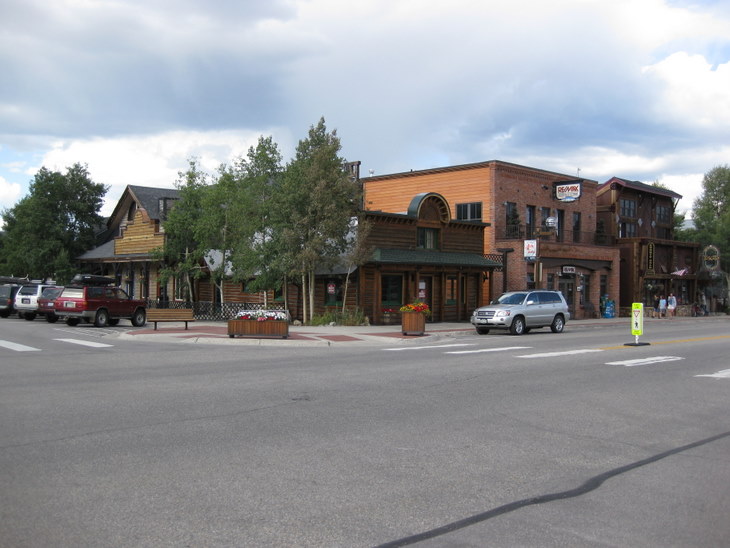 After a short walk in downtown Frisco, we headed south to Breckenridge...
---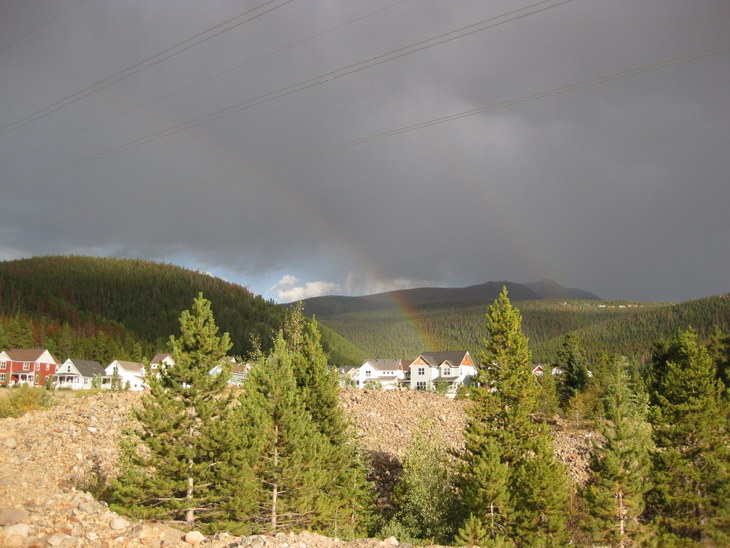 ...where we were greeted with a rainbow.
---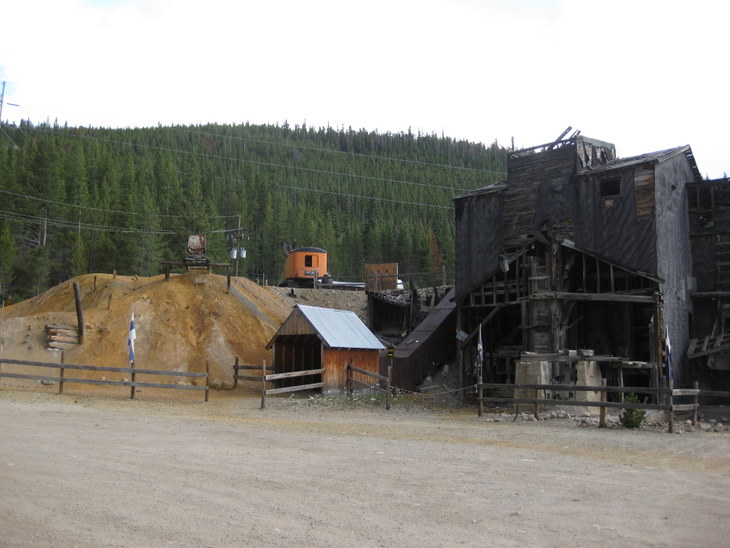 In Breckenridge, we also found an old gold mine turned into a museum...
---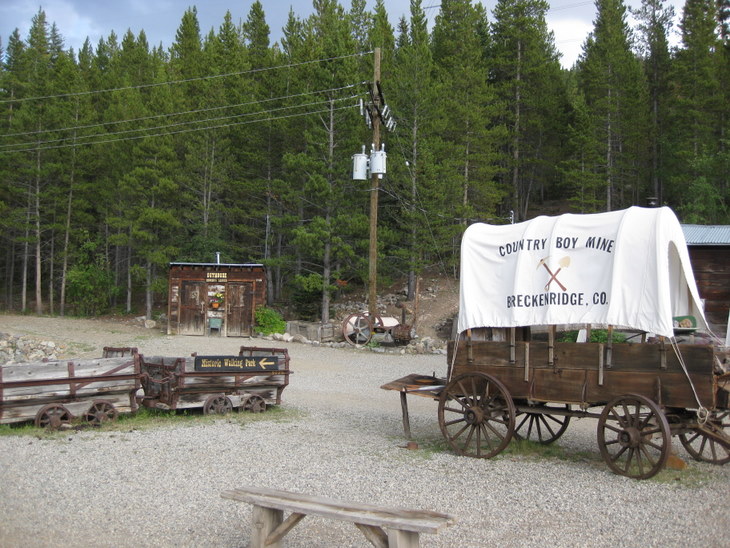 ...but unfortunately it was already closed...
---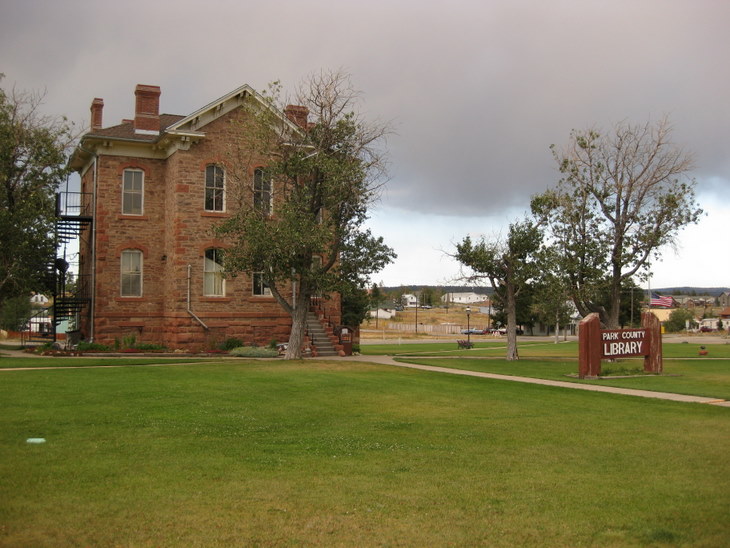 ...so we continued to Fairplay and further south towards Great Sand Dunes.
---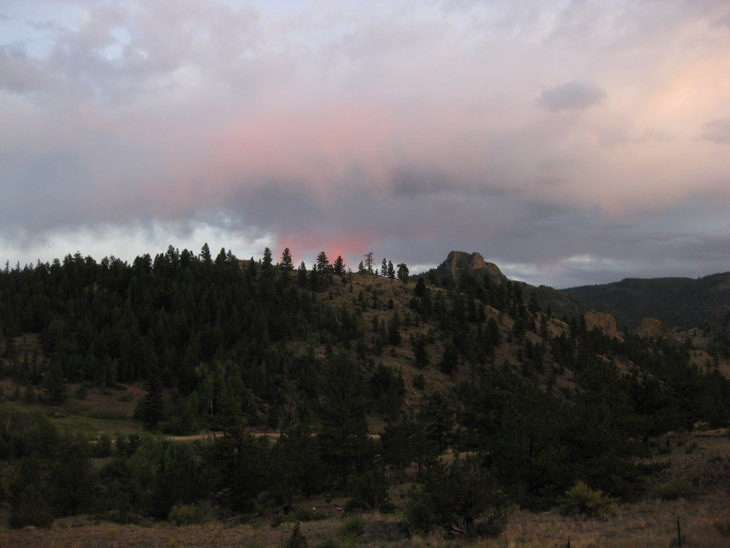 Just before we called it a night in Salida, we passed some rocks that reminded me of Jules Verne's novel "Carpathian Castle".
---