Thursday: Aug 21, 2008
(cesta z Nordfjoreidu do Geirangeru, cesta lodi Geirangerskym fjordem, vyjezd na hory za Geirangerem a sjezd dlouhym udolim do mestecka Otta)
On Thursday, we first took road 15 and 60 to Hellesylt, then took a ferry through Geirangerfjord, then road 63 to Langevatn, where we reconnected with road 15 and took it all the way to Otta. There we took road E6 north to Dombås.
---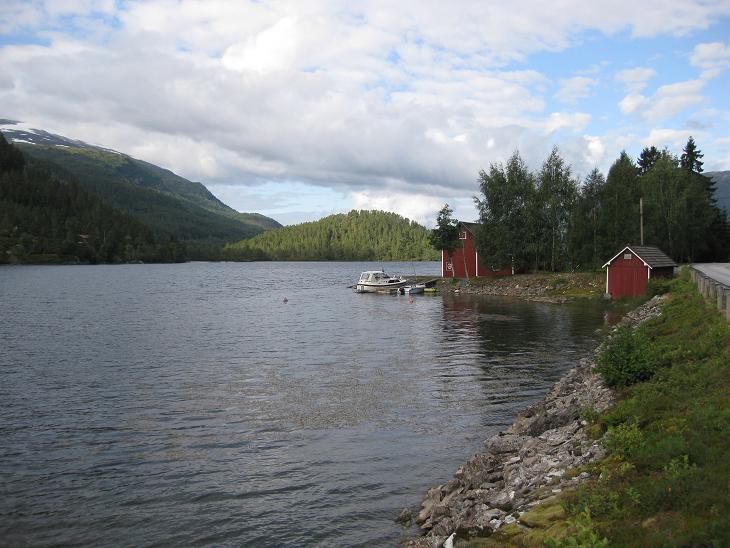 In the morning we left the Nordfjord area...
---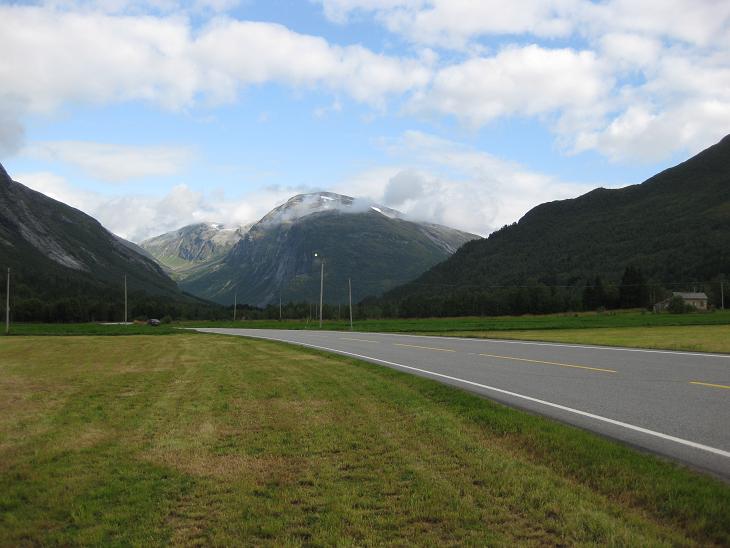 ...and headed for the mountains surrounding the next fjord to the north - the Geirangerfjord, which many consider the King of Norwegian fjords.
---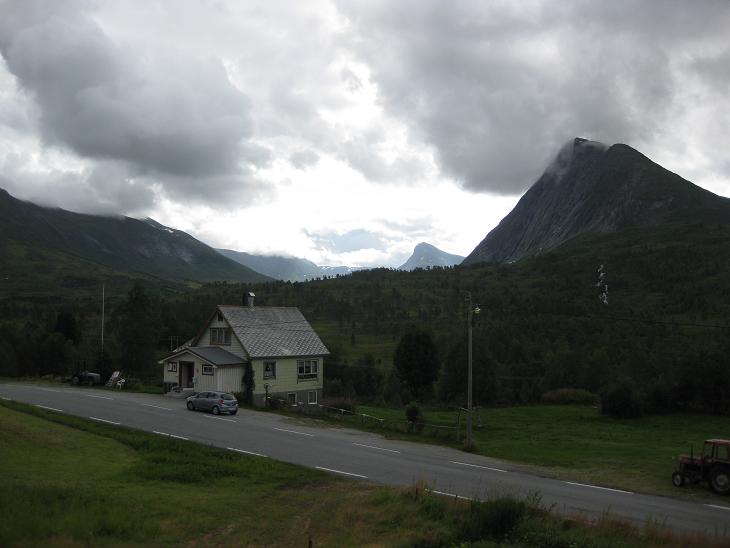 We quickly learned that high mountains attract all sorts of pesky clouds and prepared for the possibility of rain, which up to this point we successfully avoided.
---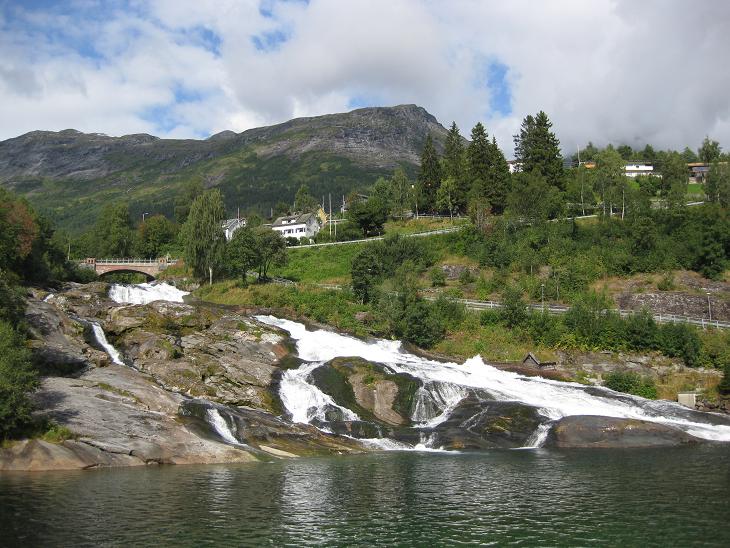 When we arrived at Hellesylt, the ferry which was to take us through Norway's most famous fjord had just left, so we had about an hour for a walk around town. Right there at the ferry entrace, there was a nice little cascading waterfall to entertain the tourists waiting for the boat.
---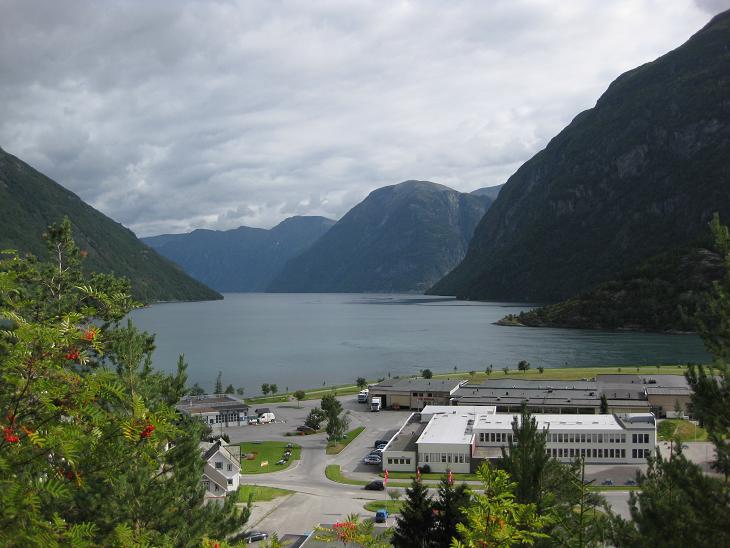 From higher above the docking area you could see the entrance to the Geirangerfjord about half a mile ahead to the right.
---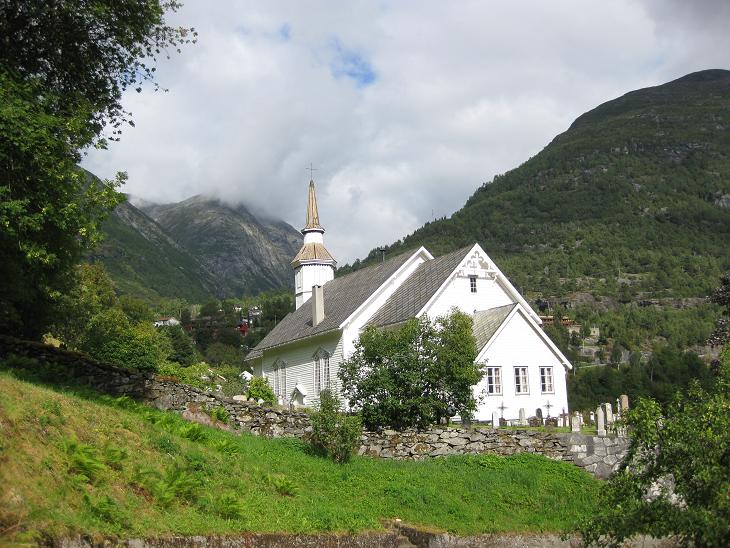 I also discovered a little church wedged between the mountains.
---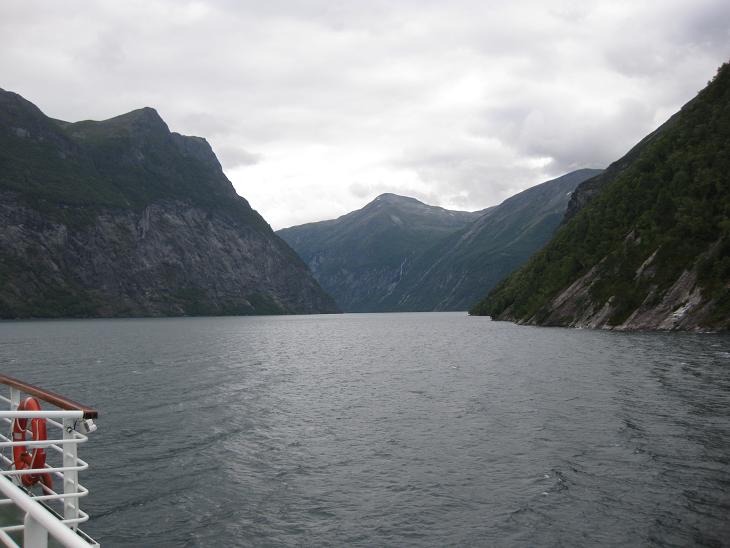 Then the ferry came and soon we saw the entrance to the Geirangerfjord open up and we were on our way through it.
---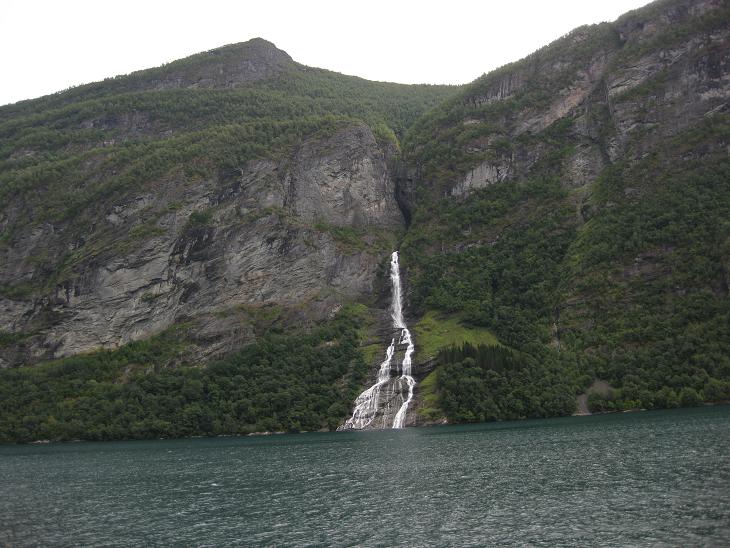 Geiranger fjord is known for its numerous waterfalls.
---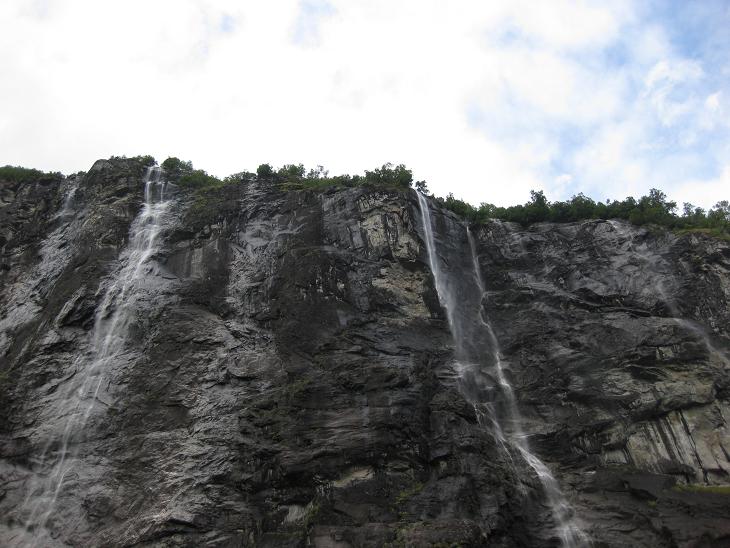 Some of them just fall off its upper rim down alongside nearly perpendicular sides of the fjord. Now in August they were pretty weak, but in May and June when the snow melting was in full swing they would provide spectacular sights as most postcards would have you believe.
---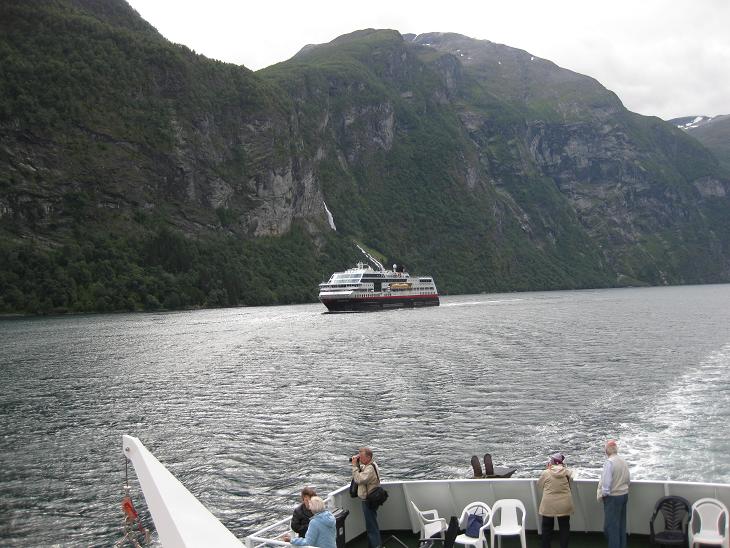 Geiranger is quite popular and besides the car ferries like ours we encountered several boats with unusually high camera to passenger ratios.
---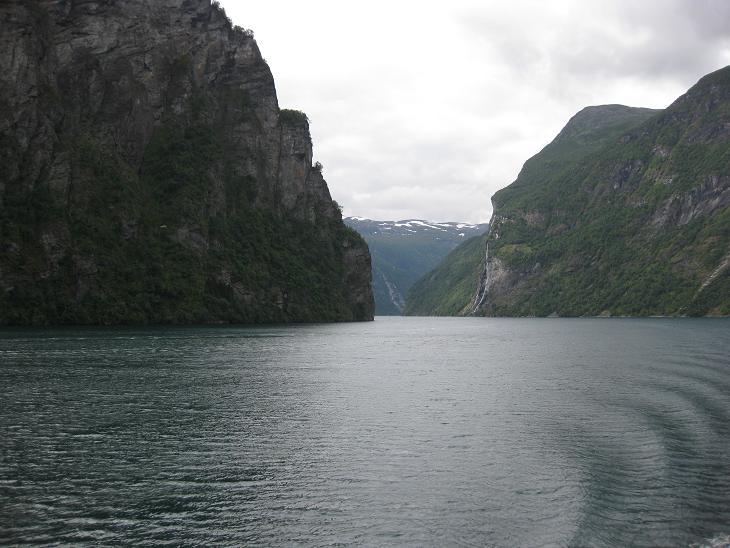 Geirangerfjord is pretty narrow in places. This is the entrance to its last segment leading up to the town of Geiranger.
---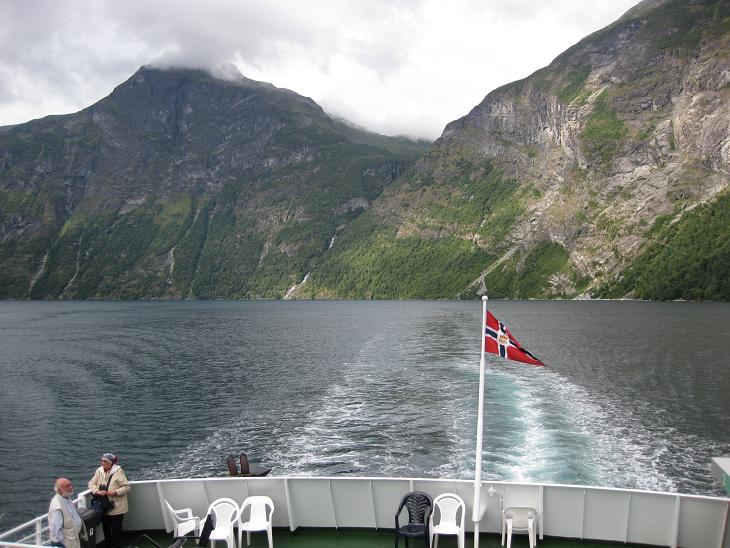 This is a look back from the ferry as we were about a mile from Geiranger. You can see why you have to take a ferry from Hellesylt to Geiranger. There is no road alongside this fjord (in some fjords you do have an option to go around if you don't want to pay for the ferry and have a few extra hours to spare).
---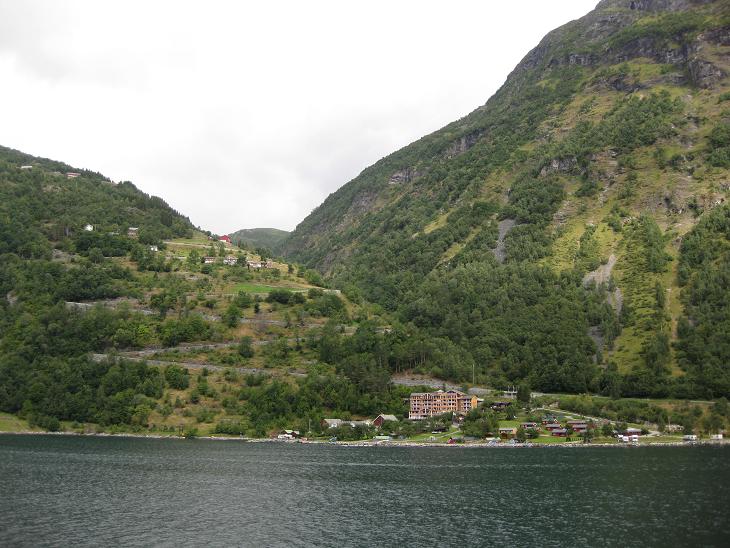 The only road which goes through Geiranger is road 63 from Eide, which sneaks into the fjord from the side just before the ferry ends. This photo catches it on its serpentine descent towards the fjord.
---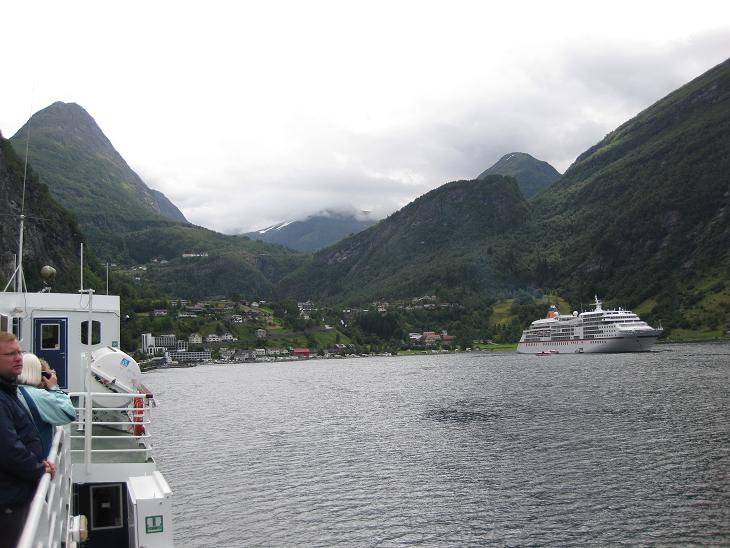 When we looked forward, we saw Geiranger where road 63 took a steep climb up into the mountains. Look at the highest white building in the center left; soon we will be there and we'll take a look back at the fjord.
---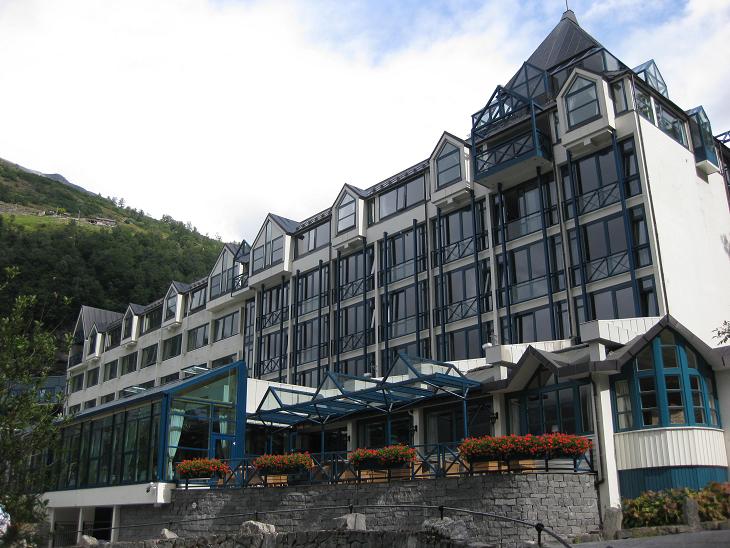 In Geiranger we stopped at a local hotel and asked about interesting places on our way to Otta.
---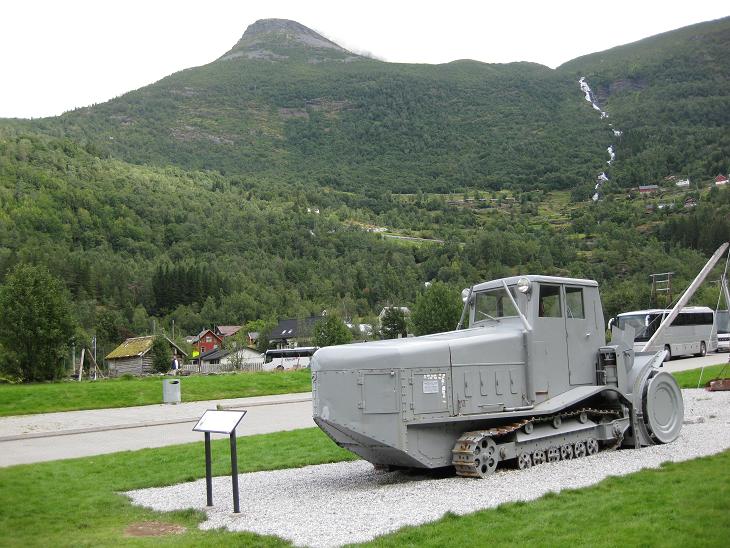 This is an old snowplough displayed by the tourist information kiosk.
---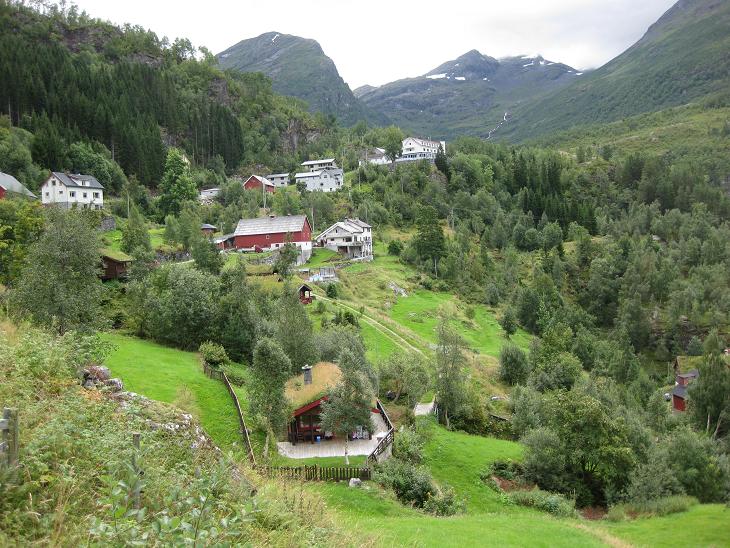 We started climbing up the hill and that white building is now much closer - center right.
---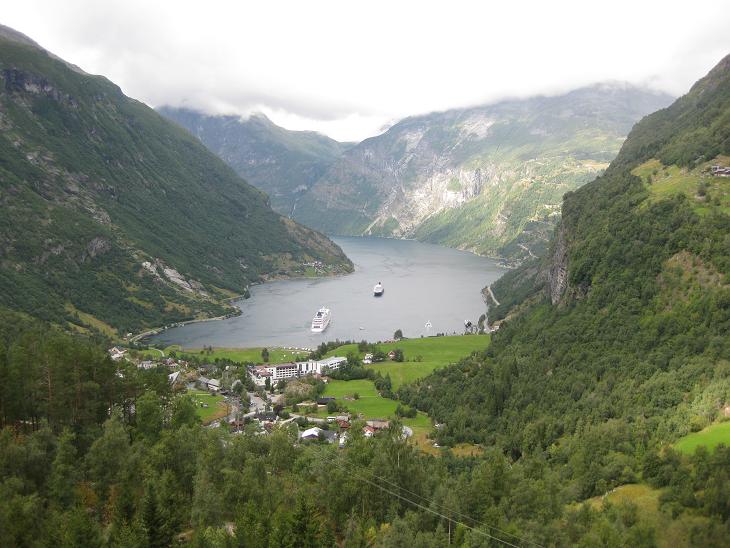 This is the promised view back on the homestretch of the Geirangerfjord.
---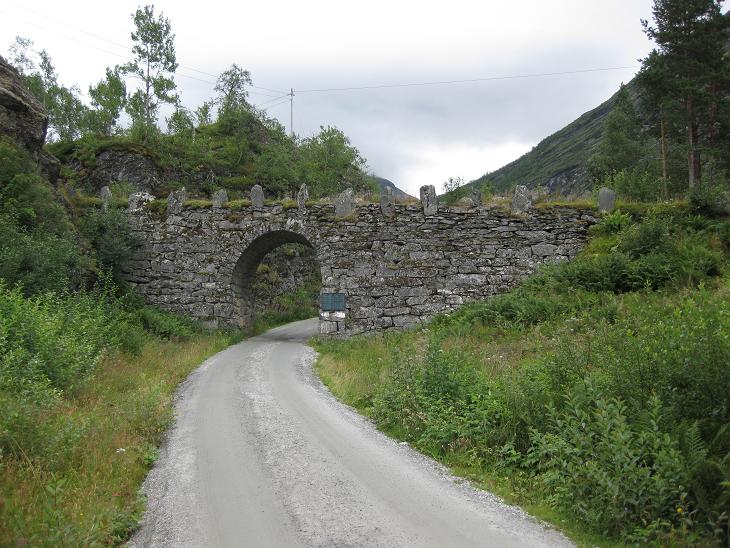 We took this little backroad, curious where it leads, but it was just a loop through a rest stop.
---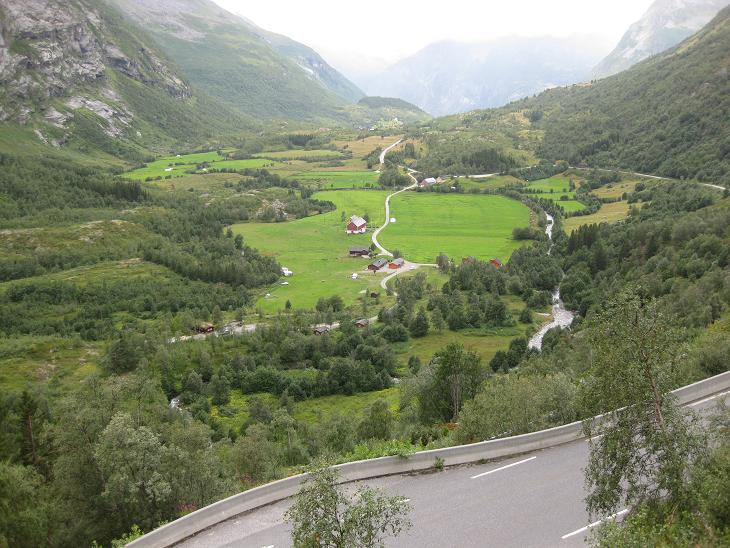 After the first steep climb there was a little plateau at about 300 meters over sea, but we continued our climb higher.
---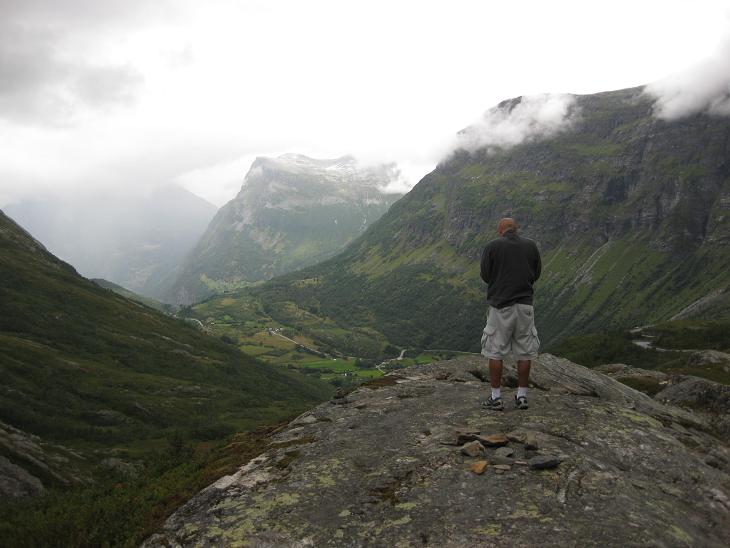 Soon that plateau (from which we took the photo of Geiranger) was deep beneath us. We were now at about 750 meters...
---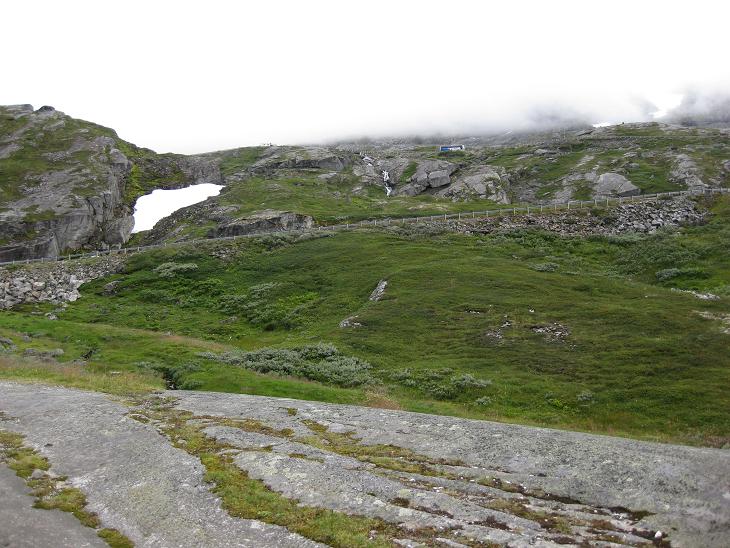 ...and the road kept climbing (see that bus just beneath the cloudline?).
---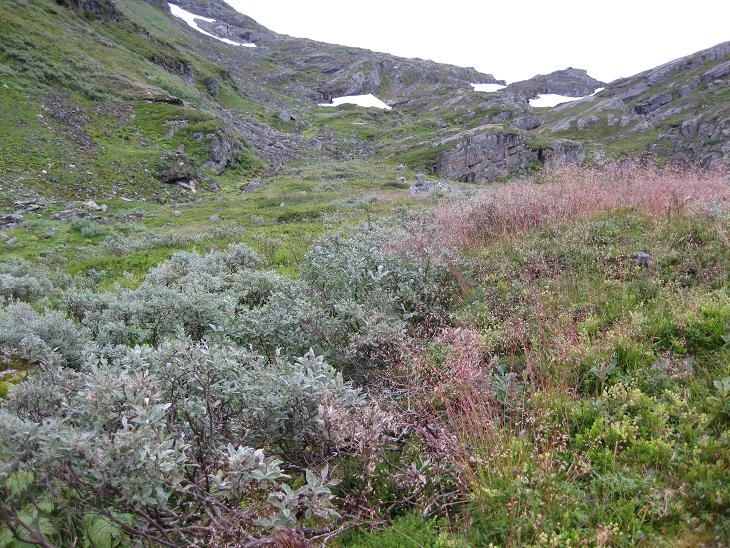 The vegetation changed completely again, there were no trees, only shrubs and various tundra loving plants.
---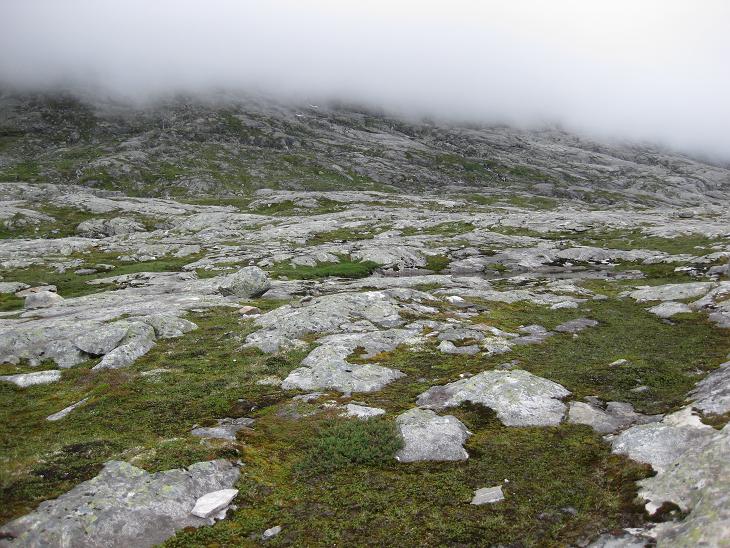 Soon we made it to the highest point at 1038 meters over sea, and clouds were literally within easy reach.
---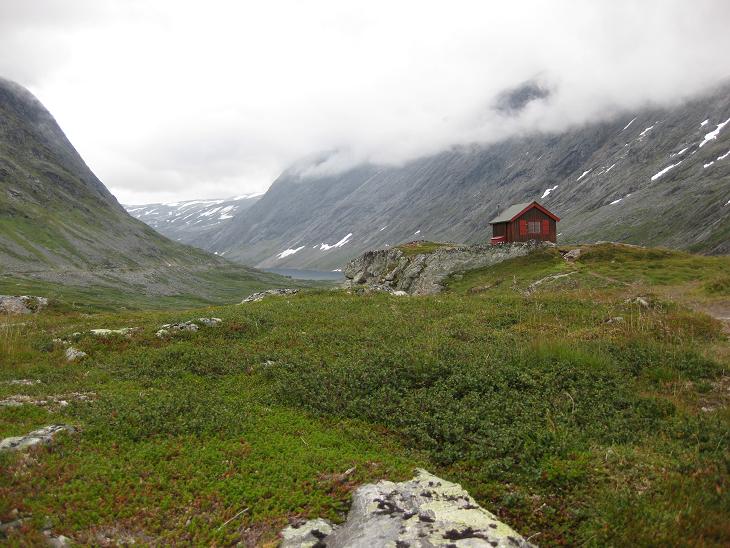 From there we started our descent back to reasonable elevations, driving through a valley marked by occasional cabins and numerous lakes.
---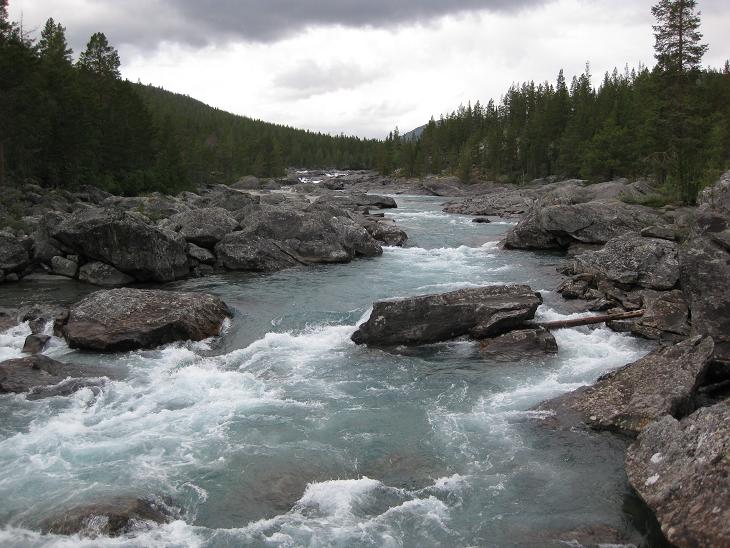 There was also an increasingly potent river following us down towards Otta.
---



We were glad to find out that the high mountains around Geiranger did a pretty good job holding off the clouds...
---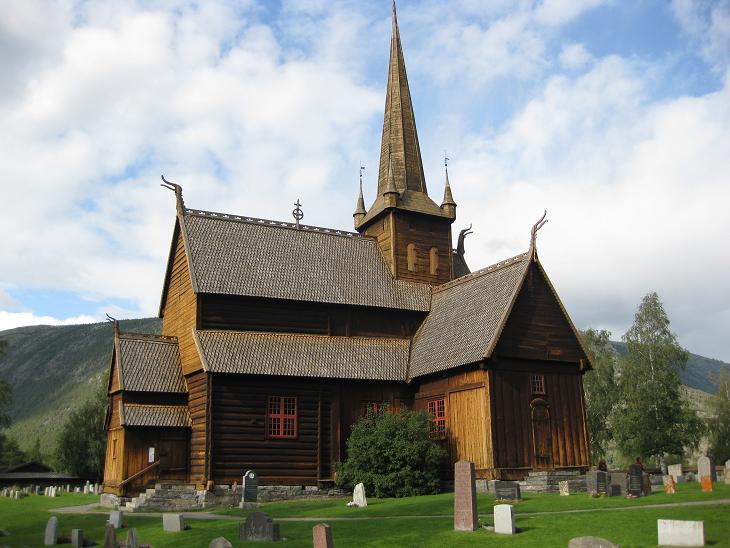 ...so when we made it to Lom (about half way to Otta) the blue sky was peeking through again...
---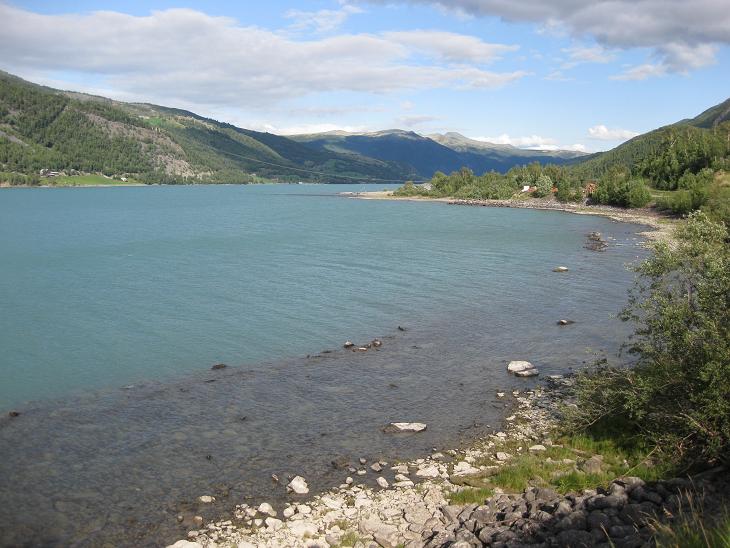 ...and for the rest of our trip we had back the nice weather that we got used to by now.
---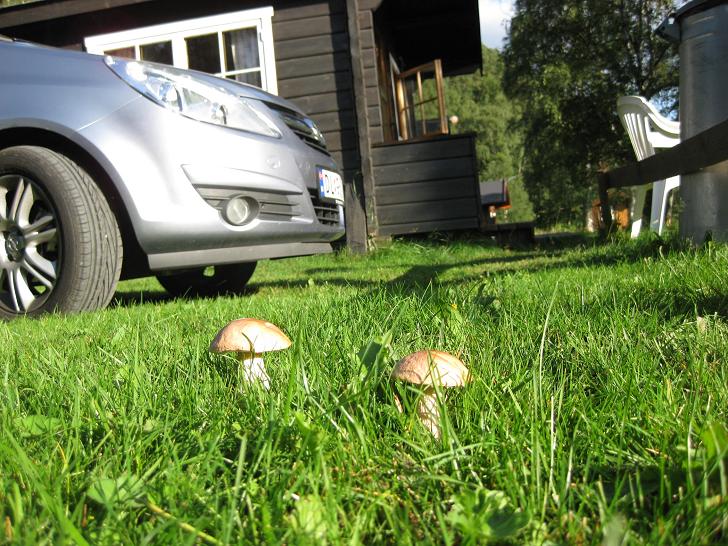 At Otta we turned North and started to look for accomodations. We chose a nice and inexpensive camping place...
---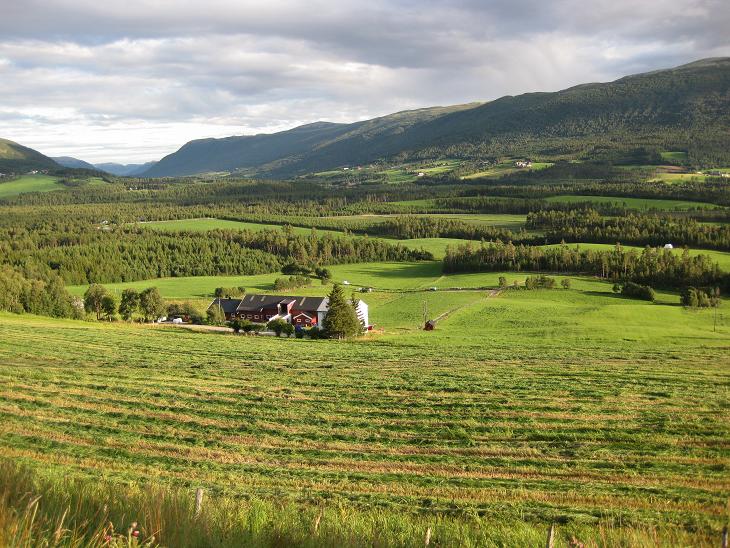 ...in the rolling hills surrounding Dombås.
---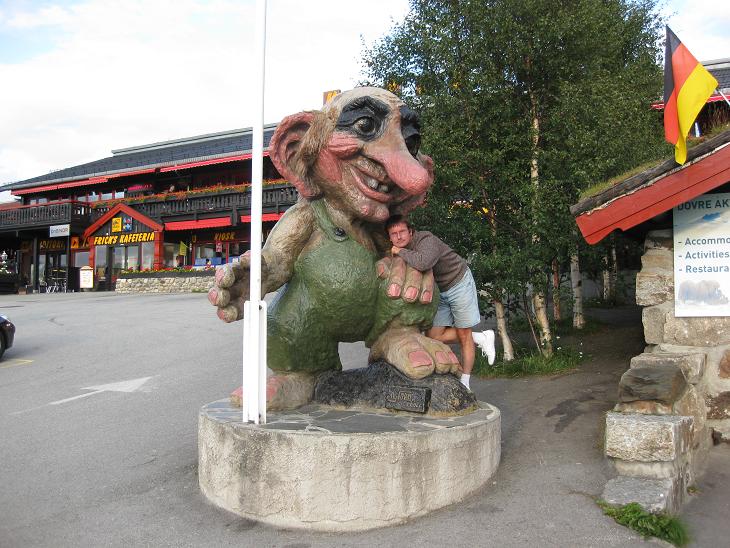 Before we called it a day, we drove around a bit and found a funny troll guarding the Dombås shopping center.
---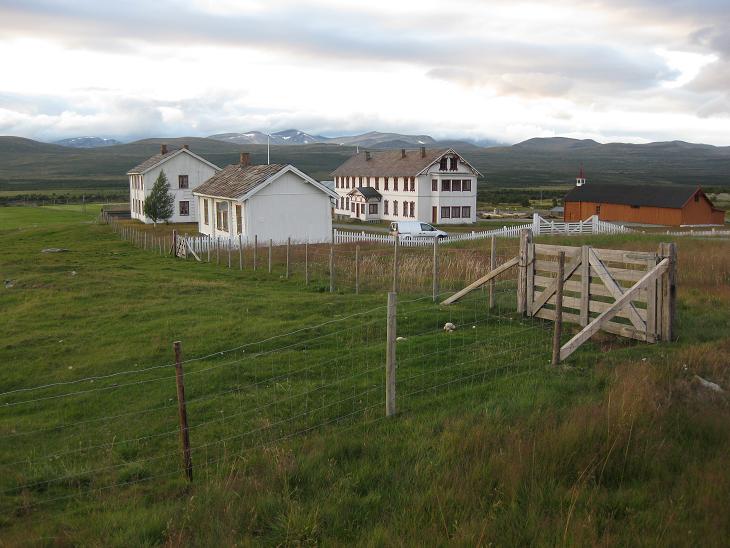 We also found a little farm to the north of it which moonlighted as a motel. And that was it for Thursday.
---