Yellowstone (south)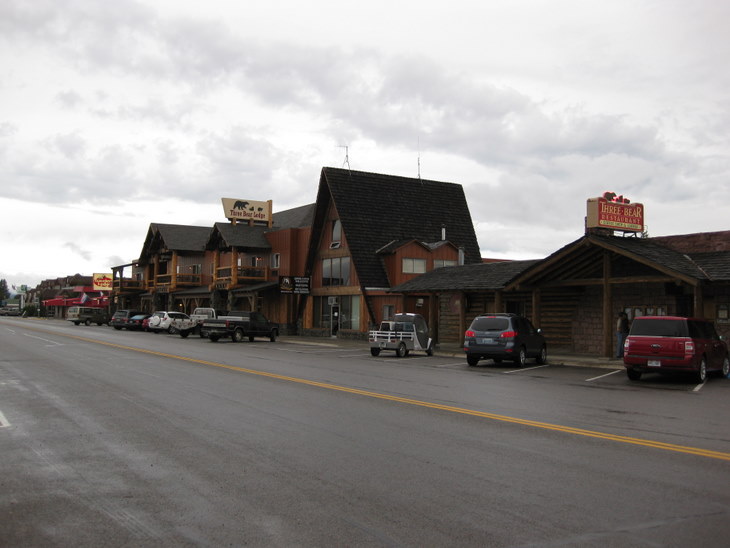 We spent the night at West Yellowstone, which is technically in Montana, but just a short walk away from Wyoming border.
---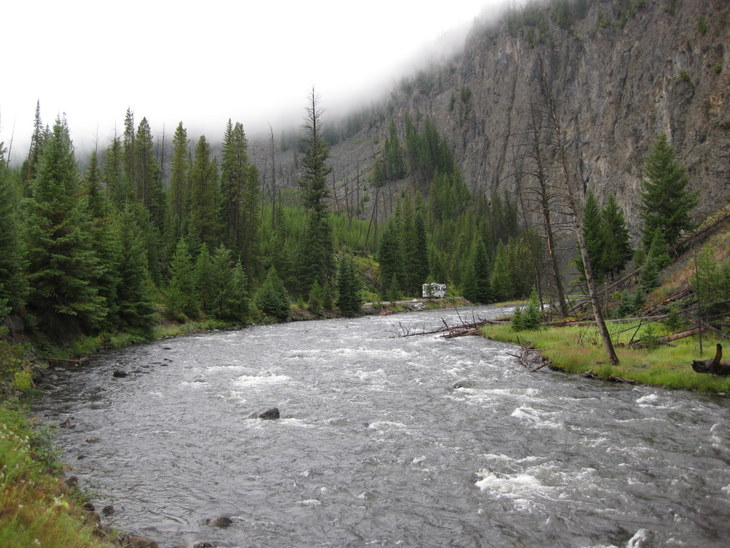 We followed the Madison River back into the Park (the weather was still a bit under the weather).
---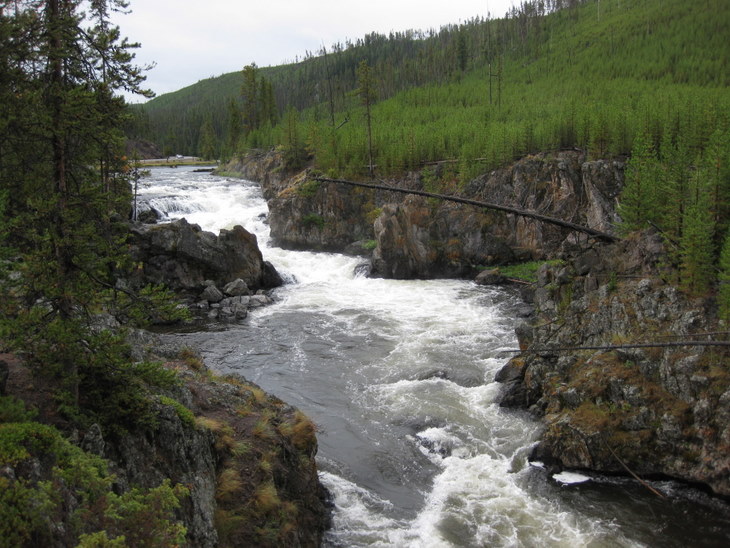 As we proceeded deeper, the river got wilder, and offered plenty of rapids, chutes and waterfalls.
Especially in a place known as the Firehole Canyon.
---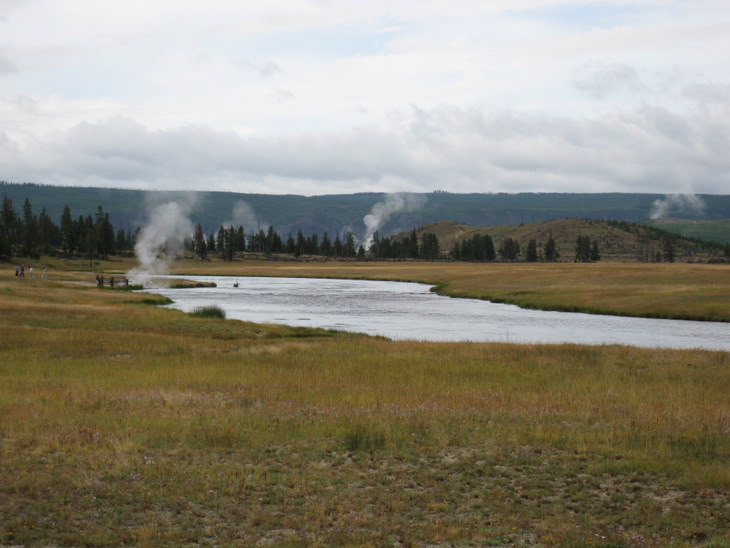 About 25 miles from the west entrance, we came to a little plateau full of steaming columns.
---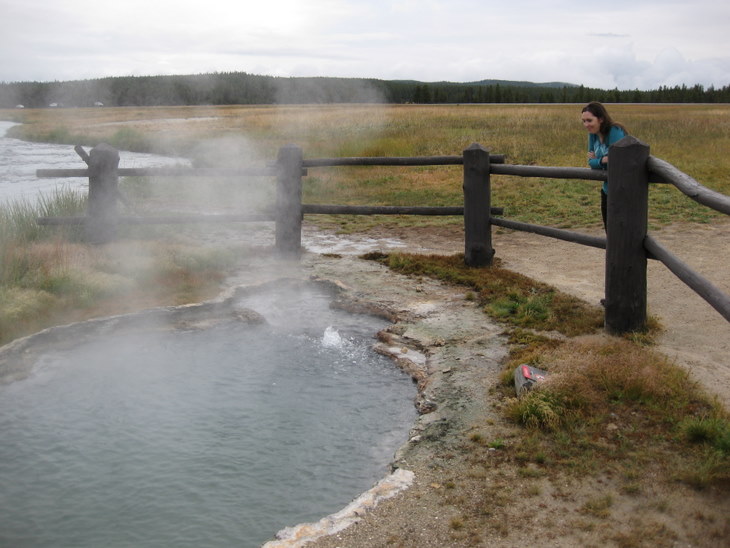 Each was associated with a little pool and a hot spring generating bubbly water.
We attempted to stick our finger in it and were sorry that we did.
Kids, there is a reason why it is called a "hot spring".
---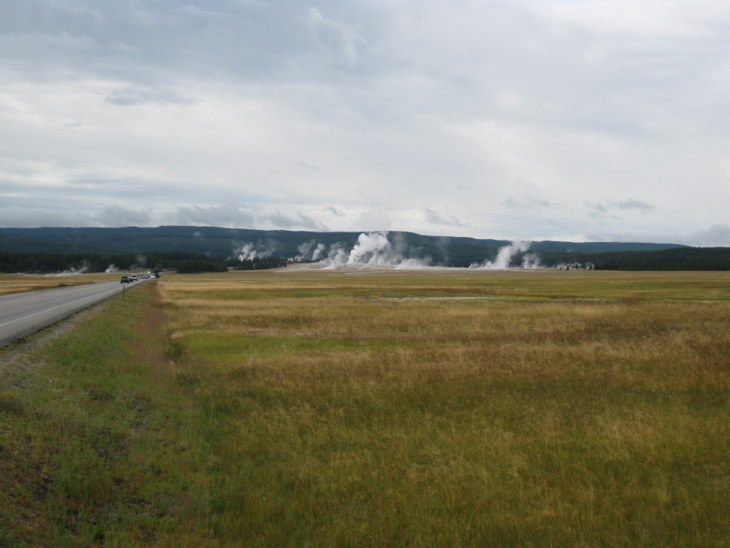 As we proceeded south towards Old Faithful, we approached another area with even larger concentration of steaming columns.
---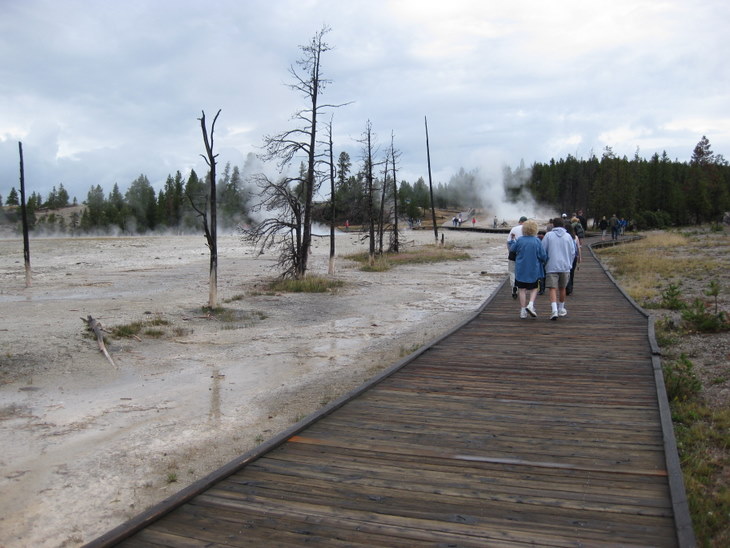 That was the beginnig of the so called Lower Geyser Basin,
and a boardwalk trail lead you toward its goodies:
---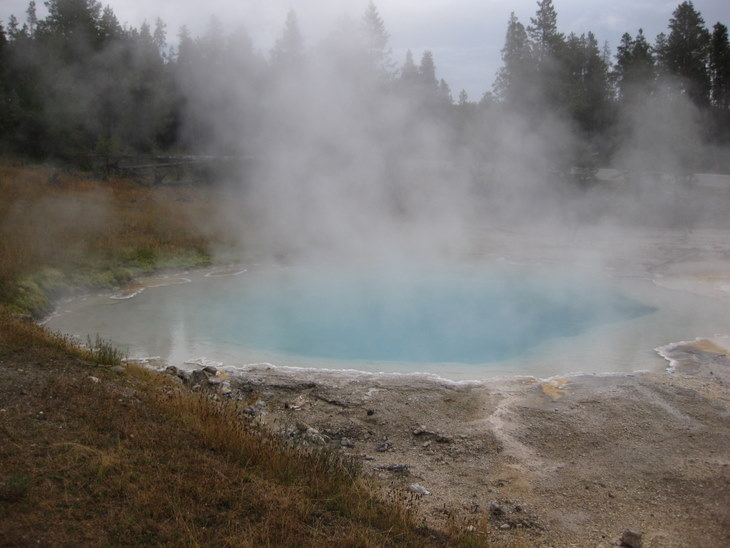 1. steaming and surreally blue hot water pools,...
---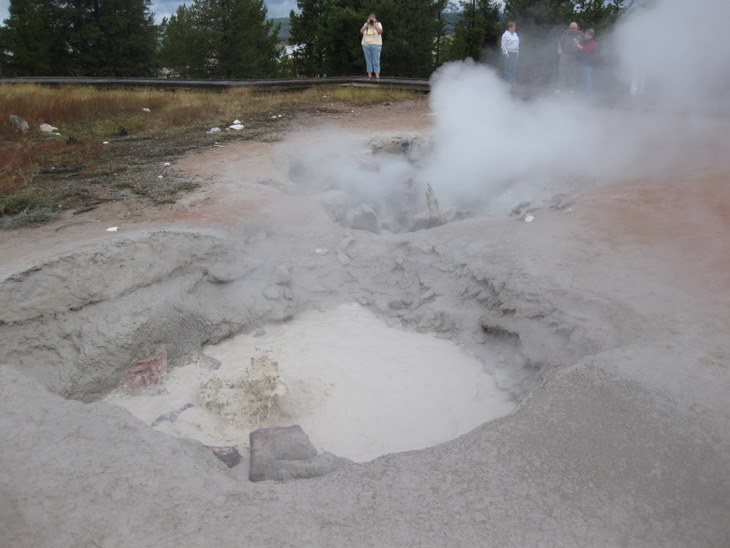 2. mud volcanoes,...
---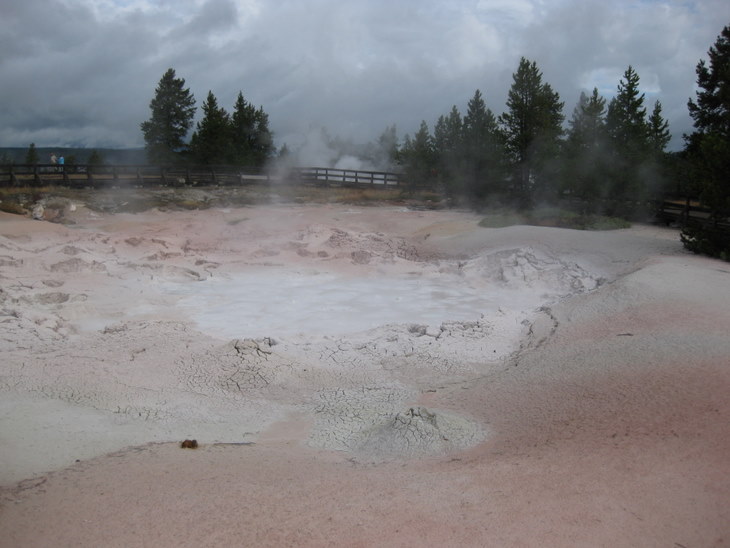 3. mud cauldrons - judging by the look and smell, they must have possessed some pretty serious healing powers...
(I bet if you stuck your body into them for 15 minutes, you'd become mildly immortal)
---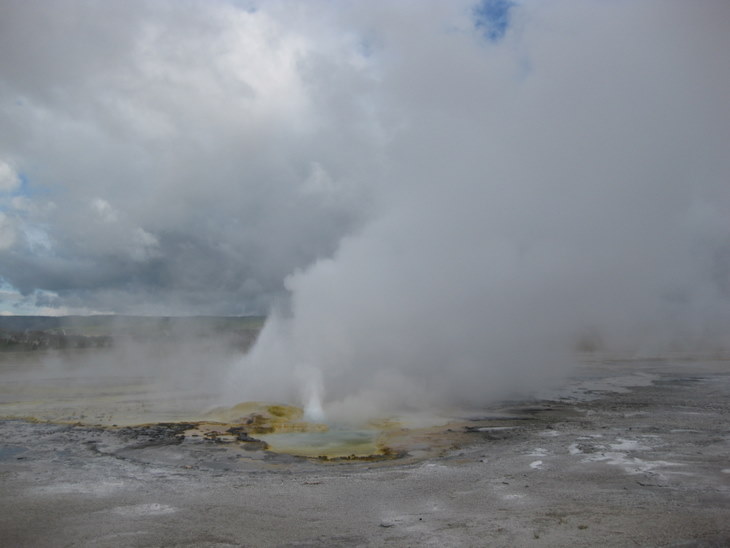 4. and also the first minor geysers of the day
---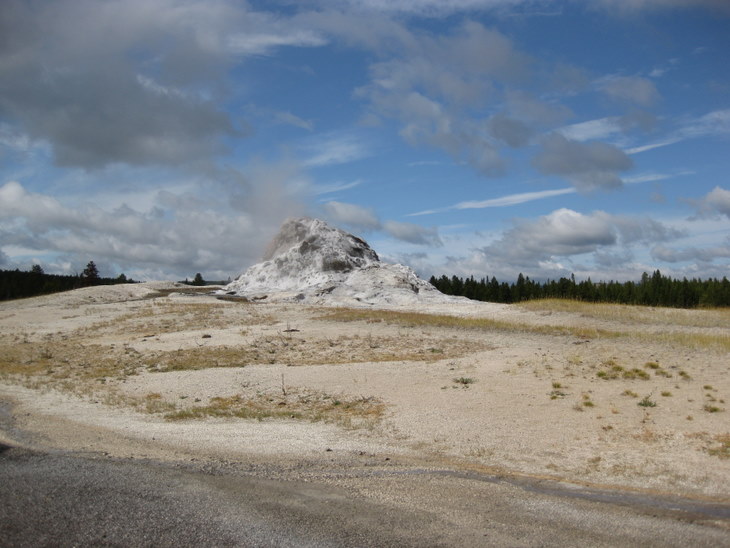 We encountered our first major geyser when we took a detour to Firehole Lake.
However this one didn't squirt regularly, so we kept going.
---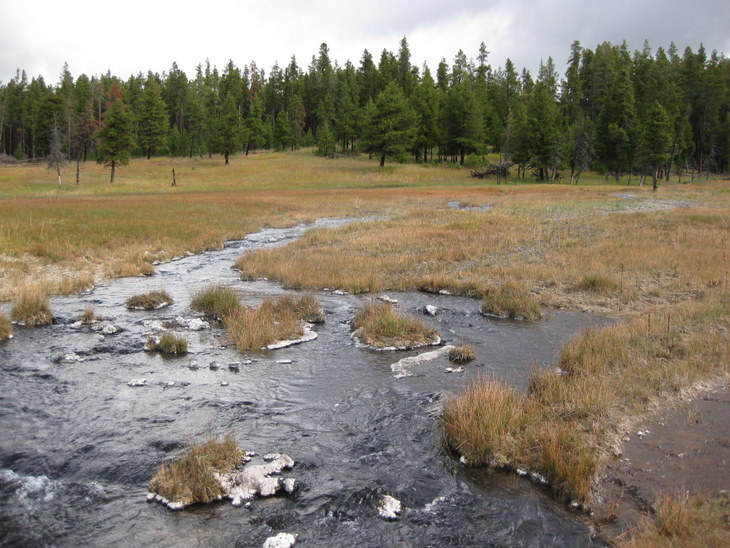 A little creek issuing from the Firehole Lake was so rich in minerals that you could see the whitish sediments everywhere in its stream.
---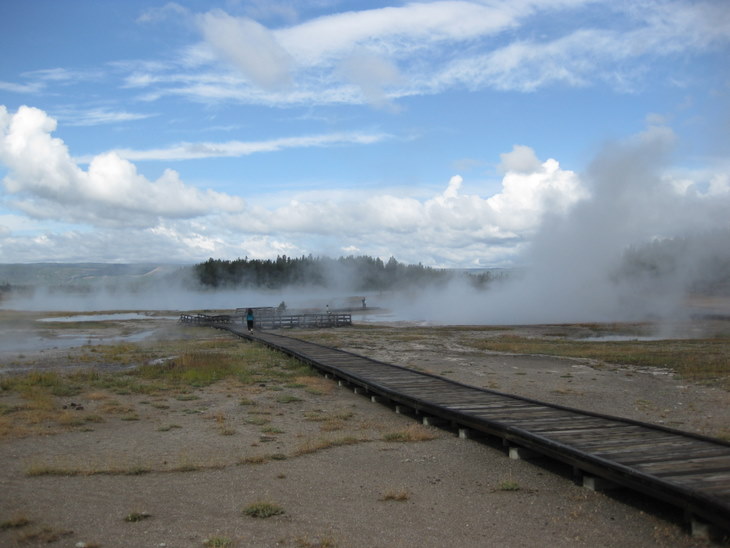 The Firehole Lake, as we expected, came wrapped in smelly vapors.
---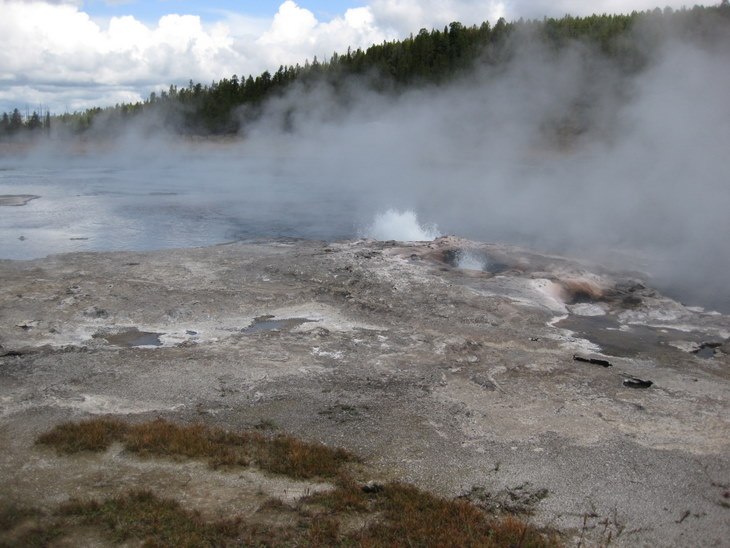 But it featured a small geyser trio - see center right...
(the first is seen erupting, the second sputters on its right, the third, rightmost is resting)
---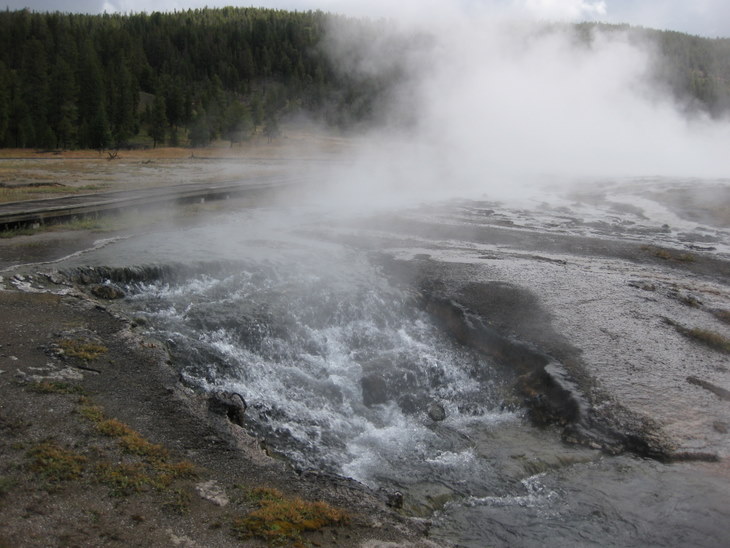 ...and a little hot cascade.
---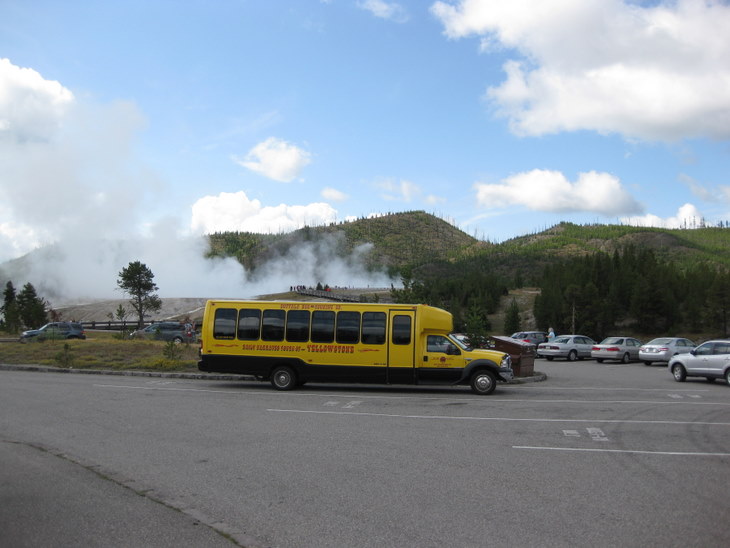 From the Lake we moved to the Midway Geyser Basin for another bordwalk expedition.
---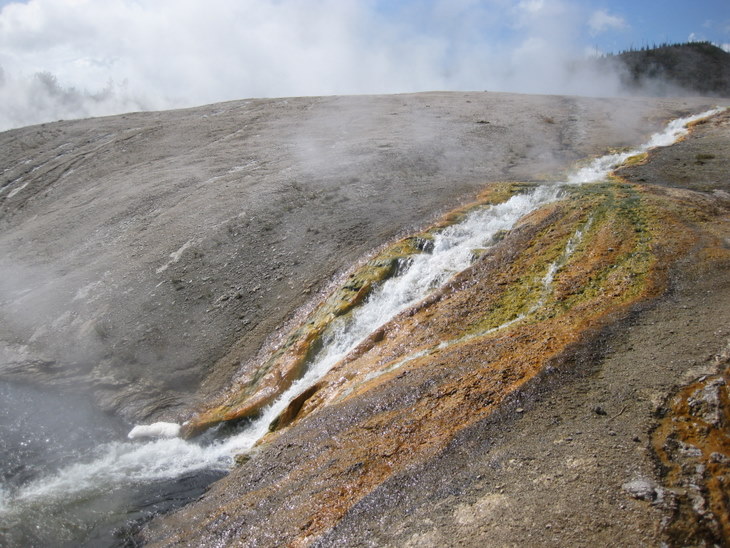 This basin was elevated above the river, into which it issued its hot waters through a series of technicolor channels.
---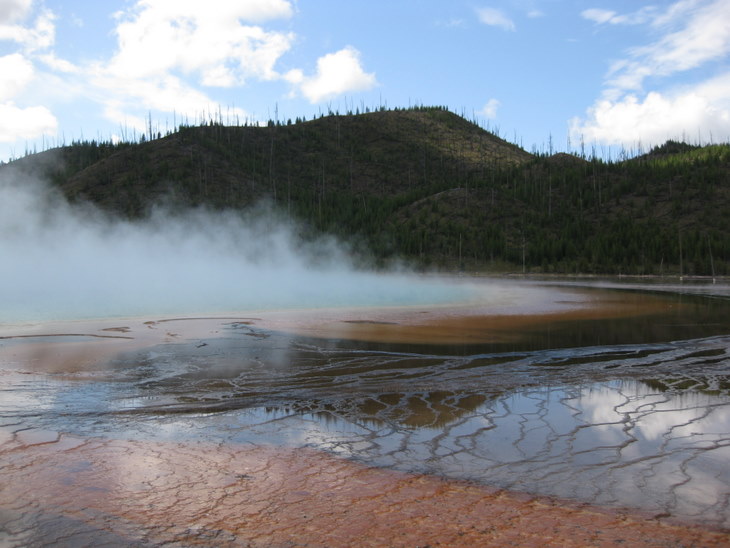 At the top of this basin, there was a beautiful blue Olympic sized hot pool.
---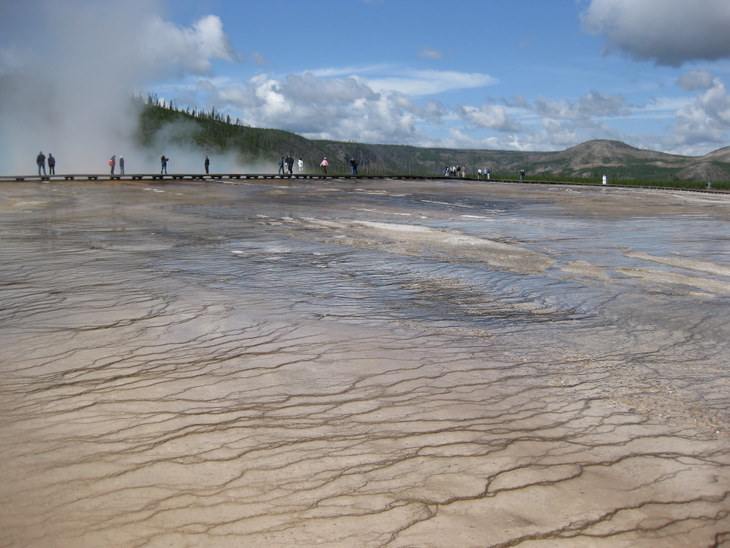 As the overflowing waters seeped down from the pool, they created a web of little terraces.
There is another photo of them here
---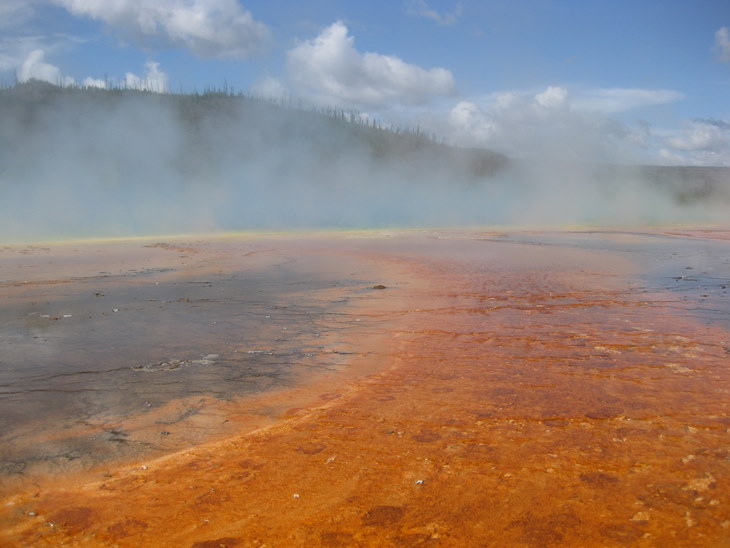 Through a combination of geology and microbiology, Yellowstone has become a playground for colors.
This is one of the draining channels with a dazzling spectrum of rusty hues...
---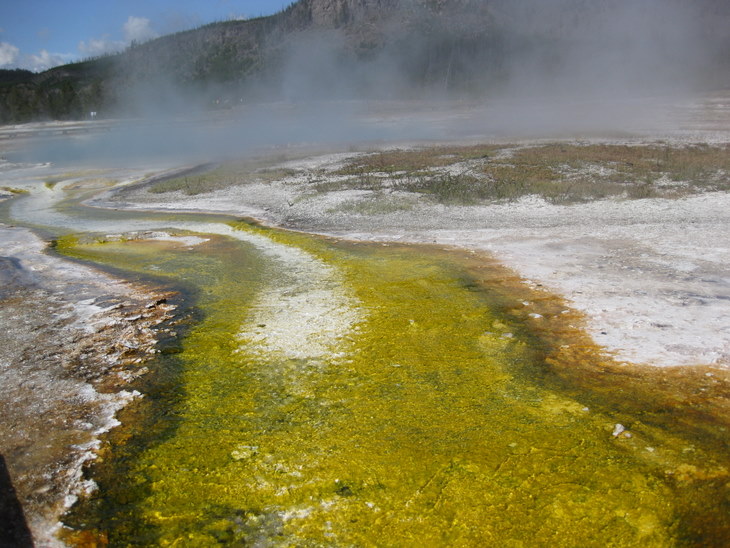 ...and another one that decided to use a combination of green and yellow.
---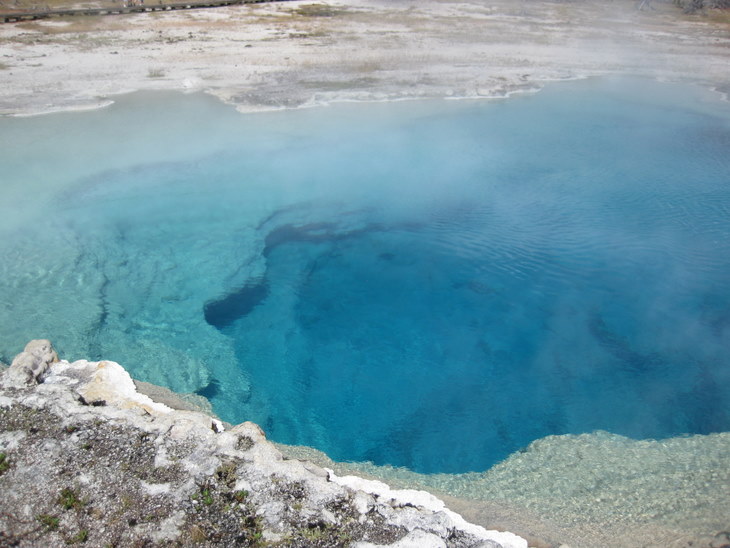 And then, of course, there are the amazing turquoise tones of hot pools.
---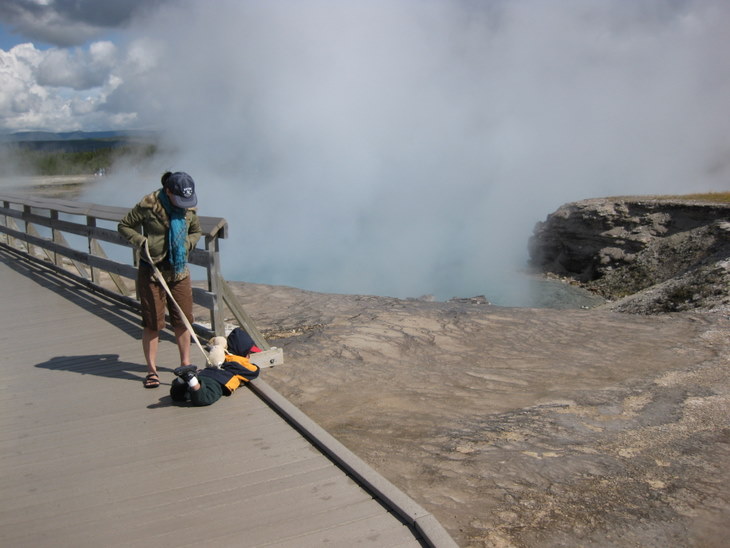 Dogs have to be leashed in Yellowstone, but some tourists from East Asia apparently extend that to their kids.
---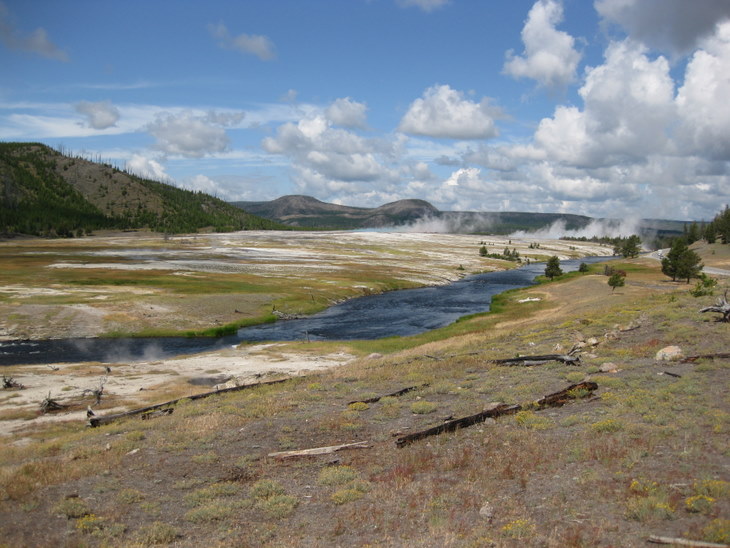 Then we followed the Firehole River to the Biscuit Basin, next door to Old Faithful,...
---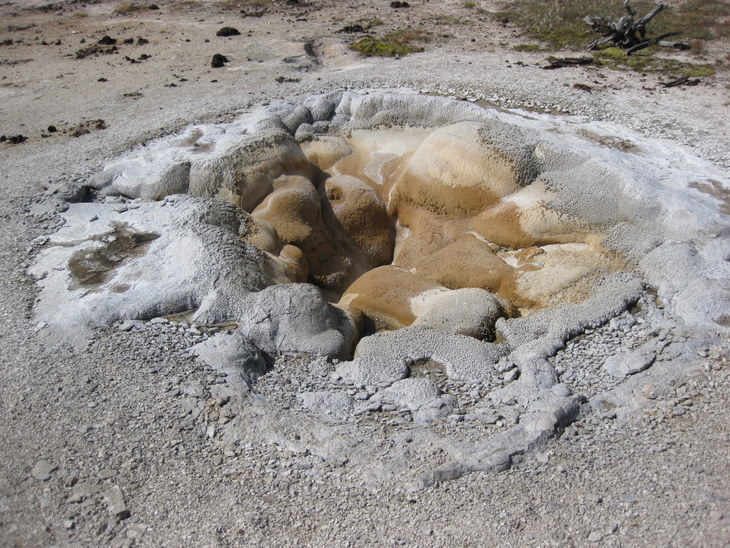 ...and were offered a variety of geysers - some dormant...
---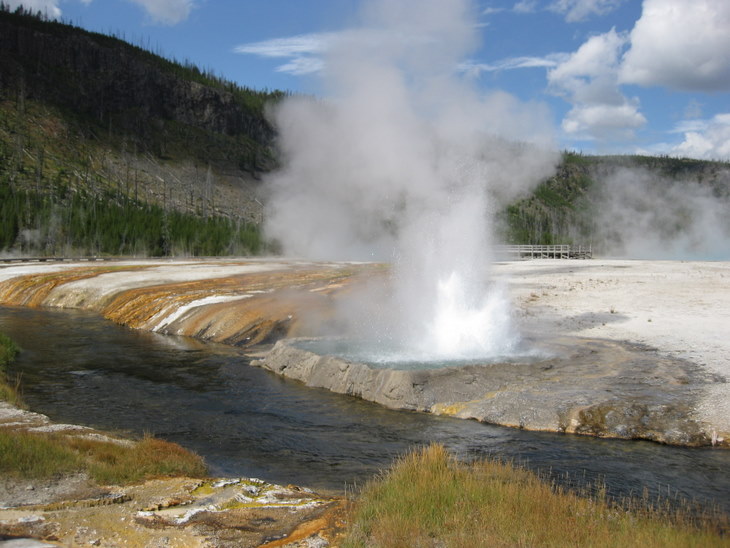 ...and some in full bloom.
---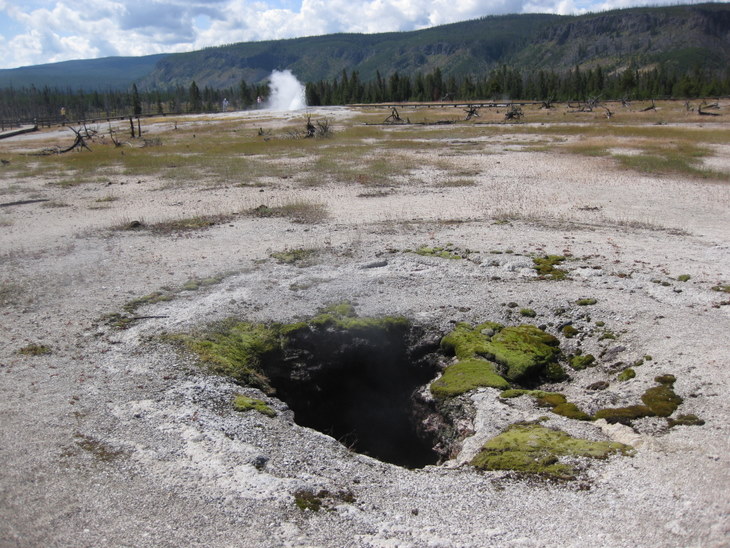 It needs to be said though that Geysers are very finicky creatures.
There was one that was supposed to go off every 15 minutes, so I waited patiently with my camera ready...
...and nothing happened.
So I moved on, and just as I was shooting a photo of this uneventful hellhole, the geyser squirted (in the background).
I swear that from the deep vent I could hear Nelson's voice: Ha-Ha!
---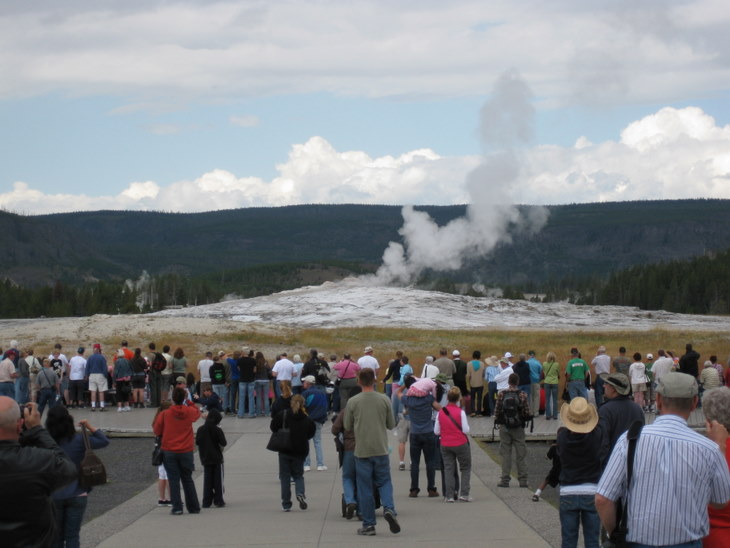 Old Faithful is the anti-dote for your geyser frustrations.
It goes off every 75 minutes and hoards of tourists are betting their vacation albums on it.
---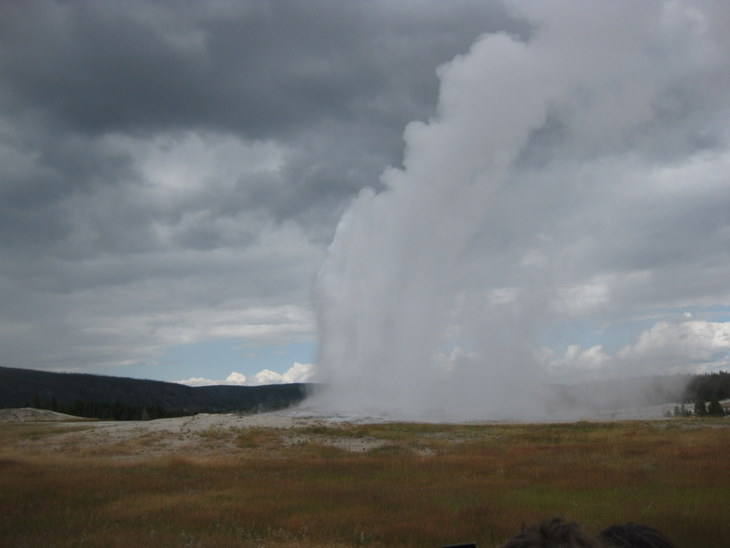 We got there at 12.45pm and the next eruption was scheduled for 1.41pm.
It went off at 1.42pm - that's my kind of geyser.
Good Boy!
---