Sunday, Feb 19, 2006
OK, the trip to the Vieques Island, take 2. When Sunday came, we got up at 6am, so as to leave a little extra room for unforeseen circumstances. By 7am we were on the road to Yabucoa and sincerely hoping to catch the ferry. This time we took the coast road 901 and easily found the toll road 53. Once on it, Fajardo was just half an hour away. Thanks to Louka's impeccable navigational skills we found the marina quickly and when we parked our car and bought ferry tickets (amazingly the ferry to Vieques is only $4 for a round trip!), we still had about 45 minutes to spare, so we loitered about the docking area and watched the hustle and bustle of the harbor.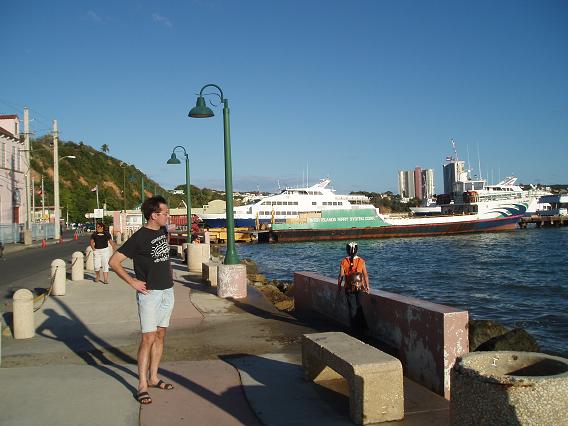 The ferry departed around 9:10am and we took a seat on an open deck, from which we could observe the ocean. We were hoping for frolicking dolphins, but they apparently don't frolic on Sundays. About half way to the Vieques Island I noticed that a woman in front of us was reading a Hungarian magazine, so I asked about her origin and it turned out that both she, her name was Monika, and her friend, Laco, were Eastern Europeans. So by a strange quirk of fate, four open deck seats on the ferry from Fajardo to Vieques were occupied by a Hungarian, a Slovak, a Bulgarian and a Czech. Four islands of the former Soviet archipelago in the sea of Puerto Ricans and Americans. What are the chances!?
To our right we saw mostly the distant shores of Puerto Rico and to our left an open sea. Around 10am, as we were approaching the Vieques Island we noticed an interesting little island to our left, which was about 5x5 yards and covered only with grass. I think byuing it might be cheaper than buying a house in DC. I'll think about it. But I'll need a good lawn mower...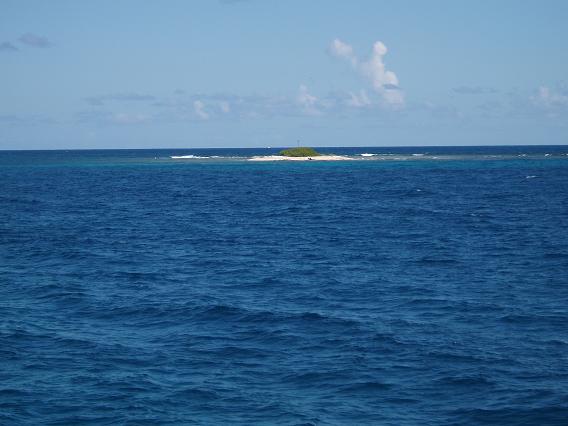 The contours of Vieques grew larger and larger and soon we could see the individual houses and a small harbor on the northern shore.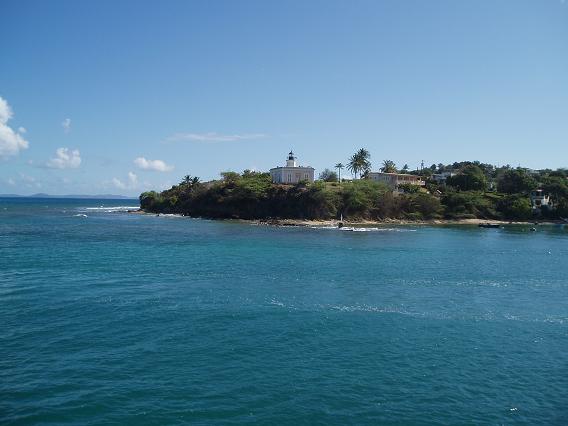 Laco spoke some Spanish and thanks to his skills we were able to hire a taxi (a minivan called "publico") to one of the beaches in the southern part of the island. Besides us, three strapping Puerto Ricans were sharing the ride. Laco practiced his Spanish conversation skills with them and from their wide smiles I gathered that they were not going to cut our throats, which was all I really cared about. After about 15 minutes the taxi pulled over at a parking lot by a large horse pasture.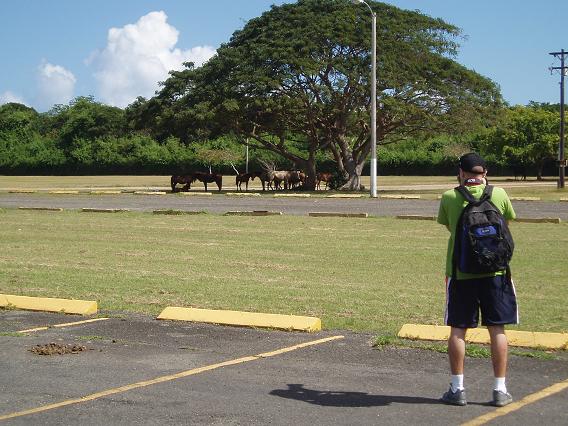 The stately palm trees at its end were betraying the ocean. This was finally the beach we were waiting for. Fine sand, a deep inlet shielded from the large waves, couple of rocks with interesting marine life and the greenish bluish ocean. Alongside its shoreline, the crystal clear waters entertained nimble fish that would skedaddle away from us whenever we made an attempt to inwade their habitat.
We set a base camp near a small bistro, which we soon utilized for a small refreshment.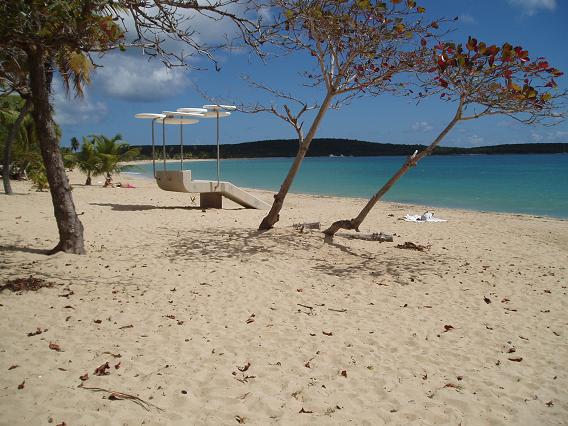 But first we had to utilize the ocean for a big refreshment.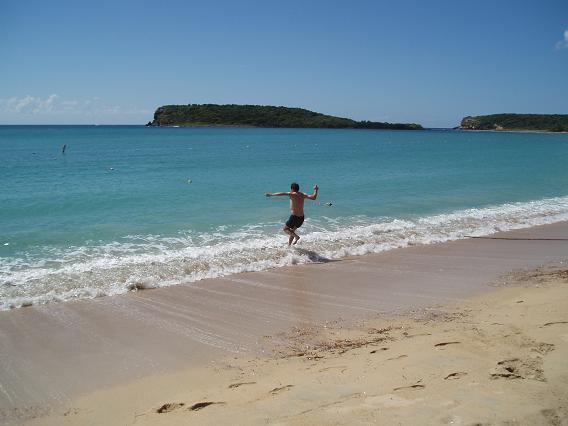 From this point we took a walk in both directions.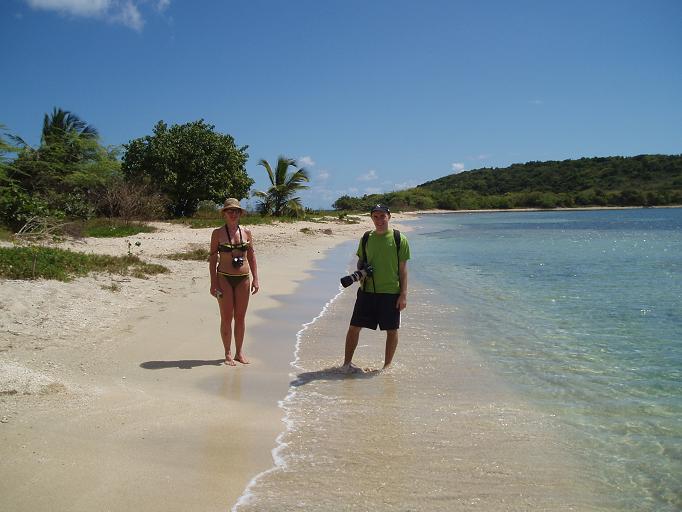 Louka and Monika stroling down the beach.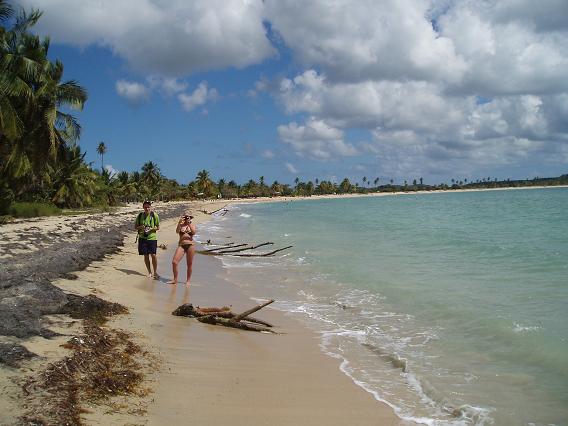 Louka underneath an old pier.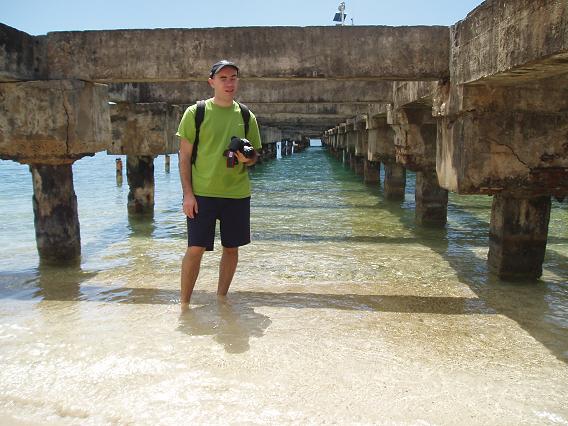 Louka and Monika on the other side of the beach.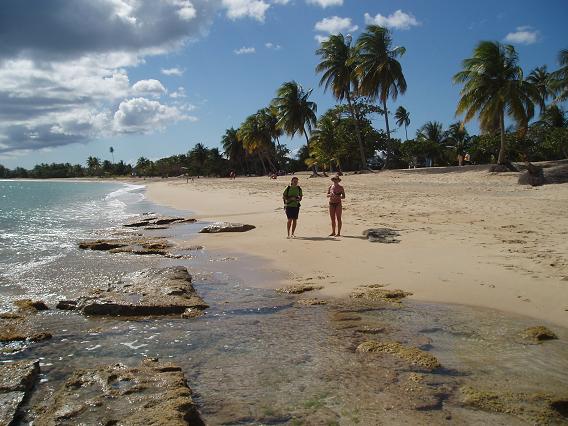 Marine life in one of the rocks.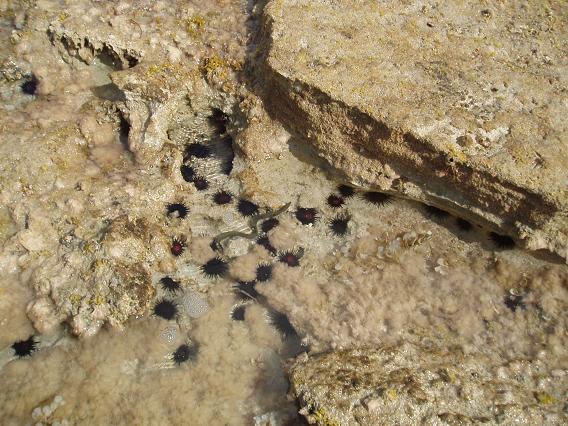 A sand dinosaur.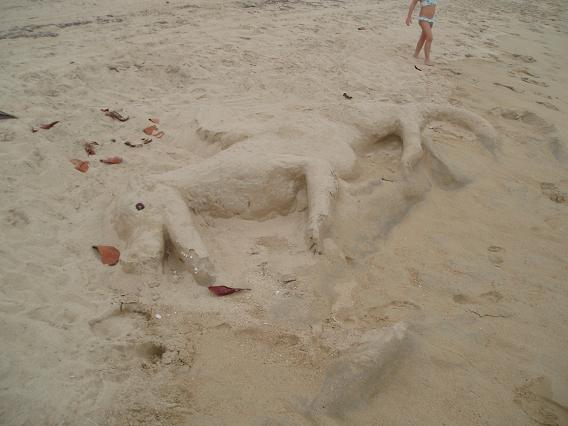 When we got back, Laco called a taxi and asked for a pick up at the parking lot at 4pm, so we'd reach the ferry 15 minutes before the scheduled departure at 4:30pm. But the driver thought that four people is not enough for his spacious minivan and kept driving alongside the beach, away from the ferry, hoping to find more returning travellers. When Laco informed him that we have a ferry to catch, he said that he is local and knows how things go around here (meaning that the ferry will be a bit late anyway). At one point we got into a pretty dense traffic jam: a road originally designed for a single horse carriage was plugged by two taxis and a baby stroller, separated from one of the taxis only by about 2 inches. But our driver didn't lose his composure and found a way out through very local alleys and someone's back garden. At 4:15 he finally decided that no other customers could be had and turned the nose of his minivan in the direction of the ferry harbor.
The timing of what happened next couldn't have been more dramatic if Steven Spielberg was standing on a pier with a bullhorn in his hands. At 4:23pm we disembark the taxi, pay the standard $3 fare and start walking to the ferry dock, noticing that ferry is just about to take off. At 4:24 we enter the ferry wharf and watch - in a kind of surreal dream - how the ferry takes off . We yelled and waved at the personnel on the shore but to no avail. The ferry took off at 4:24pm (if not sooner) and the next one was scheduled for 6am the next day! We got genuinely stranded on a not-quite-deserted tropical island.
As we were trying to take stock of the new situation, we noticed that there were 4 other people left behind by the ferry: a Mexican student of botany, Ivalu, and her three Puerto Rican friends. Unfortunately the ferry's manager, whose fault the early departure clearly was, had no intentions of rectifying the situation and Ivalu had some heated words for him. But he just brushed her off and barricaded himself in the office, absolutely unwilling to help us in our predicament.
For a while we were just roaming the empty terminal, trying to figure out what to do. But thanks to the aggressive escape instincts of some of our fellow strandees we were not to remain imprisoned on this island for too long. Monika and Louka in the Ferry Terminal seemed quite calm and relaxed.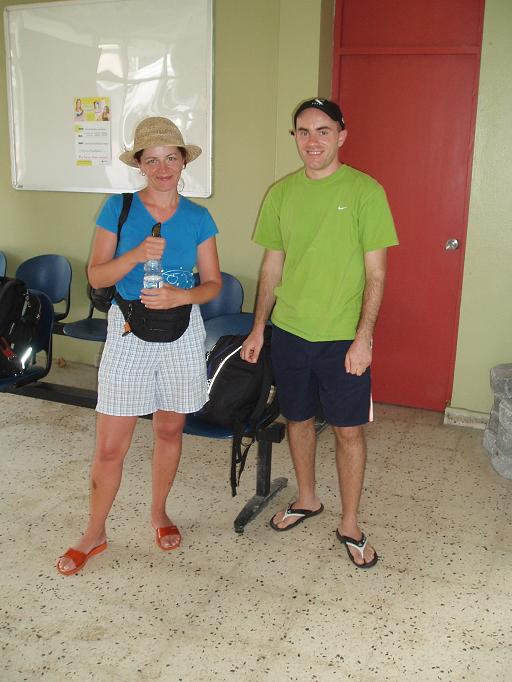 After a while Laco called the local airport, asking if we could order a charter flight from this paradise. Surprisingly, the Air Flamenco was willing to fly us back to Fajardo for $250. Coincidentally, their airplane had 8 available seats, which was exactly the size of our wretched group (and that brought the cost of our joy-flight down to $31.50 per person). So we called yet another taxi and took a short trip to the Vieques Non-International Airport, a place where (and this is the direct quote from a sign in the airport terminal) "Piggyback Violators will be severely penalized".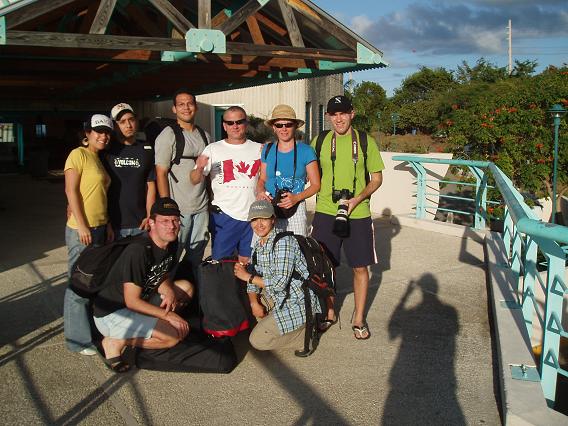 Since the plane was rather small, the Air Flamenco carefully weighted not only our baggage but also our bodies. I figured that they are just trying to calculate how much gas they would need, but I did notice that Laco took his flip-flops off before stepping on the scale. That meant that our little plane was about to carry some unaccounted for cargo. Hmmmm...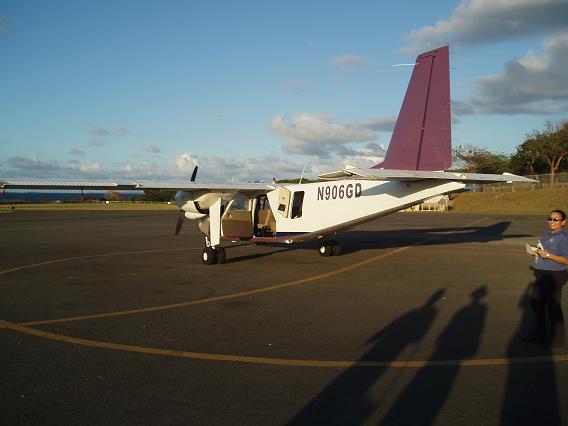 The Air Flamenco is the true Caribbean airline. Laid back and easy going. Just seeing their luggage handling made me laugh. Instead of the usual luggage train, a guy sitting on a golf cart had one hand on the steering wheel and in the other he held the handle of some sort of a retired gurney with our luggage tossed on it.
Our pilot, Charlie, was pleasantly mellow as well. When asked about the cell phone usage on board he said: "Well, you shouldn't, but it's ok with me". So we crammed ourself into the little airplane and took off, crossing the sea by air and enjoying some spectacular views for $31.50. When I looked back and saw my fellow travellers tightly packed, I appreciated the little sarcasm of Charlie's announcement: "During this flight it is discouraged to walk in the aisles". He was really funny.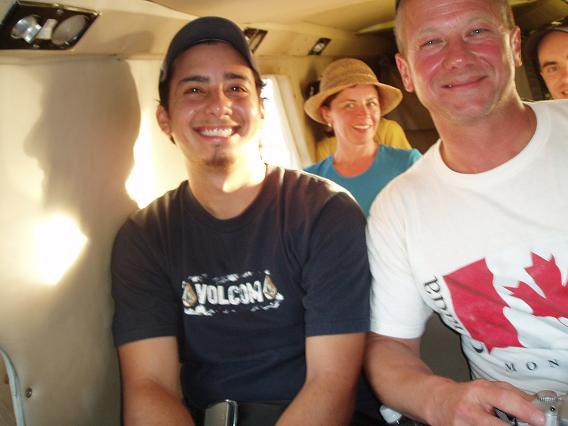 I was sitting directly behind Charlie, and during the flight I noticed that one orange control light kept ominously blinking. And I was quite curious whether Laco's unweighted flip-flops would cause the airplane's engine to sputter and stall few yards above the ground, the carburetor lacking those last few precious droplets of gas that were supposed to carry the flip-flops to the main island, but were never put in the tank... But nothing extraordinary happened. Soon we saw the landing runway at Fajardo Aeropuerto and landed safely. When Charlie opened our door, we congratulated him on his successful landing and he just turned to us and with a dead-pan face said: "Well, pretty good for a first day on the job, huh?"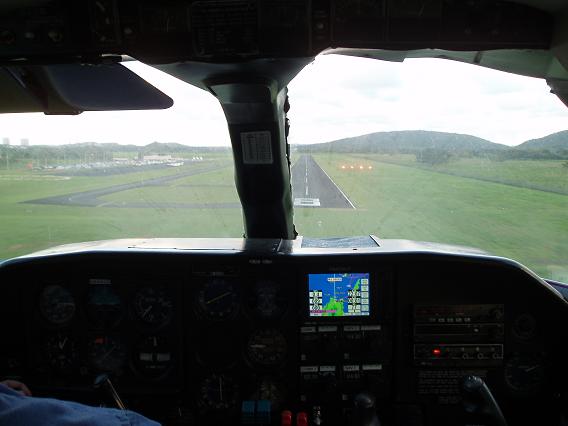 The taxi to the ferry terminal was kind of small for 8 people, but I got a free botany lecture, so I hardly noticed that my skeleton was being crushed. After we picked up our car, we went to the ferry manager in Fajardo to launch a formal complaint, but it was pretty obvious that whatever information we entered into one of his ears was immediately released through the other one and no permanent record was being created in between the two ear lobes. So we said good-bye to Laco and Monica and around 7pm set out for San Juan, where we planned to spend the evening.
The trip to San Juan took us about an hour. Monday was a holiday and everybody was headed that way to enjoy the entertainment of the Old Town. We managed to navigate to Old San Juan without any problems and although we parked at random, we chose a spot within an easy walk from the Old Town's center. But on our way there Louka spotted a cruise ship, so at first we went in the opposite direction to take a few photos of these floating giants.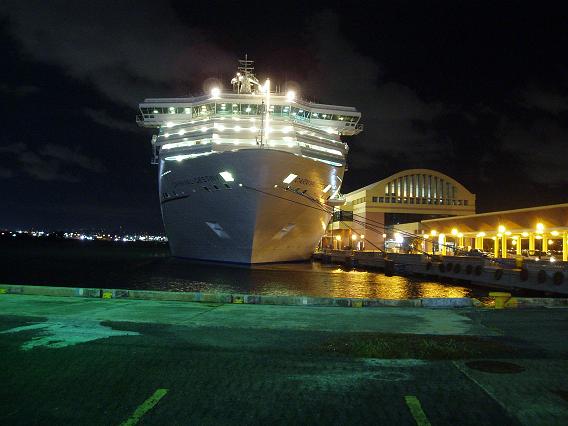 What a waste of electricity.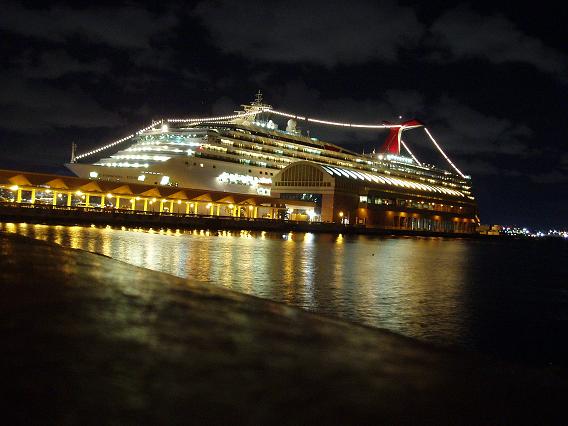 From the pier we followed the quay, which was quite deserted and walked back into town. There were more and more people in the streets and when we made it into the heart of town, we even ran across a local fiesta, a small gathering of people and street musicians having a good time. The air was quiet and warm and the Puerto Ricans were as relaxed as cooked spaghetti.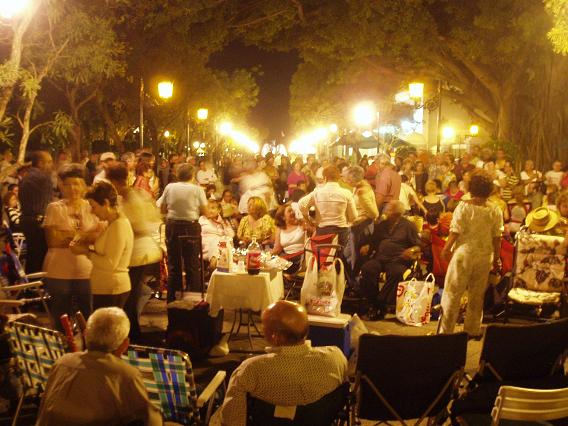 By this time we began to feel a bit hungry. But we had to visit a local souvenir shop and when we got out, it was already 10pm and most restaurants were closing. So we only took a few more pictures of night San Juan and decided to eat somewhere along the way home.
That place turned out to be Wendy's at the outskirts of San Juan, in a district which probably wasn't the safest, but we were already squinting from hunger, so we didn't care. We had a good meal after the long and eventful day and around 11:30pm left San Juan.
We took the highway 52 south. This road crosses an outstretched range of Cordilleras and when we finally topped it, the road went into a steep descent for about 10 miles. It was dark, we didn't see much except for the untiringly dropping Highway and occasional shreds of fog. It almost felt like the road to hell, except there were no good intentions inlaid in the pavement, so we figured we were still in Puerto Rico.
We took a left turn onto Highway 53 and at Guyama found Route 3 leading home. We arrived in the hotel around 12:30am and went straight to bed, as in the morning we wanted to get up early again.