Monday, Feb 20, 2006
On Monday we slept till 7:30am. After the previous day we deserved it and for today the only item on our agenda was conquering Cerro de Punta, the highest peak of Puerto Rico.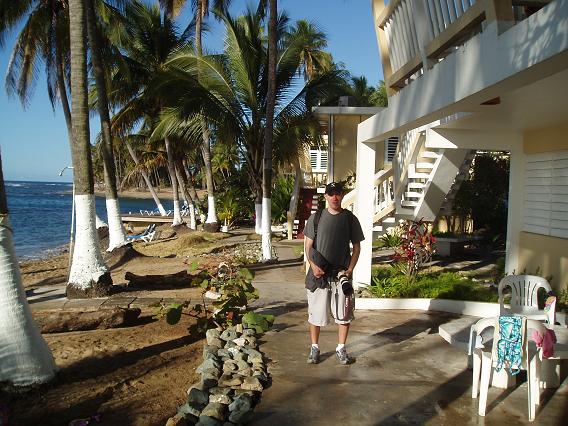 Already feeling like experienced locals, we have taken Highway 52 to Ponce and from there Route 10 into mountains. In the first few days we took gas whenever we reached about a 1/3 of the tank. This time, however, tricked by the unjustified hubris of whatever little experience we had, we let the needle slip under a quarter. We have nonchalantly passed couple of gas stations and when we started our incline, we had realized that we were entering the mountains and all the gas pumps were left behind us, far in the coastal plain.
When we came to the intersection with road 143, which was supposed to lead us to the peak, our gas tank started to show signs of floating point underflow, which in non-geek english means that it was becoming emptier and emptier by the minute. We weren't sure whether the road 143, tracing the ridge of Cordilleras, would have any gas pumps and so we decided to swallow our pride (why is it that pride never comes in strawberry flavor?) and continued on Route 10 to the nearest reasonably big town, a valley community of Adjuntas.
We weren't even sure whether we'd find gas there, for when we asked one lady the vital question "Petrol? Petrol?" (which we hoped was a Spanish word for gas), she only hastened her pace, despite the fact that we smiled profusely. The streets of Adjuntas were uncomfortably narrow and that complicated the search. At one point we had to drive into someone's garage (or toolshed or whateve it was) to turn around. Just when we lost all hopes of finding a gas station, Louka spotted one in the part of town just below us and after a few minutes our fill spout was contentedly suckling on a friendly gas hose.
Then a steep road back to the intersection and finally the left turn onto the scenic road 143, whose serpentines yielded beautiful vistas of the southern shore as well as previews of peaks in the mountains ahead.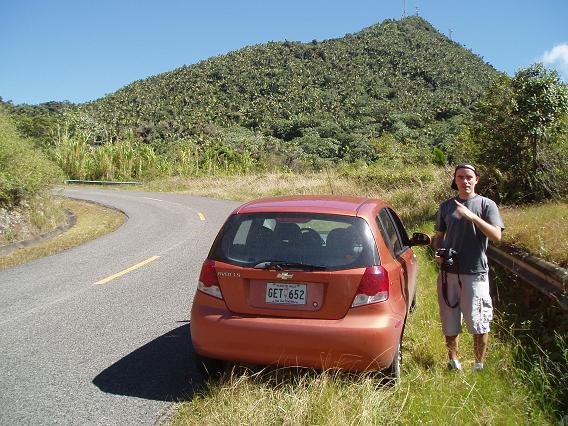 The road was fringed with many nice looking houses surrounded by gardens, some machinery, domesticated animals and all sorts of interesting flora.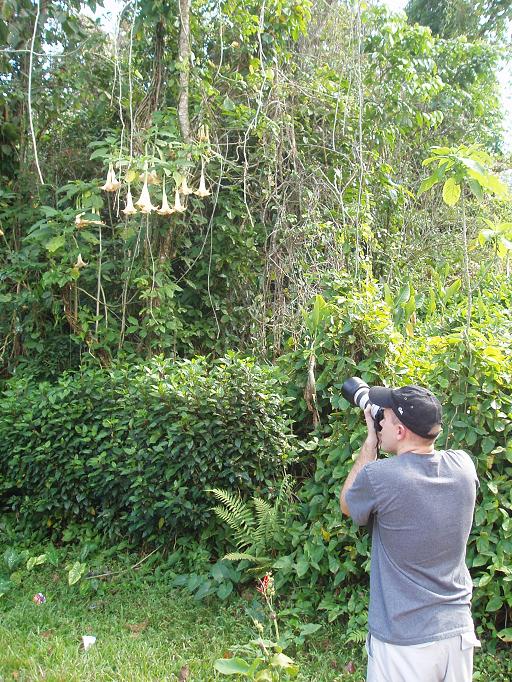 It took us less than an hour to reach a small parking lot at the foot of Cerro de Punta.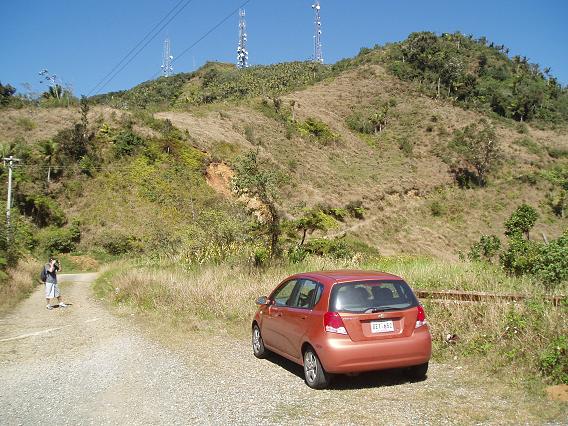 From the parking lot we could keep driving to the peak on a narrow dirt road, but we decided to walk the rest to get some physical exercise. Plus our Chevy Aveo wasn't really an avid mountaineer as we realized on several occasions. Sadly the steepness of the road is not faithfully captured on the photo below, but if I squeezed myself into a tractor tire at the top of the road and managed to steer out all the bends, then back in the parking lot I'd be surely going much faster than sound.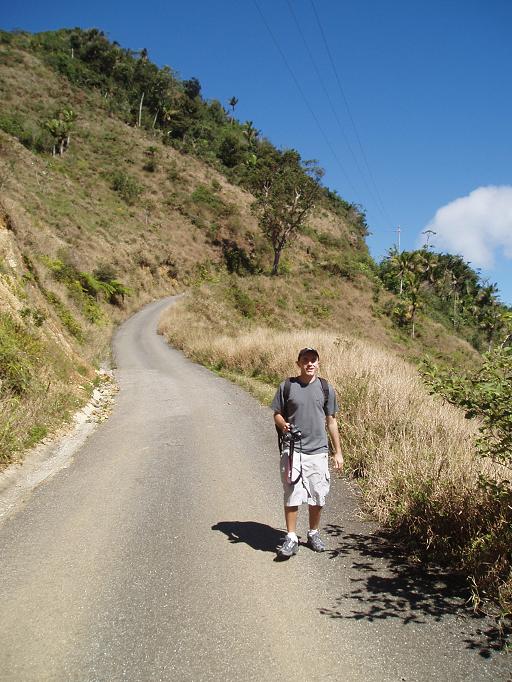 It was a marvellous exercise and God knows we needed it. The views of the surrounding mountains covered with lush forest were outstanding, the weather was very favorable.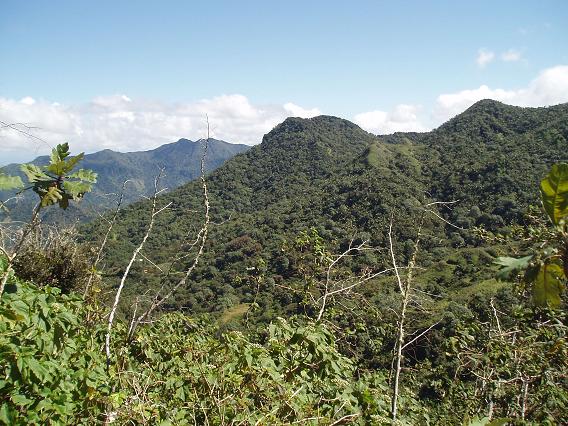 But when we made it to the top and took a couple of documentary photos that we could present as evidence of our feat, we realized that there are no signs around indicating that this is indeed Cerro de Punta. There was only a metal structure that looked somewhat like a contemporary drum exposition (or a cell transmission tower) and that was it.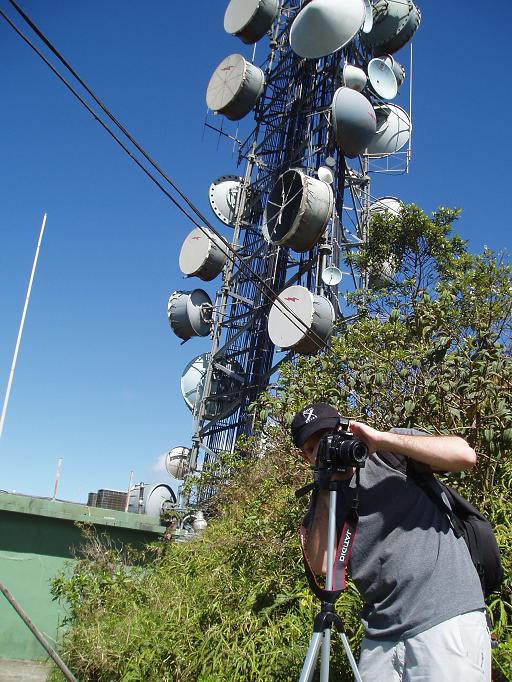 As we loitered around and scouted opportunities for panoramatic images we looked in the easterly direction and ... Bummer! Just ahead of us there was a peak that was slightly higher and also with an antenna on it. We've been had and climbed a wrong mountain!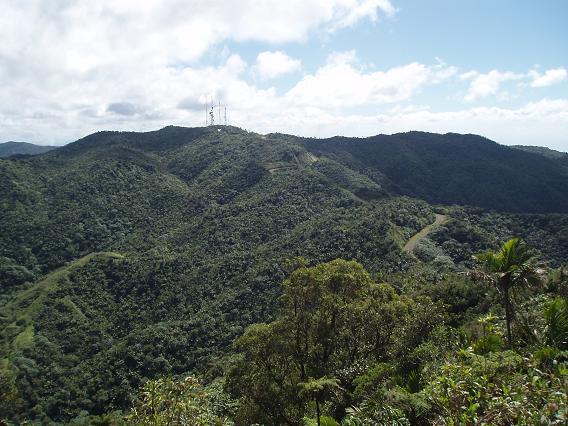 Frustrated we descended to the parking lot, drove few miles east on 143, parked again (this time a bit closer to the peak), and walked to the higher peak on a short dirt road that wound itself through a beautiful if a bit overgrown jungle. I really wouldn't want to be a gardener in Puerto Rico.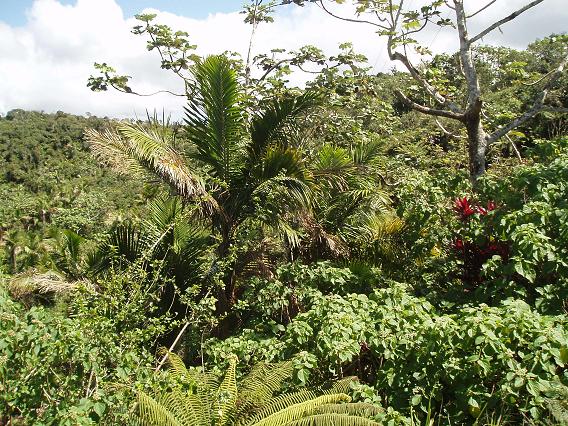 When we reached the top and looked back at the peak we just came from...we couldn't believe our eyes! It was MUCH higher than the one we were on now!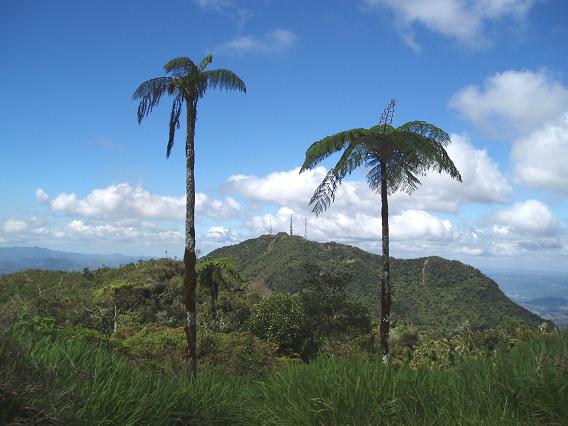 The mountain air optics must have played some sort of illusion game on our sense of horizontality and each peak seemed higher when viewed from the other one. Oh well. At least we became one of the few American tourists who conquered the two highest peaks of Puerto Rico. This unusual achievement boosted our confidence so much that we decided to continue on Route 10 to the world's largest radiotelescope in Arecibo Observatory, then traverse to the northern shore and come back home via San Juan again.
On our way back we noticed a wild fire and stopped on the shoulder. We didn't quite know what to do. Our map didn't have any emergency numbers. But when two local cars passed and neither paid any attention to the fire, we concluded that such things are normal around here and continued our journey. Later that day we saw one more wild fire near Arecibo Observatory.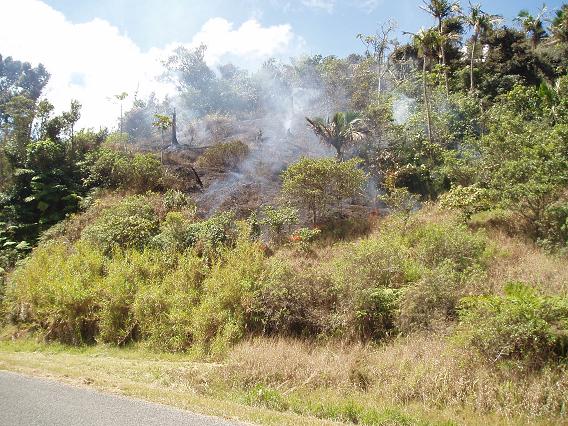 The road to Arecibo was quite enjoyable. The Route 10 was skirting high mountains... (Louka didn't want to pose for this photo, so as a punishment I turned him into a road cone temporarily)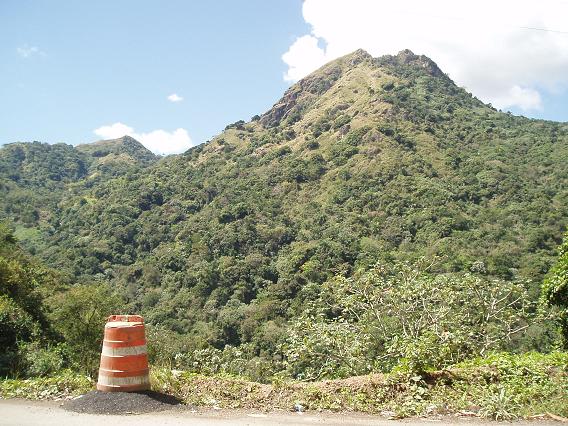 ...following little rivers...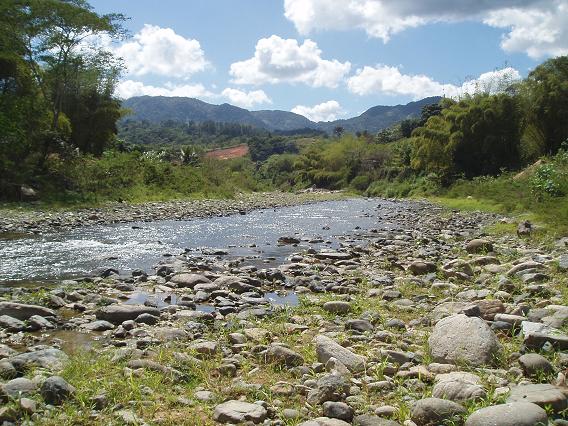 ...and connecting villages with gardens...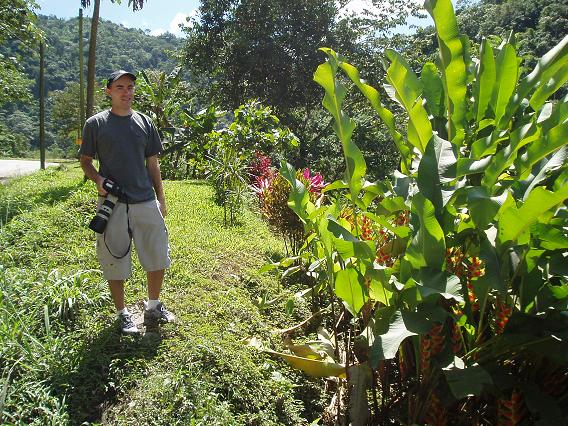 ...and orange trees (there was a majestic road cone growing under the tree and I turned it temporarily into Louka).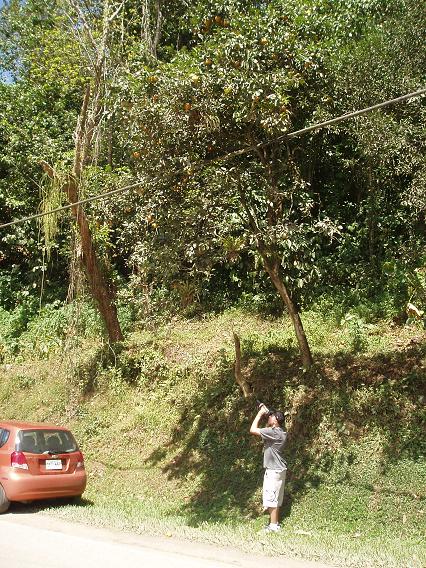 Soon lime rocks started to appear, a sign that we were approaching the northern shore. But the Route 10 carved undauntingly right through them.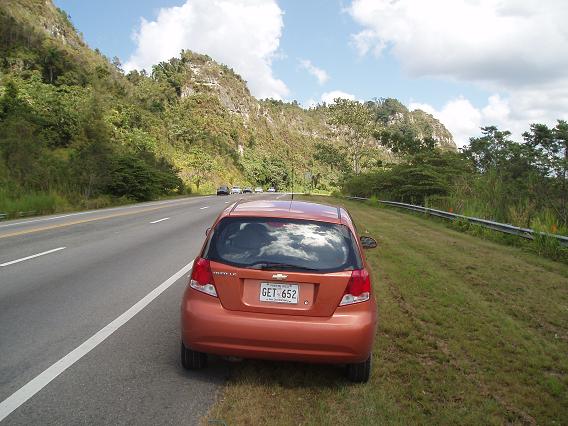 According to our map, we were supposed to take road 626 west and then 625 north to reach the observatory. It looked quite easy on the map, but the road 626 was a narrow one lane road and our progress was very slow. After about 20 minutes we got nervous and asked one gentlemen about "observatoria". He said something we didn't understand, but his wife knew some English and told us that road 626 was originally supposed to lead to the observatory, but at the end the construction crews couldn't make it through the steep slopes and gave up. She sent us back and recommended road 623.
That was what we did and at first things went reasonably smoothly. True, every now and then a guardrail on the side was missing and if someone pushed us, we'd tumble to a deep valley, but for most part the road was reasonably wide and comfortable. There were even some oncoming cars passing, indicating there there is civilization ahead.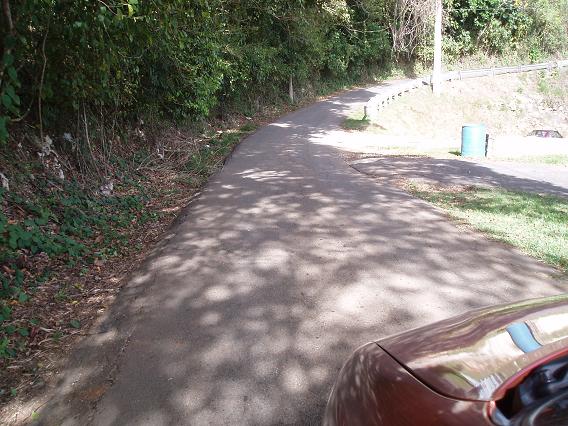 But at some point, we lost that road too and found ourselves on a local and completely unmarked road. Off the beaten path for sure! We drove on it for a bit and had to ask for directions again. An older gentlemen was obviously amused by our desire to see the "observatorio". At first he wanted to send us back, but then he said that we could actually continue on this road and when it ended at a T-intersection we should take a left and then left again at some cemetery (where all the suckers like us must have been buried). We forgot to ask how far these were, thanked him and left. Well, after about 3 slow miles we came to a point where the road on the right looked VERY neglected, so we thought that this was the end of the road and took left. After about half a mile, the road ended at someones front yard. Hmmm, so this wasn't it.
Reluctantly, we went back, took the neglected road and kept driving. If the road on which we were before was "off-the-beaten-track", now we took it one level higher. We went off "off the beaten track". This was by far the worst road we negotiated in Puerto Rico. Full of deep pot holes, climbing into steep slopes, obstructed by hanging vines, it was the kind of road Indiana Jones wouldn't be embarrassed driving on. It passed by some scattered settlements, with herds of haggard cows, but mostly lead through the jungle.
But the old man was right. The road came to an end in a T-intersection, where we took left and found ourselves on a beautiful paved road with (oh heavens!) a yellow lane divider! The rest of the journey was easy and soon we saw pillars of the technological marvel we were approaching straight ahead of us.
Arecibo Observatory has a little astronomy exposition and a deck from which you can see the processing apparatus...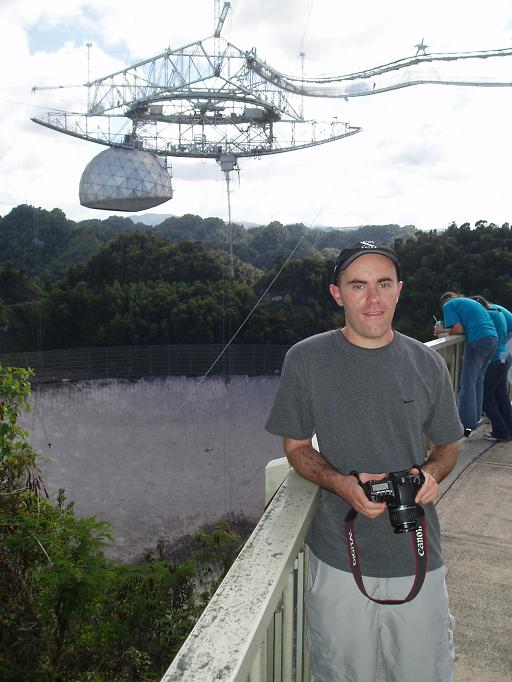 ...and, of course, the radiotelescope itself, nestled in the green Puerto Rican mini-jungle.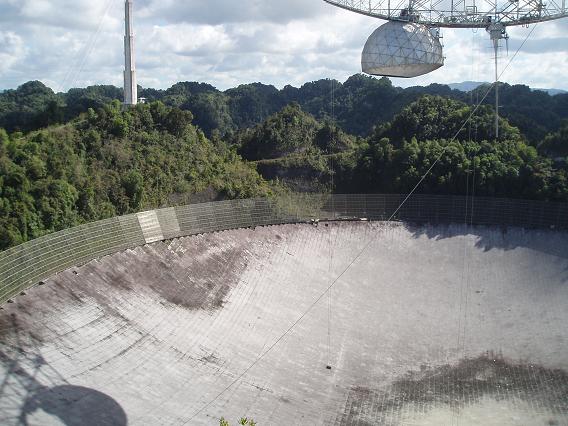 It was about 4pm when we left the observatory. As we descended towards the north shore, we realized that if we were willing to stay on Route 10 a bit longer, we could have taken road 635 and wouldn't need to take any shortcuts through the jungle. Oh well, at least we gave the locals a fodder for some funny stories to tell: "Si Miguel, those two lost souls came to our house looking for 'el observatorio'! Can you believe it? Hahaha."
When we reached Arecibo, our goal was to find road 681, which tracked the seashore quite closely. Sadly, we missed our turn - spotted it too late - and were driving on highway 2 east towards San Juan. The lanes were separated by a concrete divider, but we found a hole in it, slowed down a bit and made a slightly illegal U-turn into the opposite direction. This was the moment that we became the true Puerto Rican drivers.
In a few minutes we reached the last seashore we haven't seen yet: the North Shore.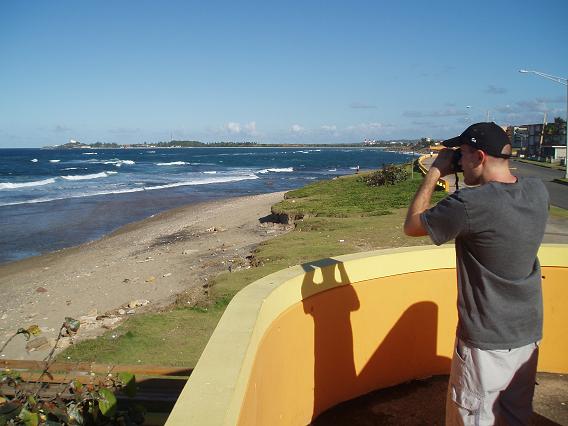 This shore had the best beach we've seen yet (except on Vieques, of course). Plenty of sand, plenty of waves and in the background some rocks, where you could watch the marine life...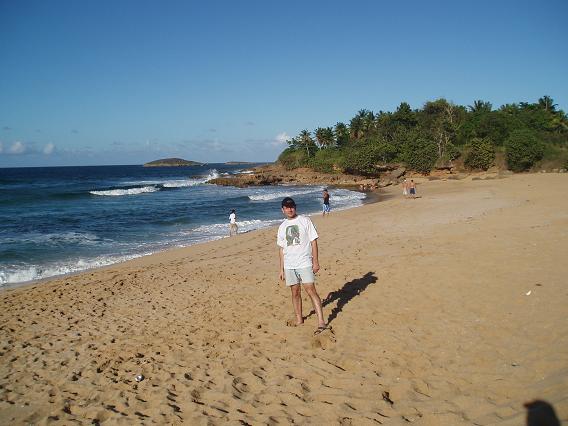 ...or get a free shower if you were so inclined.
Around 5:30pm we said good bye to the beach and drove to a toll road to see whether we can reach San Juan before the sunset and make some more photos. Unfortunately, there was a baseball game in San Juan that afternoon. The heavy traffic around the stadium and some indecision on our part when it came to parking slowed us a bit, so we made it to downtown San Juan just after the sunset. We walked around for a while and then had a dinner at the Cafe Berlin located on the main square.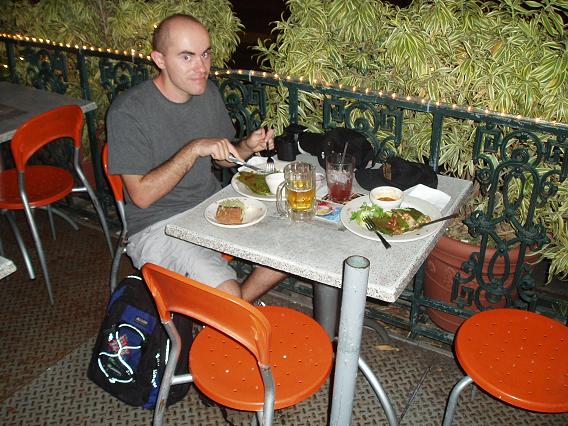 Around 9pm, we left San Juan and returned to the hotel the same way as yesterday.