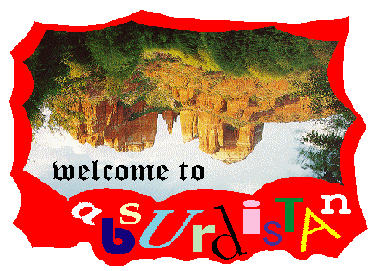 Honza's Home Page / Honzova Domostrana
Product warning: printouts of this homepage,
when crumpled and swallowed, may cause serious choking.
---
You have just entered
the first 100% virtual country on this planet
(or possibly on some other planet)
Experience the 21st century NOW!
This homepage was made exclusively out of organic, home made electrons, grown in the pollution free environment of Antarctica. No whales, seals, crocodiles, lawyers, ostriches or raccoons were killed during its production. And last but not least, all the consonants on this homepage are purely fictitious. Any similarity with real consonants is either a matter of coincidence or an indication of your vision problems.
Absurdistan is a lovely place somewhere between the East and West Poles. It has too many characteristics to list here, but the one you can already see is that it snows or rains there 365 days a year (sometimes even 366 days). If snow bothers you, come back in summer. You are welcome to visit any place you wish - just make sure you don't get too close to the border (unless you consider yourself a lion food). At any rate, read the safety tips below and have fun.
[ Facts| Places| A map| What's old]

PLACES TO VISIT IN ABSURDISTAN
---
COUNTIES
---


Safety tips (to be obeyed between 5am-4am)
If you don't have glasses, download an optometrist NOW!
In Absurdistan, it is illegal to carry a herb omelette in an open container.
Have your blood pressure checked every 15 minutes by a registered nurse.
Put your wallet and all your valuables under the keyboard.
Remember that reading this page impairs your ability to drive a car or operate farm machinery. If you surf while driving, try to stay in the same lane.
If something doesn't make sense to you, turn your computer monitor upside down.
Don't talk to the computer screen in the presence of your supervisor.
If you are allergic to the letters "c", "r" or "p", don't read this page.
New links are either red or yellow. The used ones are blue or pink, depending on the background. Don't follow links with strange colors or odors.
If you get stuck in an elevator, turn on the auto-pilot.
According to the Surgeon General, women should not read this page during pregnancy because of the risk of birth defects.
If you are attacked by birds, press the F1 key. If your keyboard doesn't have it, smash the birds with a mouse. For best results use the "first come, first served" principle.
For transportation to Absurdistan use Netscape. Explorers caught at the border are sent back.
The standard voltage in Absurdistan is 99V. Please, adjust your coffee maker.
Avoid lions. They are NOT user friendly.
If you don't understand something, don't worry. The chances are that I don't get it either.
Have a pocketful of food ready.
If you get lost use the map. If you don't know how to use a map, get lost.
---
Absurdistan is brought to you by
the Society for Advertisement Free Universe.
---
It is not quite clear at this moment, whose opinions are presented on this homepage. They don't seem to be mine, nor do they seem to be those of: Gregory Abbott, Christopher Abernathy, Jeff Absher, Chris Albert, Julieta Alvarez, Scott Andrews, Stacy Arnold, Christina Bain, Michael Bastin, John Belanger, Charlie Bell, Michael Bishop, Chris Bouchard, Anthony Breimeier, Frits Brouwers, Dan Cagney, Jason Caston, Albert Chalegua, Andrew Collado, David Creech, Judith Daniels, Diana Diehl, Bryan Dunne, Karen Eckhardt, James Erickson, Brian Garkie, Vincent Gills, Amy Gralewski, Jason Haines, Brian Harris, David Henke, Edward Hennessy, Barbara Herbert, Michael Horn, Gregg Horras, Cynthia Hunt, Anthony Jacobi, Doris Kessler, Robert McMahon, Alexander Melville, Bryan Naosh, Par Nelson, George Patton, Cheryl Respass, Matt Richwine, Kathy Russell, Josh Rutgers, Susan Sarandon, Trish Sarnack, Barbara Schilling, Rudy Sessa, Marcus Steele, Joseph Sweeney, Patrick Terentieff, Helen Toll, Dick Tracy, Arthur Tracy, Joe Tyler, Monica Vandermonde, James Watt, Peter Witten, Claribel Woods, Francis Wrocklage, Susan Younger, Roshonne Zygmund and many and I mean REALLY many others.
SURF WITH CAUTION
---
And that's all folks
have a nice rest of your life
take it easy
and if you need anything, don't hesitate and buy it.

---
First updated: June 11, 1995
*******************************************
&copy 1995-2001 Jan Rehacek: (honza@trail.com)
Jackson, NJ 08527, USA