Monday: Aug 18, 2008
(vylet na Preikestolen - skalni previs nad Lysefjordem - a pak cesta do Bergenu)
On Monday morning, we hiked to Preikestolen and then took a long drive to Bergen. First we took road 13 to Odda (via Hjelmeland, Berge and Horda), then we took 550 to Utne, crossed the Hardangerfjord to Kvanndal and then took road 7 to Bergen.
---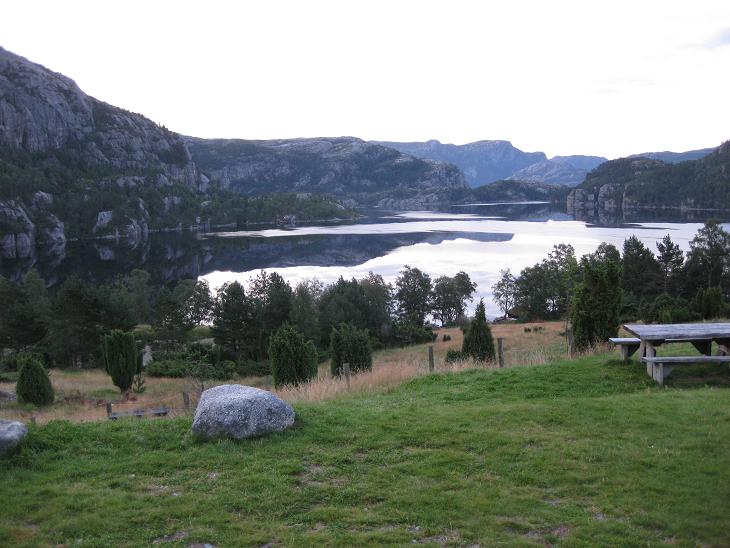 We got up at 6am when the lake in front of the hostel was still very quiet.
---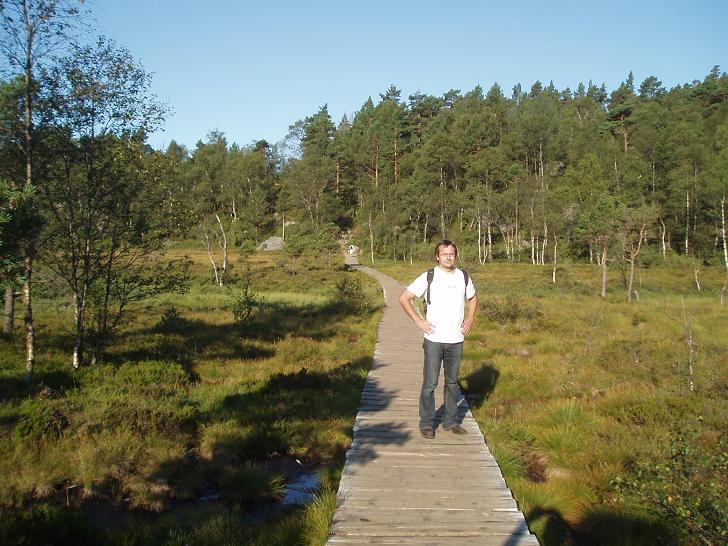 First we hiked to the overlook from which we took the photos of the Preikestolen area yesterday. It was a pretty steep hike, but it was followed by a short and pleasant stretch running on a boardwalk through a marshy terrain.
---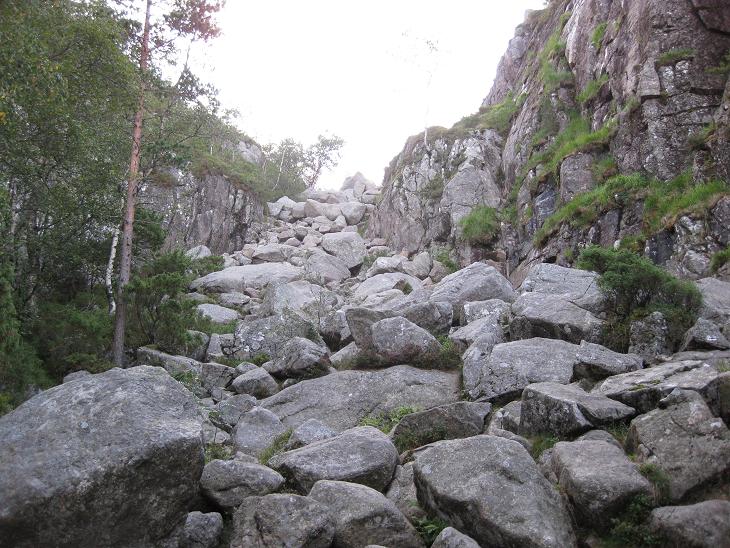 Then another steep uphill segment, this time climbing up through an avalanche of boulders.
---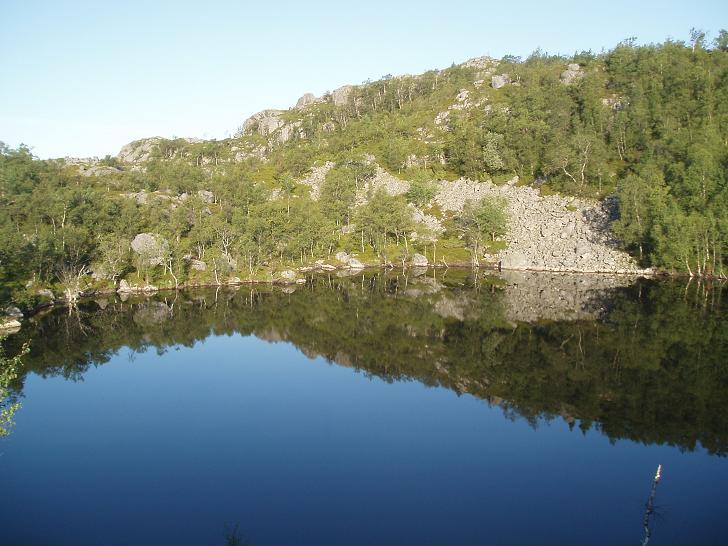 That lead us to a tranquil lake, which was as blue eyed as you would imagine a Scandinavian lake to be.
---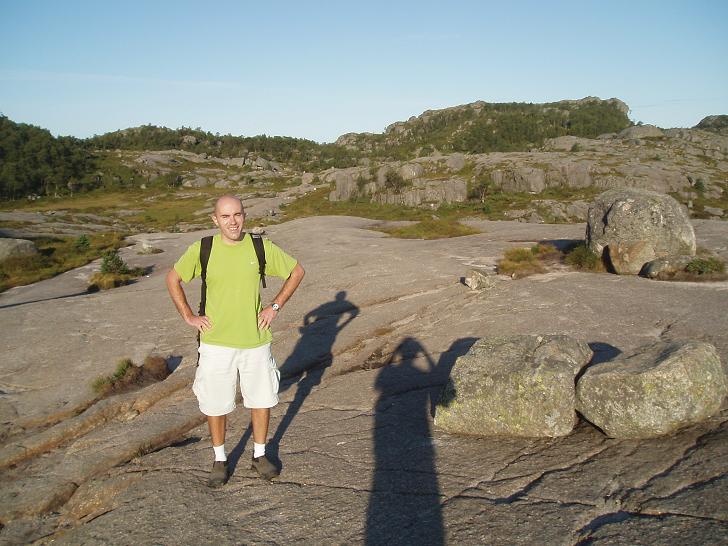 Then came a fairly long, but easy hike across a rocky plateau.
---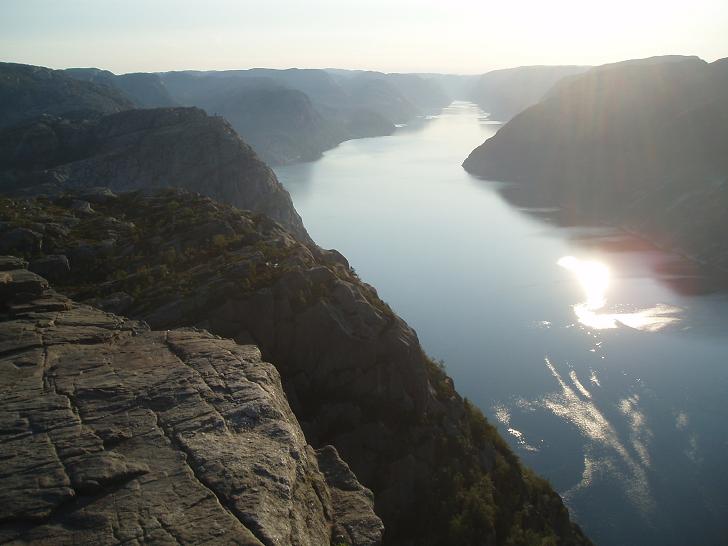 At the end of the plateau we could finally see the Lysefjord. That was a sign that our destination is near.
---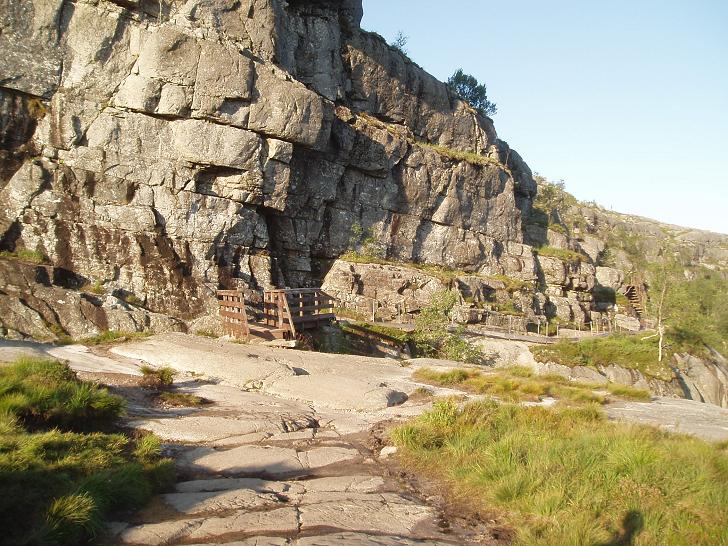 The rest of the trail was following along the side of the fjord. Parts of the trail were guarded by a rail, for had you misstepped, you'd have plunged 600 meters straight down into the fjord. And it would have been a rocky ride. Don't be fooled by this photo, most of this last stretch was not for people prone to vertigo. There is a telling photo in the Verticals section.
---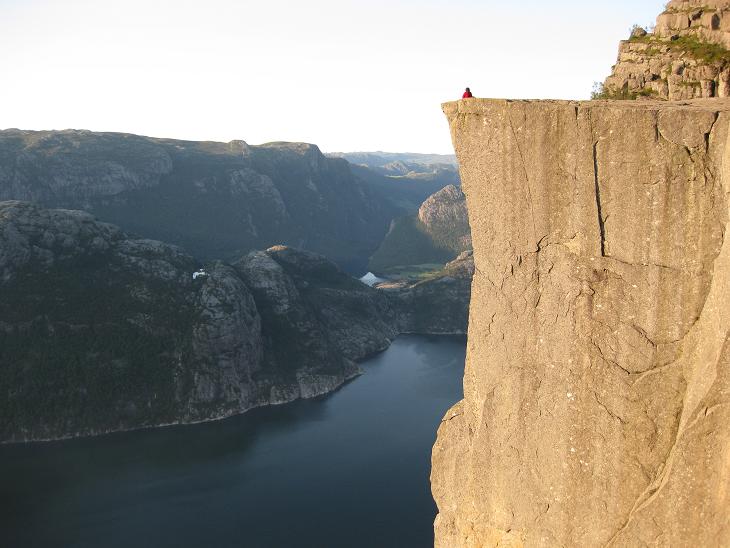 Finally the Preikestolen peeked at us. A sheer rock hanging 650 meters straight above the waters of the fjord. It was impossible to snap a good picture of it, so we climbed a bit up the mountain to get an aerial view.
---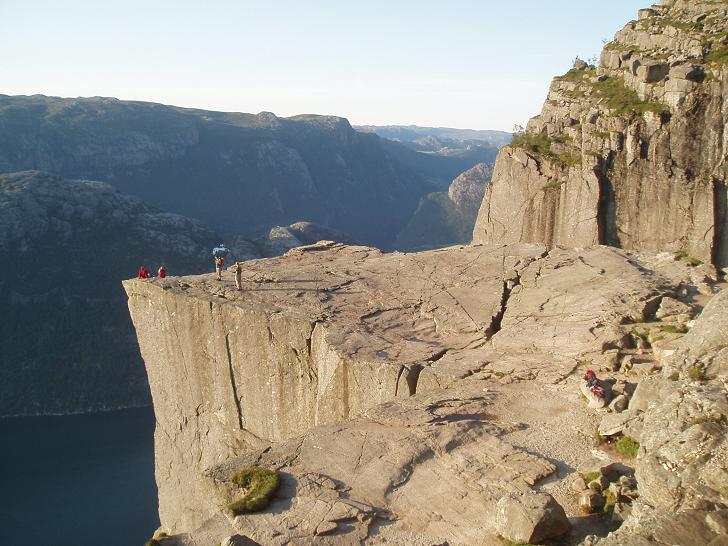 Here it is from a rock slightly above it. Cliff jumpers' paradise.
---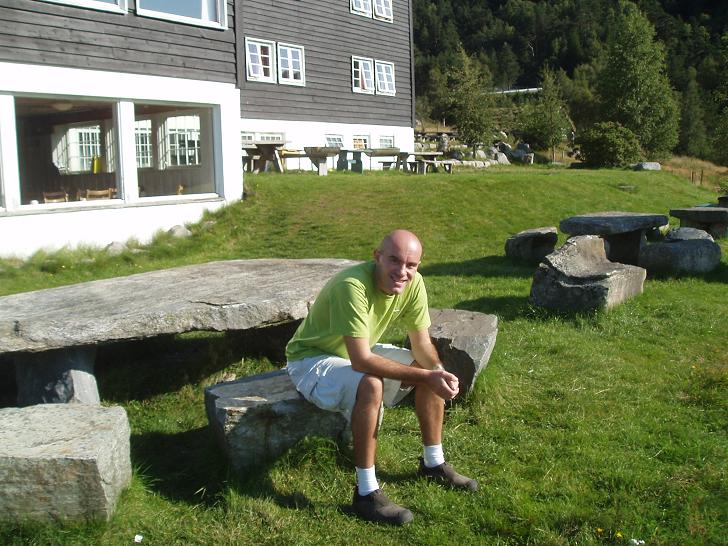 We made it back to the hostel around 9.30am, took a hearty multi-multi-course breakfast and before we set out to Bergen, we rested a bit on the lawn in front of the dining hall, admiring the view of the lake and the surrounding scenery.
---



Most of our journey to Bergen lead on narrow roads that were winding alongside the bottom of a fjord or a lake. Sometimes the road was just wide enough for one car - and you had to rely on little road pockets or parking areas to give way to oncoming traffic.
---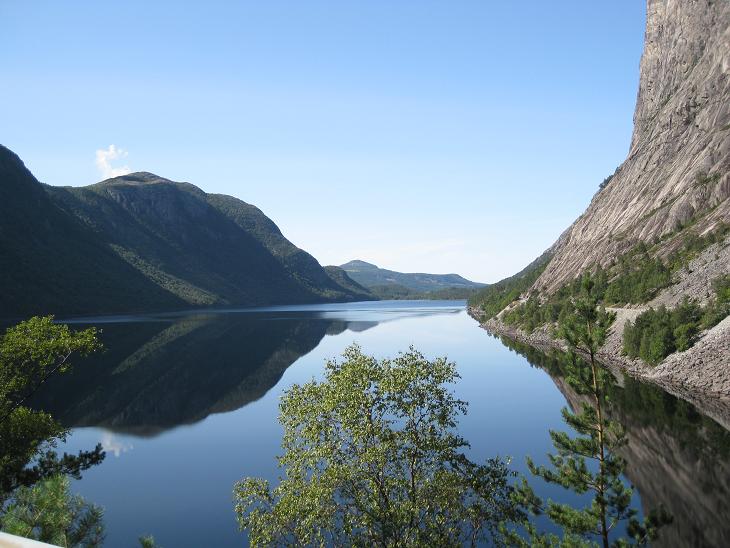 This photo shows why the roads were so narrow (see on the right). The sides of the fjord were nearly perpendicular in places, so it was impossible to fit in a wider road.
---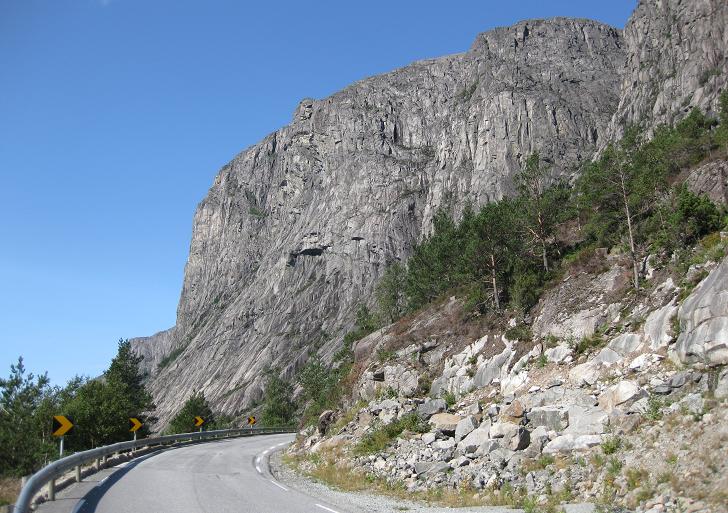 Fortunately, after about 50 miles of rather slow progress, the road took a sharp turn into a narrow mountain gorge...
---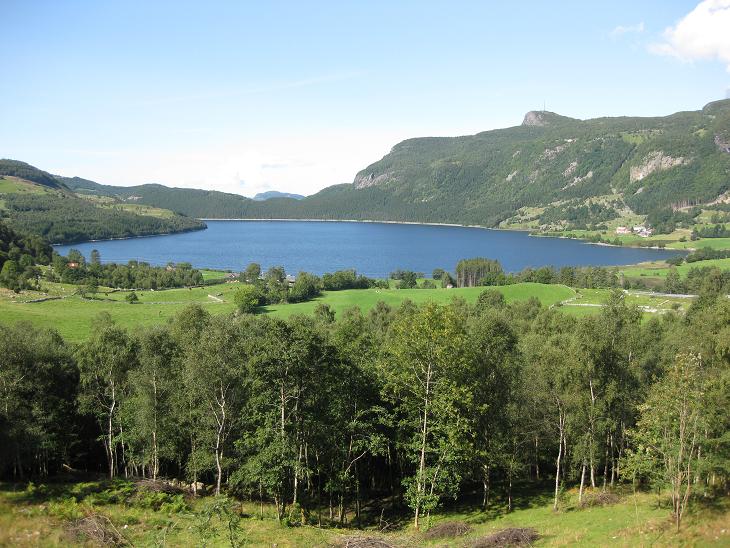 ...and soon emerged in a completely different world - in a wide and picturesque valley with a lake surrounded by farms...
---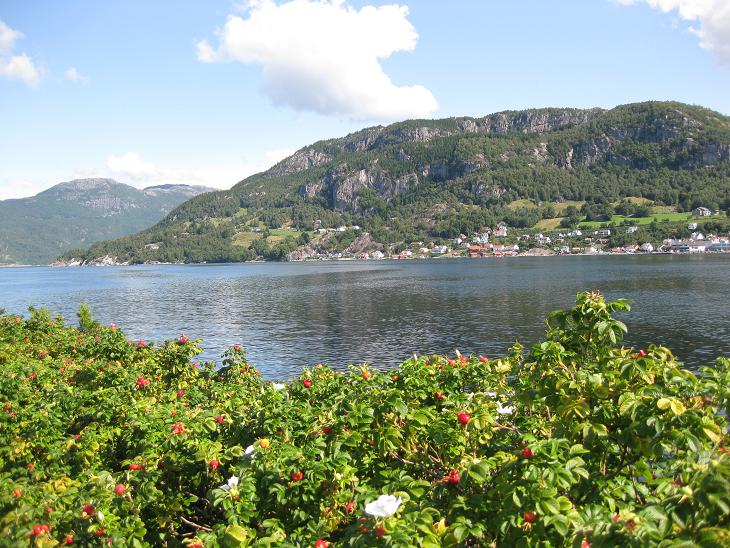 ...that eventually lead us to yet another fjord. You must have guessed by now that in Norway, all roads do not lead to Rome, but rather to a fjord.
---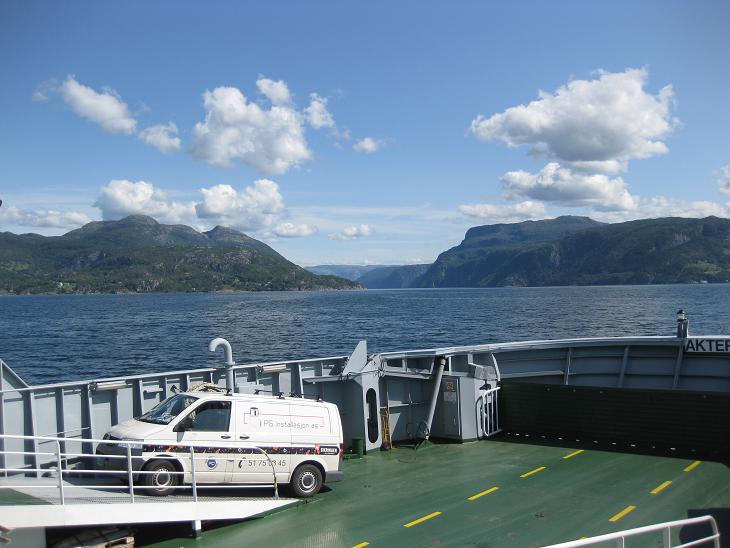 There we took ferry again and soon found ourselves on the nortern side of the Josenfjord.
---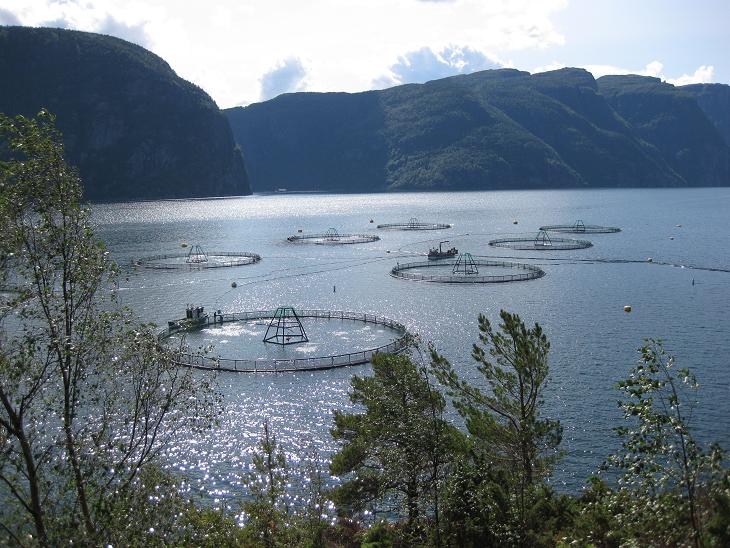 There we encountered for the first time these peculiar circular structures that were apparently some sort of feeding stations for fisheries, because when we got closer, we could see fish jumping out of the water in a feeding frenzy.
---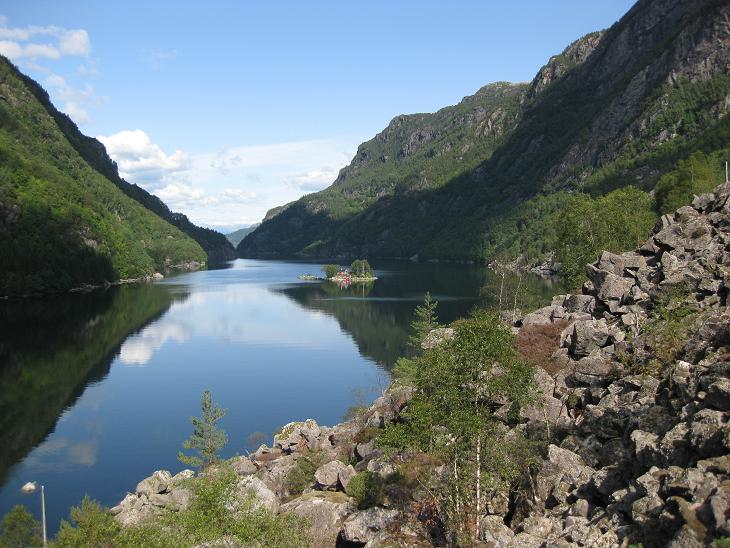 The rest of the trip to Odda was very scenic. Here we encountered a lake with a tiny little island on which there were two even tinier red houses. There is a detail of those houses in the housing section (second photo from the top).
---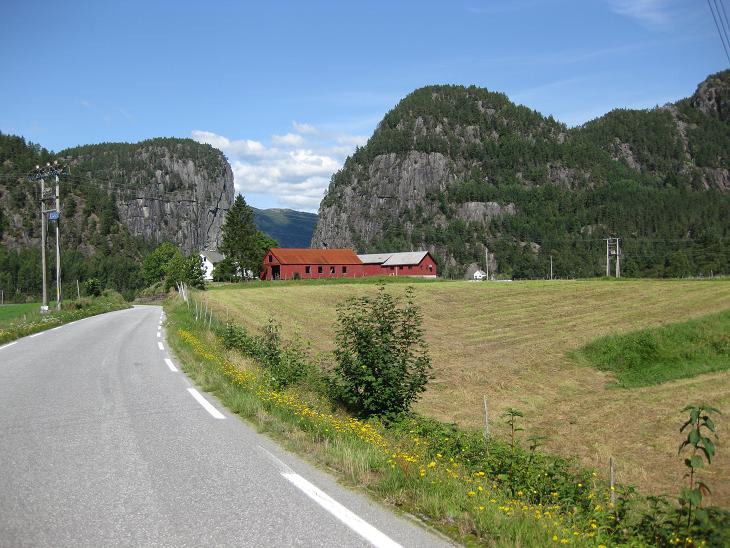 Most of the time, the road passed through farmlands and rolling hills...
---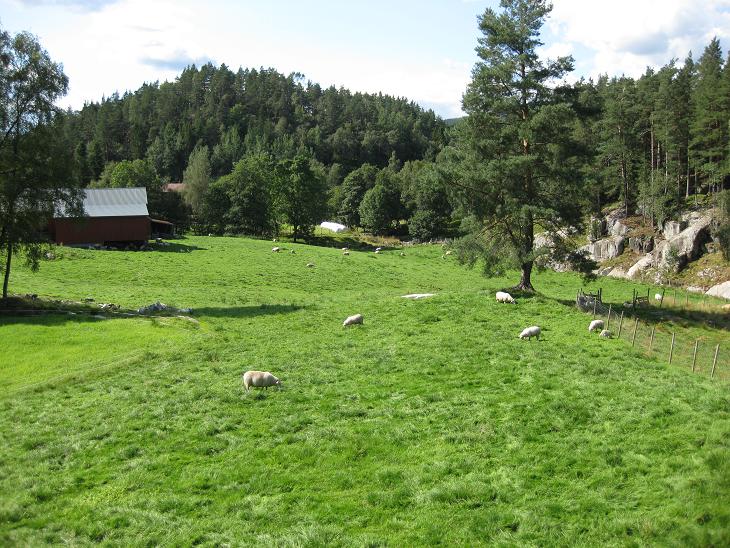 ...with plenty of pastures...
---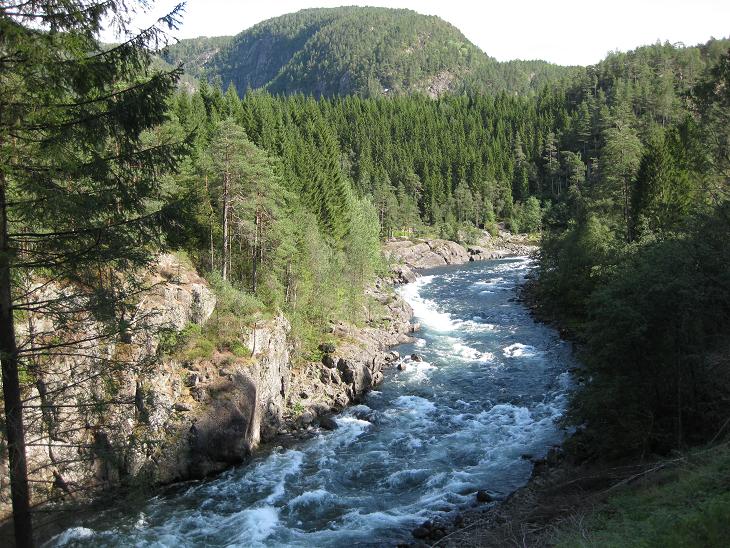 ...and an occasional wild river.
---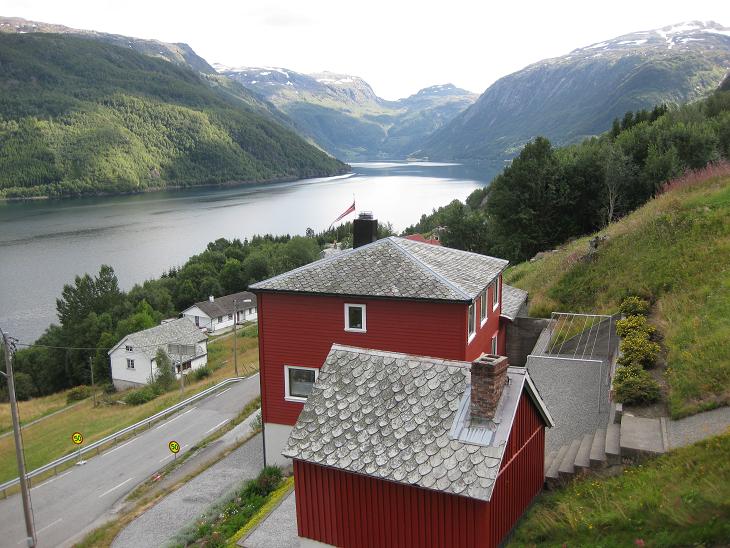 But as we were approaching Odda, we noticed a new phenomenon. The mountain tops started to be covered with snow, a sign that we were entering the realm of the mighty Folgefonn, one of Norway's numerous glaciers.
---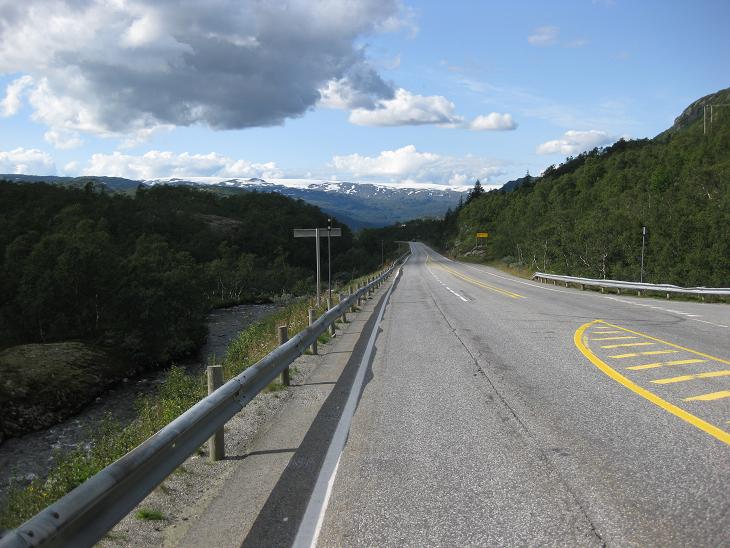 Folgefonn lies to the west of Odda, and because the valleys are so narrow, the perspective didn't allow us to see it in its full glory. The best view we got of it was from afar at this roadside stop.
---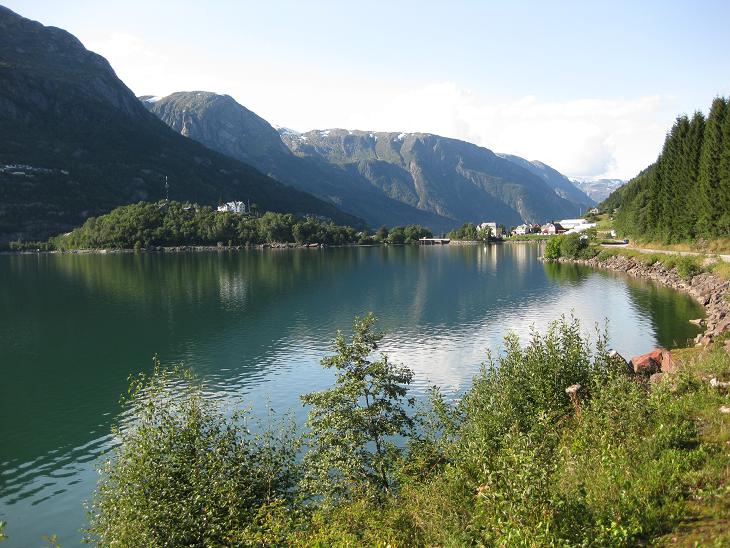 Once we got closer to Odda, the glacier disappeared high above us and we could see it no more.
---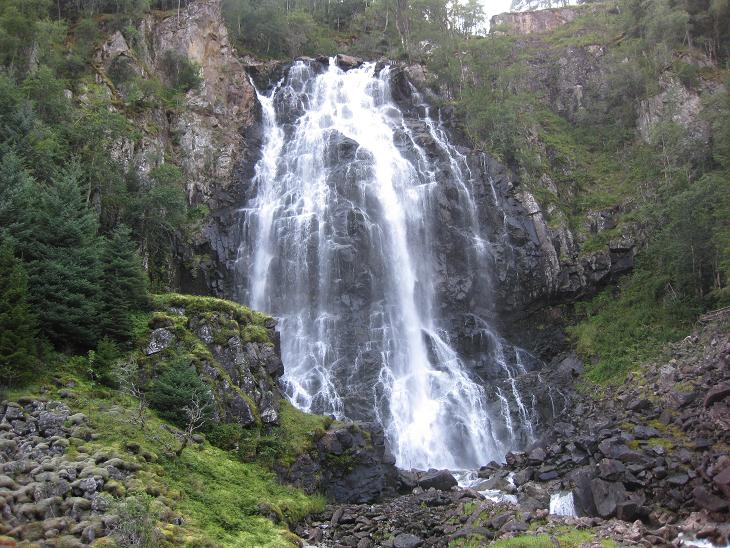 In summer, the snow and ice "up there" melts, of course, and the resulting water feeds numerous waterfalls that cascade down the steep mountain sides. We spent quite some time photographing this one only to learn that half a mile down the road there was even a better one.
---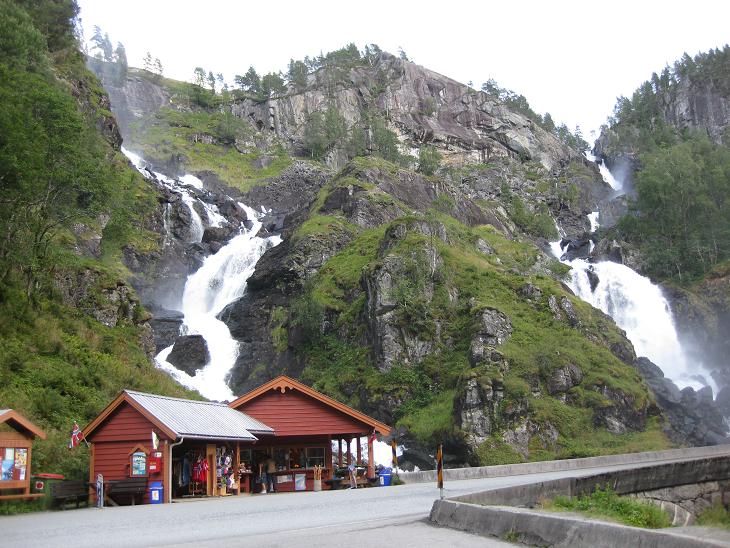 It was a double waterfall and it had its own souvenir shop.
---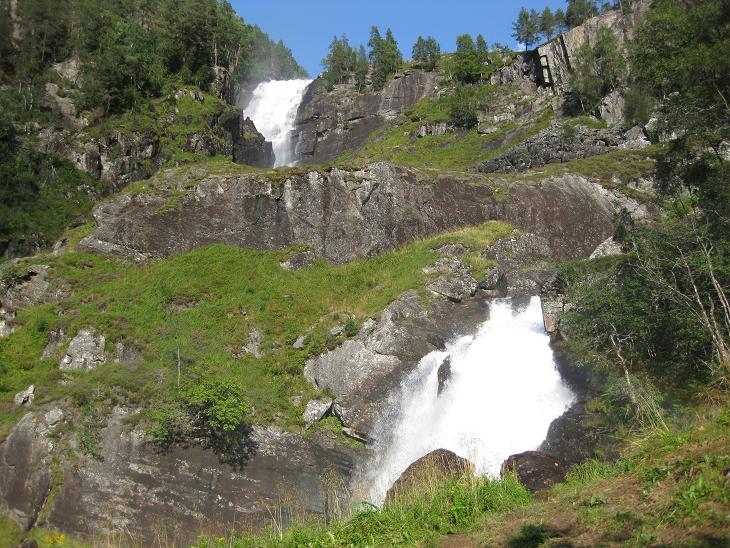 From the road we could see it nicely enough, but when we got closer to it, we noticed that part of it was hidden from us (at the top of the mountain).
---



Soon we reached Odda - a nice small town at the southern tip of the Sorfjord.
---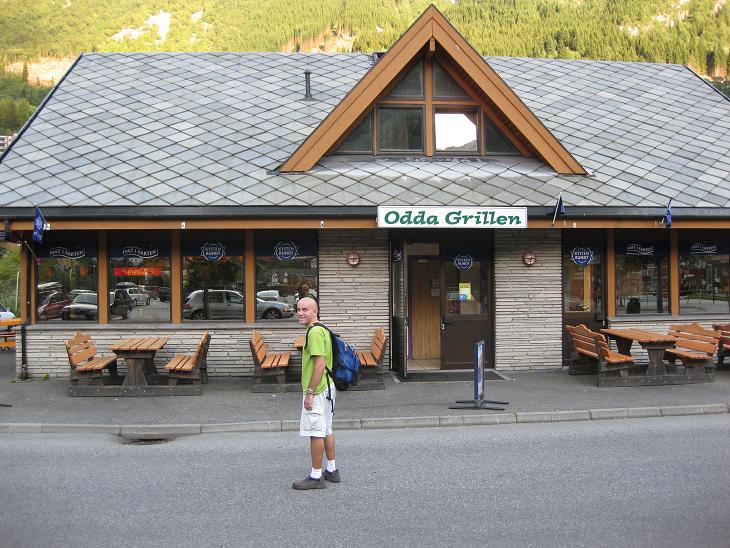 We made a stop there, bought some groceries and tried an authentic Norwegian hamburger at a local fast food establishment.
---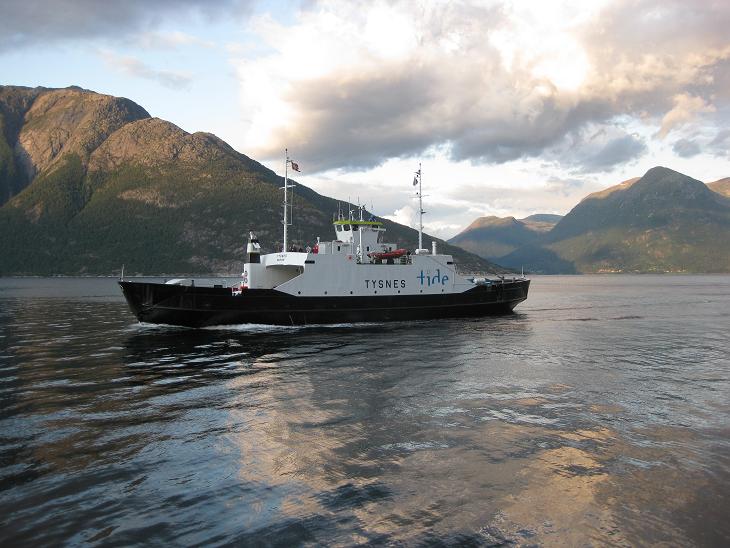 Then we followed the west side of the fjord to Utne, where we waited for a ferry that took us to the Bergen side of the fjord. And that was it for photos. Soon a night fell, and when we made it to Bergen it was 11pm. After a convoluted search, we ended up at the Edvard Grieg hotel and called it a day around 2am. That was our longest day in Norway.
---