Post details: Another Secret Garden
Another Secret Garden
Every major tourist destination has its centerpiece. Paris has its Eiffel Tower, New York has its Times Square, Sidney has its opera. But when you actually live in these places, sooner or later you will start discovering hidden gems. Places not highlighted in glossy tourism brochures. Places that resonate with the bass strings of your soul. I call them "secret gardens".
In Prague, my favorite secret garden is Novotneho Lavka. It is a small platform overlooking a weir on the Vltava River. If you get there at night, you will see two very distinct water surfaces. The one underneath the weir, where lights flicker restlessly on feuding ripples like colors on Claude Monet's "La Cathedrale de Rouen", and the one above the weir, where the water surface glistens smoothly like an art nouveau poster of Alfons Mucha. If you ever get to Prague, ask for the Museum of Bedrich Smetana. The place is right there.
This weekend I finally discovered my "secret garden" in the greater Washington, DC area. But you won't find it on the National Mall, nor is it in the neighborhood of Dupont Circle or Adams Morgan. You have to hop on I-270, take exit 9B and head for the Washingtonian Center in Gaithersburg, to a locale known to locals as Rio.
You will find a little lake with a simple fountain ensconced in one of its inlets and separated from the main body by an elegantly arching wooden bridge. The lake's shores are encircled by cemented paths and boardwalks that provide easy access to plentiful shops, cozy restaurants and a movie theater. If you go for a leisurely walk, you will also find benches populated by bronze life-size animals. But not to worry, the creatures are bashfully wall-flowering on the side so two people can easily fit in. If you are looking to spend a relaxed Friday night at a trendy place, yet away from the trendy crowds, check it out. You may like it.
And if you have the same infatuation with neon lights reflecting off the water surface as I do, you may even love it.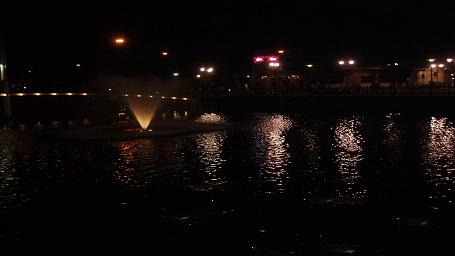 Comments:
Comment from: Gloria Seelman [Visitor]
In the summer you can take a paddle boat ride and watch the swans glide by two by two with the life mate.
You can hear the laughter of small children running on the path around the lake and the quite steps of others strolling hand and hand with the soft breeze upon their faces. It is a space for people to commune with nature and find a sense of peace that refreshes the soul.
G.

09/25/11 @ 09:29
Comments are closed for this post.