Post details: Marta Kubisova in Washington
Marta Kubisova in Washington
If I were a girl, Marta Kubisova would be my role model.
In 1968, at the age of 25, she was one of the most popular Czech singers, letting fresh air into the stagnant mainstream of local pop music and well on her way to become a national superstar. In Czechoslovakia, 1960s was the period of political thawing and arts enjoyed an unprecedented freedom throughout most of the decade. Vaclav Havel, Milos Forman and Milan Kundera were all offsprings of this process. The year 1968 was its absolute peak: the press and media were no longer censored, non-communist civic organizations were springing up like mushrooms after rain and, for a few months at least, the freedom was palpable in all aspects of life.
In the Summer of that year, lyricist Petr Rada and composer Jindrich Brabec wrote a song for Kubisova that reflected the changes in the political climate. The song was titled "A prayer for Marta" and its beginning roughly translated to this:
May the peace stay with this land,
may anger, envy, fear and spite pass away,
now that its governance returns to its people...

But this little Marseillaise came a little bit too soon. Gorbachev was only 37 then and the Soviet Empire was ruthlessly ruled by the tzar Brezhnev. He understood very well what this little fire could do to his house of cards and basically overnight sent in a huge army to put it out. On August 21st, while the radio, in its last hours of sovereignty, played "Prayer for Marta", tanks from the Warsaw Pact countries were rolling on the cobblestones of Czech cities. For many people this audiovisual bit became a haunting memory.
The progressive wing of the communist party was dispelled, civic movement banned and media "normalized". The Soviet occupation itself was conveniently renamed and for the next 20 years exclusively referred to as a "brotherly help". In those days Kubisova hesitated very little on which side of the barricade she wanted to be. And the communist regime never forgave her for that.
While the vast majority of Czech and Slovak artists decided to cooperate and to acknowledge the "brotherly help" in order to secure whatever little place in a plastic sun the system was willing to allot them, Kubisova never bent her back. Unwilling to hop and skip on stages draped in red and adorned with effigies of Marx and Lenin, she was banned from public singing and accepted non glamorous jobs far away from the limelight many of her former colleagues enjoyed. But she would rather sacrifice the best years of her singing career than become a lackey of the regime that lived off of a foreign military force.
In the meantime her Prayer became the symbol of fleeting freedom. Even though it had completely disappeared from the public broadcast, just like all her other songs, the nation patiently waited for its return. Summers passed, starlets on the pop-scene shone and faded, five-year plans were being designed and re-designed and life dragged lazily along. At the end, the wait lasted 21 years.
In November 1989, as the Berlin Wall crumbled, the conservative wing of the Czech Communist Party (pretty much the same faces that were once installed by Russian tanks - only 20 years wrinklier) finally lost their grip on power. The center of Prague filled with people and the petrified regime didn't dare to send in troops to disperse them. From a balcony overlooking the historic Wenceslaus Square, standing alongside a dissident Vaclav Havel, Marta Kubisova finally got to sing her Prayer again - to a crowd of 250,000. Not many singers had the privilege to perform for an audience of such proportions, but it was a privilege well deserved. Ironically, it was mostly older people who had tears in their eyes. The younger ones barely realized what had just happened.
I was glad that the Czech Embassy invited Kubisova to Washington. In a world of cheap thrills and instant gratification, it was a pleasure to see someone with courage, depth and personal integrity.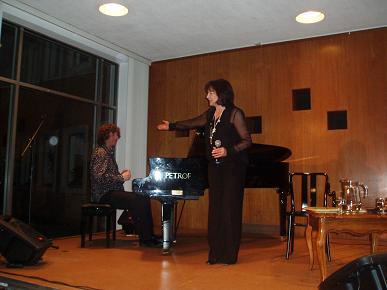 Comments:
Comment from: Stonewall Bird [Visitor]
I would very much like to obtain the text of "A Prayer for Marta" in English. Do you know where I could find it?

12/14/10 @ 10:44
Comment from: honza [Member]
Just google: Kubisova "Let peace continue with this country"

Honza

12/14/10 @ 22:40
Comment from: Stoney Bird [Visitor]
Thanks, I did find the text, although the English seems a little awkward.

Is the score available somewhere? What I'd like to do is reframe the text into idiomatic English that fits the music. The new translation would have to retain its core sense, of course.

The difficulty is that I know nothing of Czech! I would be making the new "translation" based on the existing translation. Perhaps there is someone who could check what I had done against the original?

03/21/13 @ 13:10
Comments are closed for this post.