Post details: Lithuanian Samba
Lithuanian Samba
Jazz is the slang of music.
While the mainstream language, in its effort to prevent misunderstanding, tends to uniformity and constancy, slang yearns for variation, for ambivalence and for novelty. No time to button up for dinner, just grab your grub and roller-blade away. Where linguists tiptoe around balanced sentences, logic and well-starched vocabulary, slang dives headlong into murky waters, into poorly lit districts, slinking around like an alley cat, prowling for shiny things, munching on someone else's trash, pilfering phrases from other tongues. With its T-shirt flailing like a pirate's flag, slang criss-crosses the high seas of pop-culture, jumbles jargon and jive, quickly hires buzzwords and fires them at a moment's notice. Its flamboyant lifestyle makes sure that the central body of language never petrifies, never looses a steady stream of fresh blood.
Music is also a language, a form of communication bound by the rules of harmony instead of grammar. And jazz is its slang, bubbling impatiently on the hot stove of shining brass, bending the creaky tonal skeleton to its limits and smearing the beat borders in the perpetual rebellion against the rhythmic status quo. Jazz is like a hyperventilating sponge, brazenly pushing new tones and simultaneously absorbing their fleeting dissonances in a syncopated flow of diminished chords. Not constrained by harmonic bigotry, jazz is accepting and tolerant and always eager to morph and merge.
This Sunday I took a friend of mine to the International Jazz Jam held in a restaurant called Blues Alley. Even in a bustling Georgetown, you'd be hard pressed to find a jazzier place. Its seating area is toned to warm brown and its stage is set against a coarse brick back wall that musicians can bounce their minor sevenths off of. Although we came to see a Norwegian trio Solid, at the end of the night it was the Dainius Pulauskus Group from Lithuania that completely stole the show. Grafting traditional folklore harmonies on an African tree trunk proved simply irresistible.
You'd really have to be rhythmically illiterate not to start tapping your feet to their voracious percussions. The tireless pelting of cymbals alighted on our ears like a spring rain eating itself into the grass. You could hear a modern blues as well as a medieval shepherd's song majestically floating in the open harbor of jazz. And right there before our eyes, in a magical rite of Spring, branches of an aging tree beflowered with white petals.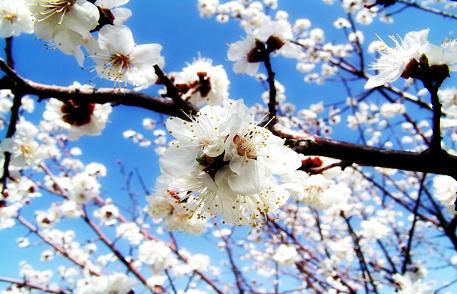 someone else's