Archives for: September 2009
Little Sahara
Every country has a hidden jewel. A small region that you won't find on the front pages of glossy travel guides. A magical place that you have to discover by chance.
Millions of visitors come to the United States every year to be swept off their feet by the sights of the Grand Canyon, Yellowstone, Yosemite, Everglades, Niagara and other masterpieces of Earth's fine geological craftsmanship. But there is much more to this country's natural beauty than the above morsels.
Hidden in the heart of Colorado, about 50 miles west of Colorado Springs, lies the Great Sand Dunes National Park. If someone kidnapped you, blindfolded you and dumped you in the middle of the park, you would think - surrounded by seemingly endless waves of sand - that you got lost in the Sahara desert. But only until you climbed to the nearest peak, turned around and saw the mighty towers of the Rocky Mountains within a stone's throw.
For eons, strong winds were blowing grains of sand from the arid semi-desert to the south up the San Luis Valley, until they ran smack into the formidable wall of Colorado fourteeners and had no choice but dump all the sand at their feet. As you approach the park from the amazingly straight County Lane 6, the sand deposits appear minuscule from the distance, almost like a children sand box. But do not get fooled by the comparison with the rugged Sangre de Cristo Mountains in the background. When you cross the Medano Creek and stand in the kissing distance from the dunes, their sheer size will turn your knees into jellyfish accessories and if you dare to hike up to their peaks, your exercise will be cut out for you in ways no StairMaster can ever reproduce.
The first order of business is to reach a midlevel plateau at which you can choose from a wide menu of sandy crests. To get there you have to ascend a steep and treacherous slope, a challenging endeavor second only to climbing an infinite heap of blueberry pancakes. For every step you plant, you have to give half back to the dune, which is straining both physically and mentally. As we plodded along, we rested every 30-40 steps in order to catch breath, take a sip of water and fantasize about an imaginary herd of Bactrian camels passing by. Sand is fun to walk on when you have to cross a hundred feet stretch of a flat beach, but going uphill its grains turn into a well trained army of tiny duplicitous rascals.
A few blisters from the hot sand notwithstanding, the toilsome trek is well worth the rewards you reap once you reach the plateau. The fluid perspective of deep sand valleys is breathtaking (both literally and figuratively), and while the sand surface in lower elevations is furrowed with hundreds of human tracks, the further away from the base you go, the more pristine the environment becomes. The smooth streaming banks make the illusion of walking in a bona fide desert insanely realistic, especially if you look away from the mountains and all you see ahead of you is sand, then sand again and behind it some more sand.
Oh, and then there is the exhilarating way back. All the hard work of clambering up finally yielding its sweet fruit. Only few rides in Disneyland are as exciting as running down a long windswept dune. This is the closest a law abiding citizen can get to feeling like a tumble weed.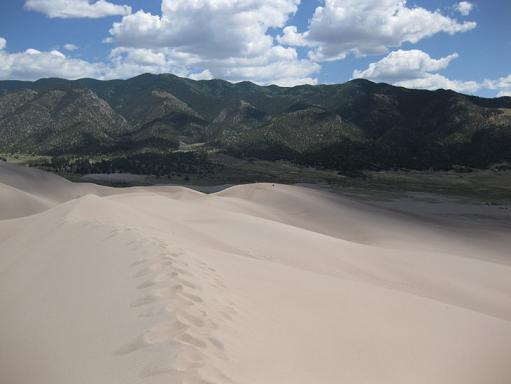 The Dark Side of Passion
Eating one's cake and having it has been the Holy Grail of all cake enthusiasts ever since the denizens of the Neandertal Valley dropped a few grains of wheat between a rock and a hard place, sat on it accidentally and discovered flour. However, humanity soon learned that on this planet even the seemingly freest of all the free lunches had to be paid for eventually. No bones about it. So our ancestors coughed up some hard earned cash and while fumbling in their purses for a change, it was revealed to them that every coin has a flip side.
One modern day place where the wishful thinking still runs rampant is the steaming jungle of online dating. The other day I was browsing some member profiles when a particular request caught my attention. The lady in question and heat was seeking someone "with the true passion in heart but without all the (*mild expletive*) drama". That was such a strange thing to say - thought I - considering that passion and drama are really two manifestations of the same internal fire, two sides of the same coin, albeit a coin rarely seen in broad daylight - a very private quarter.
The same person can turn into Dr. Jekyll or Mr. Hide in a blink of an eye. The capacity for passion goes hand in hand with the capacity for drama and vice versa. You can't have passion without drama any more than you can have a bonfire without smoke, a genius without a bit of craziness, or a tasty bratwurst without grease. Sure you can eschew drama if you bite carefully, but then you don't get any passion either. At least not any genuine passion. True feelings always contain certain element of reckless abandon.
You can create an illusion of a smoke-free fire if you buy one of those fancy gas or electric fireplaces that look and glow like a real thing. But at the end it is just that - an illusion, a fake. It doesn't crackle the way spruce logs do.
In a similar fashion, you may experience something that looks and feels just like passion. You can find men who will recite painstakingly memorized sonnets over a candlelit oak table and who will put on smooth moves borrowed from the latest Argentinian soap opera. But all those suave gentlemen will be as far away from passion as a trained parrot uttering a well practiced sentence is from a philosophical thought. What you will be getting may be sweet, but it won't be sugar. An artificial sweetener? Maybe.
Sentiment is a double edged sword. The same blade that cuts the sugar cane of pleasure is also the blade that inflicts the pain when you miss. And if you blunt it, you won't be able to cut a stick of butter with it. Such is life. But hey, if you still insist on having that cuddly drama free companion, I know a perfect place where you can get one - the nearest supermarket, aisle 5, the section of emotional vegetables.
Roller Coaster of Life
When I was a kid, one of the most popular evergreens played on the radio was a song written in the 1930s by a talented jazz musician Jaroslav Jezek. Its lyrics came from the intellectual workshop of a famous duo of comedians, Jan Werich and Jiri Voskovec (Voskovec later emigrated to the US and played one of the jurors in Twelve Angry Men). The song's refrain reveals an important truth about waging life in this part of the Universe - the truth which would take years of concerted experimentation were you to discover it empirically: "Life is but a chance, sometimes you are up and sometimes you are down". It is just a simple line, but those few words speak of the thin border between success and failure, of random maelstroms and undertows that our personal boats are exposed to and of the appalling lack of control that we seem to have over their directions. When we were wending our way through the Rockies this summer, we were reminded of its message several times.
Exhibit 1: Dulles International Airport, Washington, DC
The United Airlines overbooked our flight. Although we arrived 3 hours early, our names were just appended to a waiting list and we were made to hold our breath on a little death row in front of the gate counter. Time was slowly dragging on, but the governor wasn't calling. While the other travelers slurped spiritual fast food from glossy magazines, we were tapping the drab terminal carpet with our shoes wondering if Santa Claus had the power of attorney over the United Airlines. It didn't seem so - an hour before the take-off we were still stranded and crestfallen. As our hope was gradually decomposing, we compensated for it by composing a plan B. We had booked our first night rather ambitiously at Thermopolis, WY, so arriving in Denver with a five hour delay would throw a monkey wrench into our tightly packed timetable. Boarding started and our names were still floundering at the bottom of the passenger list. I could feel the stomach floating inside me as the roller coaster of life kept plunging with no bottom in sight. With 15 minutes to spare, the Sun finally peeked through the clouds. Fortuna's magic wand danced in the air and the the next thing we felt was the rush of freedom that only driving in the West can give you. We were coasting on I-25, well on our way to Wyoming. All bad memories forgotten, all questionable booking practices forgiven, all the baleful curses we saddled the United with generously revoked.
Exhibit 2. The road from Canyon Village to Fisher Bridge, Yellowstone
On our first day in Yellowstone, two things got between us and our happiness: a lost bridge and a herd of finicky ungulates. We were scheduled to stay in a motel in West Yellowstone, but when we arrived at the park, we learned that the road from Norris to Madison was closed because of a collapsed bridge. That added about 80 miles to our itinerary - eighty miles to be traversed at a strictly enforced 35/45 miles per hour. To make matters worse, as we were coming back from the Yellowstone River waterfalls, we discovered that the road was blocked by a large group of buffalos. The bovine beasts apparently thought that ruminating in the middle of the road was the coolest thing since the "buffalo nickel". The dreary weather turned our spirits into a damp heap of sausage casings. There was no cell phone reception so we could call hotel, confirm reservation and let them know that we would be coming very late. But this loop of the roller coaster of life did not take us back to the dizzying heights in one fell swoop. Instead, we got a personal tour of one of Yellowstone's infamous traffic jams. The caravan trickled on through the herd one car at a time and the drizzling rain was not helping either. But the congestion eventually thinned out a bit and when we arrived at the hotel late that night, it was still open and our room available.
Exhibit 3. Los Alamos, New Mexico
We planned to spend our last night somewhere near Los Alamos. Since the extension of our trip to New Mexico was a bit improvised, we didn't bring any guides or accommodation listings. When we left Chama, about 120 miles to the north, the daylight was fading fast. On our way south we stopped at a motel near Espanola for dinner. They had one last available room, but the asking price was a bit overinflated. Not wanting to be strong-armed, we took our chances and drove on hoping we'd fare better closer to Los Alamos - a rather foolish premise considering how expensive Los Alamos is. We pushed forth through the yawning darkness and looked for vacancy signs from the road not knowing where we'd end up. It was a wild goose chase. The motels were few and far between and those that existed were either pricey or situated in dangerous looking neighborhoods. But when we climbed to the Los Alamos mesa our luck changed. The very first motel (Best Western) was very affordable, and to boot, the kindly receptionist informed us there was an open air concert in progress at a public park just a few blocks away. We filled the form in a hurry and darted out into the warm summer night. Soon we were camping out near the Town Square fountain and listening to a buoyant rock band from somewhere in Oklahoma. The roller coaster of life was lifting us to the stars - which at 7000 feet - seemed awfully within easy reach.
And as we were sitting there, after the long day and uncertain drive, I reflected on life in general - how inscrutable and unforgivingly colorful it can be. And I wished the band would play that old song that I remembered from Czechoslovakia: "Life is but a chance. Sometimes you are up and sometimes you are down."