Archives for: April 2008
Torpedo Factory
What kind of person would name an Art Center the Torpedo Factory? Well, my kind of person! To set up a living gallery in an old weapons manufacturing facility is an idea so preposterous that I couldn't help seeing for myself. From the moment I laid my eyes on the two slim metallic cylinders that decorate its interior courtyard, I knew that this place was going to live up to its promise and I started wondering whether you could buy some used torpedoes on eBay. They would look really great in my living room.
Located on the waterfront in downtown Alexandria, the Torpedo Factory is not a gallery in the usual sense. Rather it is a string of studios which you can roam at your leisure and where you can pause and have a chat with the artist to see what kind of mind conjured up the creations that caught your eye. This aspect makes the experience very different from the sterile and passive monitoring of the walls in traditional art museums.
On the second floor, for instance, I ran into the woodcarvings of Rosemary Feit Covey. I am sure Franz Kafka would love to have her images in his books. They delved headlong into the disturbing and visually rich scenery of our Inner Universe, and once there they engaged the Demons of Existence in a feverish dance on a floor covered with razor sharp pieces of a broken mirror. You'd imagine the creator of these stern black and white images to be a daunting individual with scruffy unkempt mane, deeply sunken eyes and unstable psyche. But such portrait couldn't be further from reality. After a brief conversation, the artist turned out to be a very fine lady that could have very well just returned from an afternoon tea with the Duchess of York. Her mild manners and dainty physique betrayed none of the anguished nightmares that ran like pointed nails through her carvings. Such blatant discrepancy between life and art reminded me of one of Gustav Mahler's lesser known maxims: "The Spirit blows wherever it wants". Indeed, it lives in its own Universe.
And speaking of universes - as a mathematician, I greatly appreciated Pat Monk's studio on the first floor. His sculptures and robust three-dimensional collages took a great deal of inspiration from exact sciences, whether it was his tribute to hyperbolic geometry in the form of a skeletal coordinate system or a helical staircase-like structure covered with dripping red paint that screamed its bloody message to all the passing Iraq war hawks. But my favorite exhibit was less concerned with the tomfoolery of this planet. It was a series of metallic cones arranged into a giant sphere and titled the Center of the Known Universe. Nothing gives you better sense of perspective than staring right into the core of your own Cosmic World.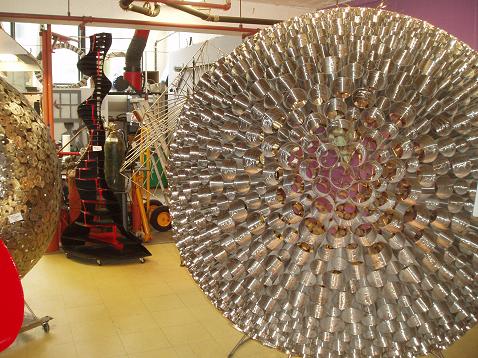 The Colors Return
In the middle of April, the public parks feel as if they were dragged through an intense session of Photoshop. The tulips and buttercups, cinquefoil, anemones, bellworts, dandelions, violets and lilies come out in force. After the black and white doldrums of winter, that's tantamount to a Technicolor onslaught on our cone cells. Even trees with their glistening new foliage show us that there are more shades of green that we could ever come up with a name for. They all look like majestic hot air balloons that would float away had they not be moored by their trunks.
It is amazing what difference colors can make. And not only in nature. Sometimes I think our public and private lives would benefit on so many levels if we let colors into them. Often in ways you would not expect.
Consider for instance the thorny subject of race. How much damage has been done by labeling races as black and white? As if this nomenclature was conceived in times when "I Love Lucy" ruled over TV airwaves. But in reality the black people are not really black, at least not in the sense of RGB code "000000". And the white people are not even close to white. That is unless they were recently exposed to a ghost, a dentist or a spider with really poor leg shaving habits.
I think many racial tensions would immediately dissolve if the true colors were revealed and we acknowledged that black people are in fact brown and the white people are - hmmmm, let's see - I would say sort of light orange. Now consider this: what kind of narrow minded, bigoted racist in his right mind would want to join a Light Orange Supremacist Group.
Cherry Pandamonium
There is power in numbers. Seeing a cherry tree bloom is cute, seeing hundreds of them exuberate together can set your wonderment free. That is the kind of sight the Tidal Basin downtown Washington, DC offers its visitors every year at the onset of April. Within days the surrounding groves explode with white blossoms, as scores upon scores of cherry trees put their wedding gowns simultaneously on. From a distance it appears that their boughs are wrapped in cotton candy.
People from far and away flock to Washington for the occasion, so the city's transportation arteries get rather congested, especially over the weekend. The subway cars could use some of those Japanese people pushers, parking anywhere near the National Mall is an exercise in futility and when you watch the entrance to the Smithsonian Station, you get the feeling that you see a geyser of people gushing forth from deep underground. If you think of people as gas molecules, then watching throngs streaming chaotically in both directions around the basin might provide useful pointers for the study of the dynamics of heating.
This year the cherry trees got an extra embellishment. Some girl attached a plush panda to one of the branches. Perching precariously on its bridge, the stuffed beast was benevolently watching the stuffed paths underneath it, and it must have felt pleasingly belonging.